Harlem Capital Announces New Hires: Platform Manager and Chief of Staff
by Harlem Capital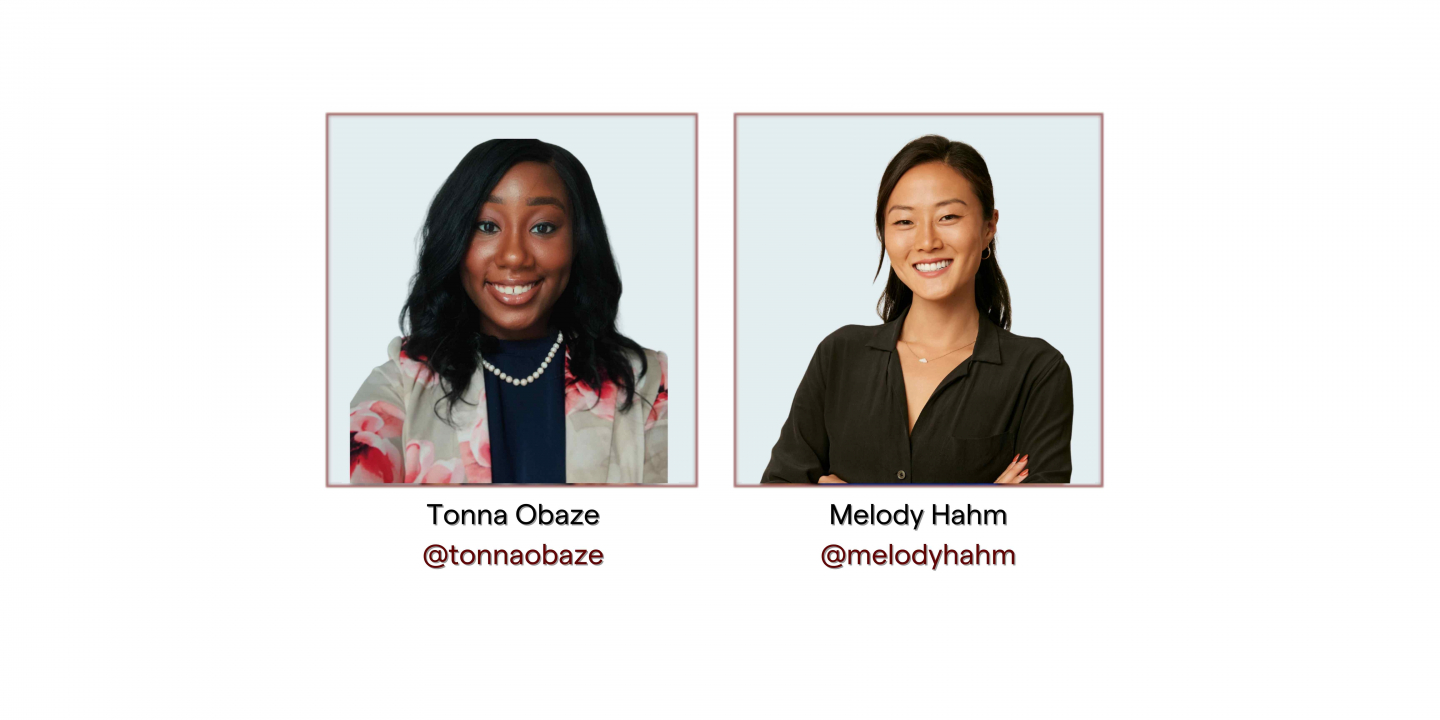 Harlem Capital is on a mission to fund 1,000 diverse entrepreneurs over 20 years.
Building a bridge of that scale and scope requires the ongoing expansion of our incredible team. Today we proudly announce the addition of two ambitious energizers who get us closer every day.
Join us in welcoming:
Melody Hahm, our Platform & Community Manager, and Tonna Obaze, the firm's Chief of Staff & Investor.
The Power of Storytelling and the Network Effect
"We've doubled the team this year and are fortunate to have such amazing talent joining us. Melody is our first external hire and it's been a great first few weeks getting to know her. We are excited for her to elevate the entire HCP ecosystem," says Henri Pierre-Jacques, Managing Partner of Harlem Capital.
As manager of platform and community, Melody will plan and produce Harlem's online and offline community engagements with portfolio companies, key stakeholders, and partners.
Prior to joining Harlem, Melody was the West coast correspondent for Yahoo Finance and CNBC, covering startups, technology, and culture in both writing and on-air reporting.
Melody is expert at discovering and illuminating the often untold and challenging parts of a founder's journey. She has interviewed leaders across business, tech, sports, politics and entertainment, including: Ray Dalio, Patrick Mahomes, Cameron Diaz, Mark Cuban, Andrew Yang, Sarah Friar, Steph Curry, and Will Smith, among others. She also pitched and hosted her own monthly series spotlighting diverse entrepreneurs, "Breakouts," which garnered over 4.5 million unique views.
"As a business journalist, I gravitated toward telling the stories of diverse entrepreneurs. After sharpening my writing, reporting and communication skills over the last eight years, I found myself yearning to build deeper relationships with the entrepreneurs I was covering. That's actually how I encountered Harlem Capital — by first reporting on the firm. While the team's funding milestones got me intrigued, it was the core vision of changing not only the trajectory of the companies we fund, but also the landscape of venture capital as a whole that got me hooked," says Melody.
Having reported extensively on racial and social inequities in the business community, she was also a founding member and head of programming at yohaus, a virtual community for meaningful conversations amid the pandemic. Ranging from election night roundtables to interviews with social activists, Yohaus became a weekly destination for cultural discussions. Melody's keen ability to find deep connections with seemingly disparate groups of people is one of her secret weapons as a leader and team player.
Melody is a Korean-American hailing from New York, and currently resides in Los Angeles. Her personal and professional mission is to elevate the stories of diverse entrepreneurs, by helping to create a more robust pipeline for women and people of color to find funding.
A Catalyst for Strategic Impact & Sustainable Growth
Tonna Obaze, formerly of the Goldman Sachs ESG & Impact Investing client strategy team, began her collaboration with Harlem Capital as an intern. Her transition to full-time as our Chief of Staff & Investor is one of the biggest wins we had this year.
A savvy, sustainability and nonprofit strategist, Tonna has demonstrated a commitment to diversity and inclusion throughout her career. In addition to her experience in finance, Tonna was a strategy consultant for Girls Who Invest, a diversity focused nonprofit, and writer for the Business Insider — covering sustainable investing and launching the "Black Excellence on Wall Street" profile series.
"Tonna has been a meaningful contributor during her time as a fellow, helping us close four investments and create innovative content in 2021. We had conviction on supporting her career wherever it may lead, but it was her dedication to improving Harlem Capital that led us to offering Tonna a position at the end of her fellowship. We are very fortunate to have her on our team," says Jarrid Tingle, Managing Partner of Harlem Capital.
Tonna's superpower is engaging communities in meaningful dialogue, while taking on the challenge of driving organizations to grow and scale. As Harlem Capital's focus on community and content grew, Tonna helped strengthen our platform by spearheading several successful initiatives — organizing our Juneteenth: Building Together event, curating the Road to 1,000 Newsletter, moderating Harlem Capital's Fund II Announcement Clubhouse conversation, supporting the launch of Harlem Capital's Angel Program, and serving as host of our More Equity Podcast: Angel Investing series.
As the firm's first Chief of Staff, Tonna will be a cross-functional resource focused on advancing Harlem Capital's growth and business development strategy. She will continue to be a vital member of our investment team — sourcing and evaluating investment opportunities, in addition to providing support for our founders and portfolio companies.
Tonna's personal and professional mission is to use her skills and abilities to help diverse individuals discover their potential and pursue their purpose.
"As a Nigerian-American, I was raised with the mentality that having a strong community is the key to achieving anything. Harlem Capital is the embodiment of that mission as we leverage our investment capital and platform to uplift diverse founders, investors, and operators. I look forward to growing Harlem Capital's impact and supporting diverse entrepreneurs in bringing their dreams to life," says Tonna Obaze, Chief of Staff & Investor at Harlem Capital.
We're thrilled that Tonna and Melody are joining our mission to change the face of entrepreneurship.
About Harlem Capital:
Harlem Capital Partners (HCP) is an early-stage, diversity-focused venture capital firm. HCP makes initial investments of $1-2mm in Seed rounds of US domiciled companies for 10%+ ownership. HCP seeks investments in enterprise and consumer tech with focus on e-commerce, fintech, wellness, SaaS and cryptocurrency. Visit our website and subscribe to our newsletter for more information. Follow us on Twitter, LinkedIn and Instagram @harlemcapital.