Meet Harlem Capital's Inaugural Angel Program Cohort
by Harlem Capital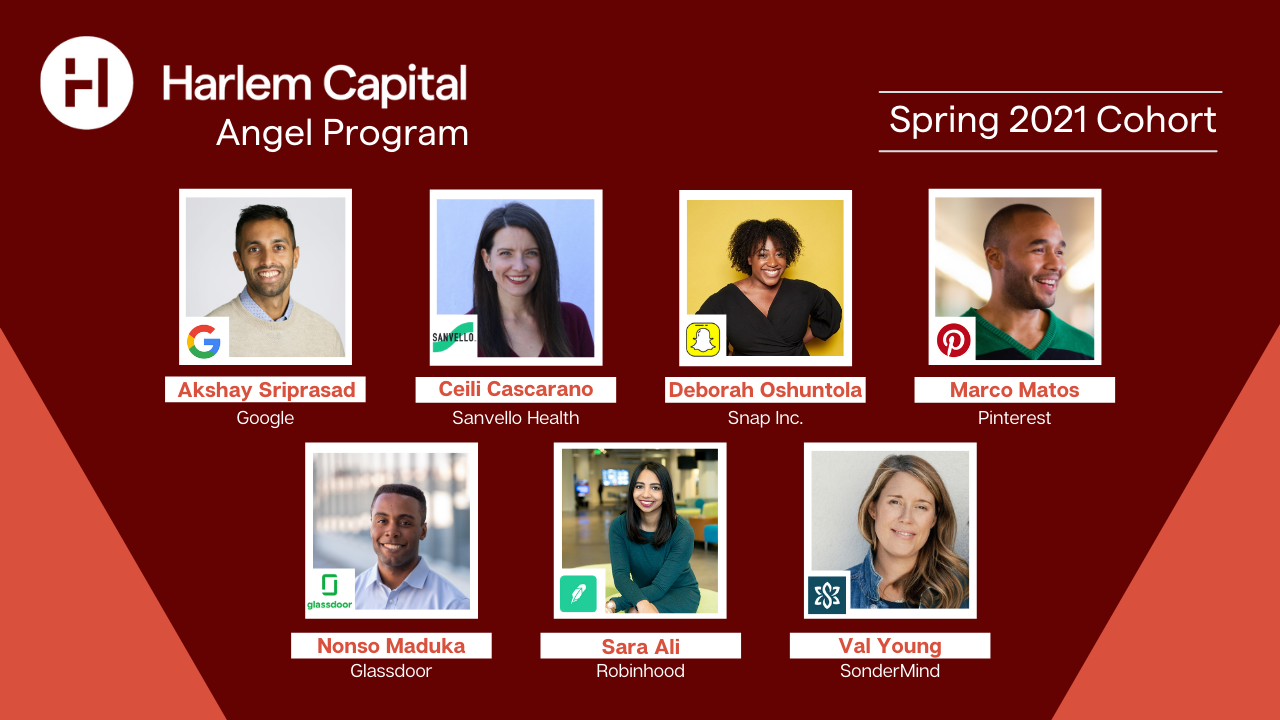 Harlem Capital Family,
We are pleased to announce the very first Harlem Capital Angel Program Spring 2021 Cohort.
Our inaugural class includes seven talented industry operators and founders beginning their journeys as angel investors. These professionals bring industry experience from technology, healthcare, social media, and finance, alongside educational training from top universities.
The launch of our Angel Program enables us to expand our reach to a new population — diverse industry operators seeking opportunities to invest their capital in underrepresented founders. Throughout our 6-week program, the inaugural cohort will receive the knowledge, network, and diverse deal flow required to start functioning as angel investors. In addition to learning from the Harlem Capital team, our angels will also gain investment insight and expertise from program speakers — Aaron Samuels of Blavity, Angela Lee of 37Angels, and Ashley Flucas of Flucas Ventures. 
We were honored to receive over 300 highly qualified applicants for the program and are excited to see so many professionals passionate about our mission to change the face of entrepreneurship and investing. This applicant pool consisted of 60% women and 80% minority professionals (50% Black, 20% Asian, 10% Latino) — further supporting our belief that there is a strong pipeline of diverse industry talent. We observed a focus on high-growth industries among applicants who were most interested in investing in 1) e-commerce, 2) finance, and 3) software.
While 95% of our applicants had over 5 years of industry experience, 45% had not participated in angel investing thus far. Though we are unable to accept all applicants, we look forward to continuing to build a robust ecosystem of like-minded investors by providing resources and support to the growing community of professionals seeking to diversify cap tables. 
To learn more about Harlem Capital and our commitment to equity in the entrepreneurial ecosystem subscribe to our Road to 1,000 newsletter and listen to the More Equity podcast.