305 Black and Latino Founders Who Raised $1mm+ in VC Funding ($10.8bn Total)
by Harlem Capital

What Is This?
At Harlem Capital, we believe data drives decisions so we are focused on tracking the pipeline of Black and Latino founders raising VC funding. We started tracking those with $1mm+ in funding three years ago and this is our third Diverse Founder Report. It has been encouraging to see Crunchbase start tracking founders by race and we hope Pitchbook and others follow suit. Below are some of the key findings from our research. Additional details can be found in our full report.
What's new?
We saw an increase from 200 founders to 305 founders, with Latino males seeing the largest increase by number and capital raised. Total capital increased from $6.0bn to $10.8bn, driven by 108 Series A+ rounds (39% of companies) and 29 companies (10% of companies) that have raised $100mm+. The wide range of late stage companies is a strong signal of a new tide and has led to 14 unicorns that have raised $5.7bn totaling $28.3B in value. There is still concentration with 62% of companies based in the Bay Area, New York City, and Los Angeles. Finally, we saw no new investors enter the top-12, but there are now 54 investors with 4+ investments.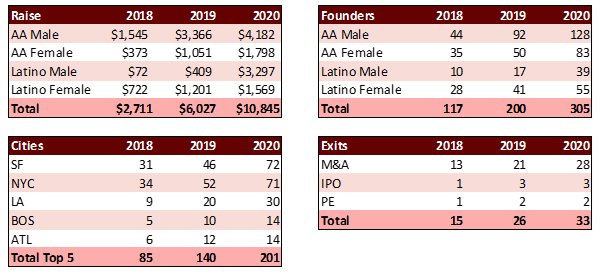 Who Are The Founders By Role and Stage?
We found 305 founders across 277 companies that have raised $10.8bn in venture capital across every corner of the United States. 89% of the founders have a CEO, Co-founder or Founder title. 47% of the funding rounds are Seed or earlier, 39% Series A+, and 11% have been acquired or gone public.
Who Are The Founders By Gender and Race?
Out of the 305 founders, 45% are women and 55% are men. However, women only received 31% of funding, declining from 37% from last year's report. Men and women were at parity of median capital raised at $5.1mm for men and $4.9mm for women. Latina women have the highest median raised of $6.0mm.

What Industries Are They In?
This year's top industries are software, finance, and healthcare representing 49% of all companies founded. Media & entertainment dropped out of the top three to number four. The top industries by raise are finance, software, and real estate totaling $5.9bn of capital raised. Cybersecurity and real estate have the highest median raise due to small sample size, but there are relatively consistent median raises across industries.

Where Are These Companies Headquartered?
Similar to the overall venture landscape, 52% of the companies' headquarters are in San Francisco and New York. However, San Francisco and New York represent 61% of funding. There are still large concentrations of founders in Los Angeles, Boston, Atlanta, Chicago and DC. Founders in these cities have median raises between $3.0mm and $24.6mm.
When Were These Companies Founded?
The average company was founded in 2014, but 2012 founded companies represent $3.0bn or 28% of the capital raised. The median raise for companies less than 5 years old is $3mm compared to $10mm for companies older than 5 years.

Who Are The Unicorns?
There have been 14 unicorns that have raised $5.7bn totaling $28.3bn in value. The average year of founding was 2013. There are 16 other companies that have raised $100mm+ in funding and are likely to join unicorn status in the coming years.

Who Are Their Investors?
Our report includes 857 investors across 277 companies. Leading the pack are 12 investors who invested in 80 of the companies. The top 12 investors remained the same and include 6 diverse led VC firms, 3 accelerators and 3 traditional VC firms. The accelerators are leading the way given their volume. To see the 54 investors that have made 4+ investments check out page 12 of the full report.

Conclusion
This year's report showed incredible growth in the number of founders, total capital raised and late stage funding. We continue to believe deeply in diverse founders and are excited to see the market shifting. It should be clear there is no pipeline issue. We hope this report can serve as a guide to show investors who those founders are, what cities they're concentrated in, as well as the variety of industries they're disrupting. We will continue to publish this report as more diverse founders raise capital. We know that there are founders not included in this report that we hope to support in the future.
Check out the full report to see the list of 277 companies.
Thank you to our intern Hector Herrera, Fall 2020, for his work on this report.
To stay up to date on Harlem Capital news, subscribe to our monthly newsletter.