1,128 Black and Latino Startups Have Raised $1M+ in VC Funding ($43.7B Total)
by Harlem Capital
"The Return to the Mean"
By Harlem Capital's Nicole DeTommaso (Senior Associate) and Daniel Paredes (Winter Intern 2023)
We just released Harlem Capital's 2022 Diverse Founder Report in partnership with Crunchbase for the second year in a row.
In 2017, HCP started compiling a list of Black and Latino founders who had raised $1M of VC funding as there wasn't any aggregated list online. We simply wanted to know who the top diverse founders were as they were the founders HCP wanted to back. So we started pooling data from all across the internet.
Then we started raising for Fund I in 2018 and LPs kept asking, "But are there enough Black and Latino founders to have a diversity thesis for Harlem Capital?" Now this was more than just curiosity as HCP had to prove we could find diverse founders across the country to invest in. So we doubled down and made the research into a formal report produced by HCP.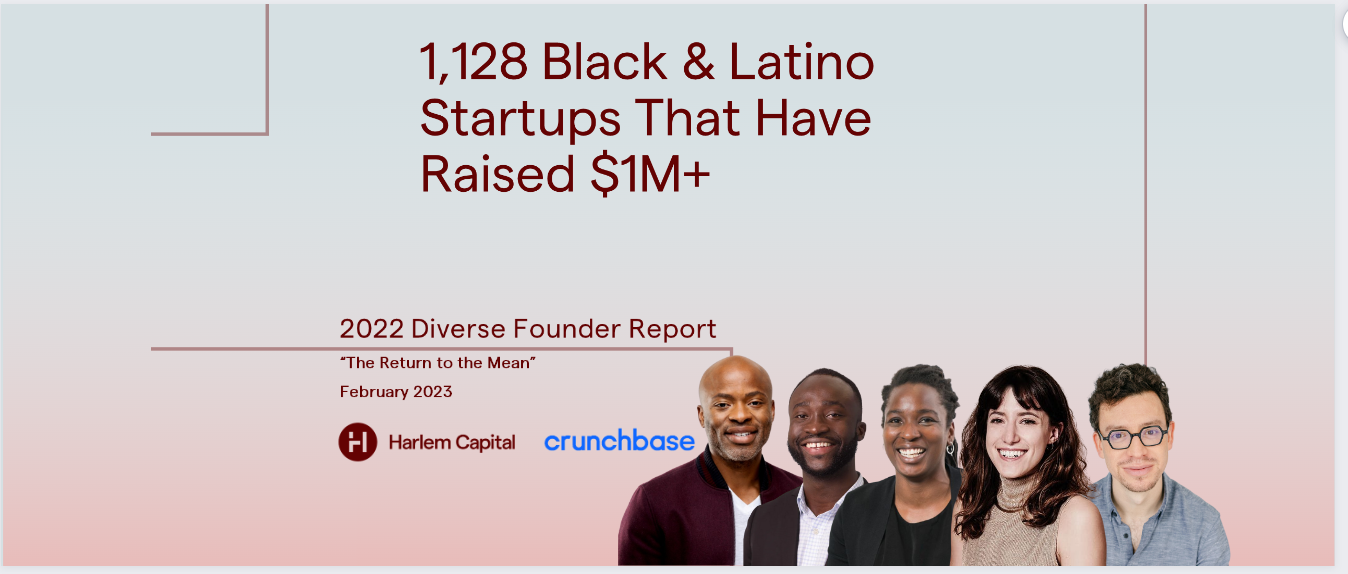 What's New This Year?
This is our second report collaborating with Crunchbase. This year the report expanded from 870 companies to 1,128 companies that have raised $1M+. We also show top industries by year to see which sectors diverse founders are building most over time. Lastly, we have incorporated founder and investor spotlights from Esusu Financial, Lightspeed Venture Partners, Ulu Ventures, and Kapor Capital, which have had a meaningful impact on the diverse venture and startup ecosystems.
The 1,128 companies raised $43.7B of capital with a median raise of $6.0M. Total capital raised decreased from $10.3B in 2021 to $4.4B in 2022, split equally between Black and Latino founders, a difference from last year where Latino founders were responsible for 64% of total capital raised.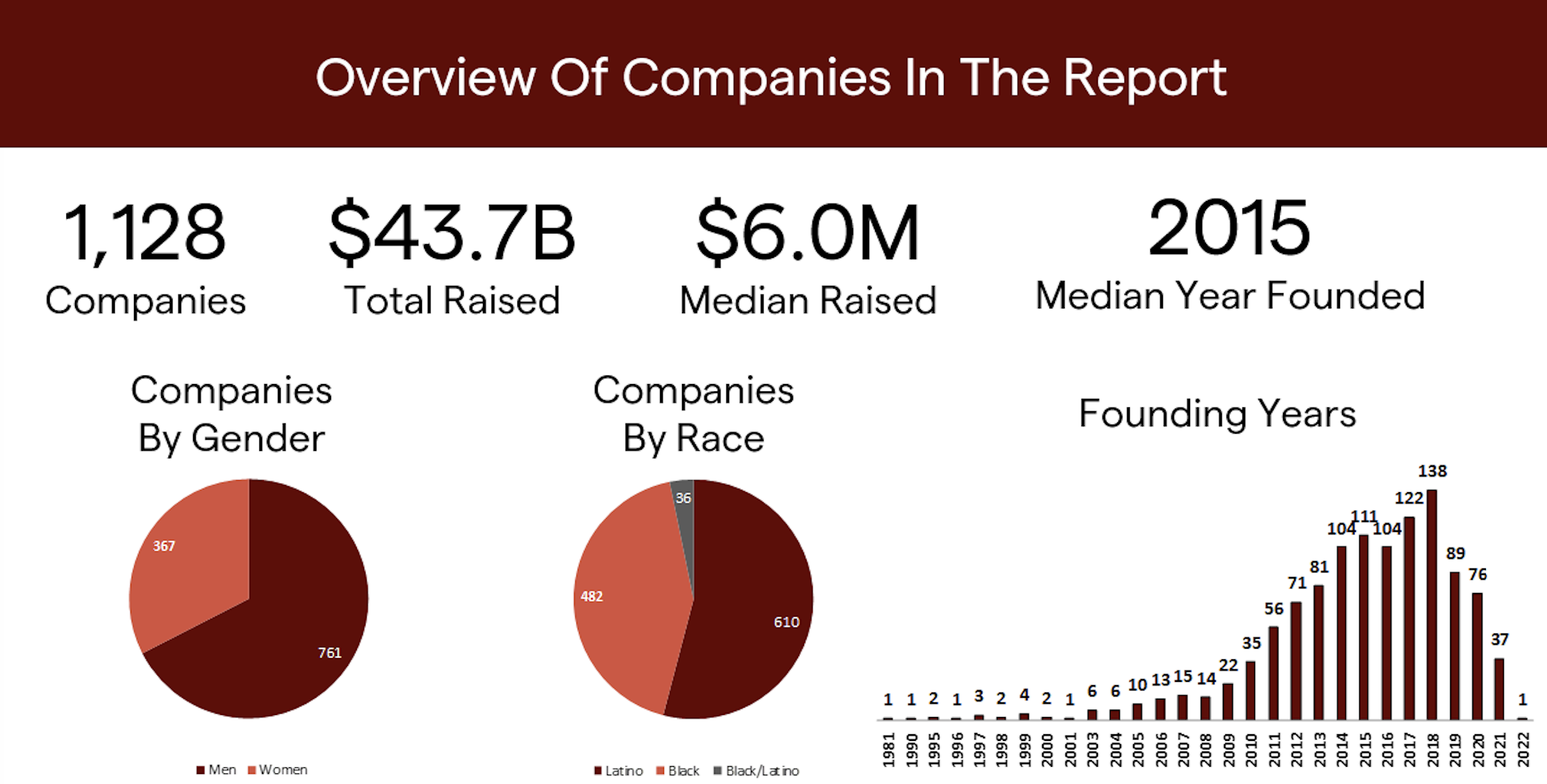 Who Are The Founders By Gender and Race?
Out of the 1,128 companies, 33% are women founders and 67% are men. However, women only received 20% of total capital raised, unchanged YoY. In terms of median capital raised, men have raised 1.6x more than women, Black men have raised 1.9x more than Black women and Latino men have raised 1.2x more than Latina women. Latino men continue to have the highest median raise of $8.2M vs. $7.5M in 2021.
What Industries Are They Building In?
This year's top industries continue to be software, fintech, and healthcare, representing 33% of all companies founded. The top industries by raise amount are also fintech, healthcare, and software totaling $17.2B of capital raised. Agtech has the highest median raise. Top industries have remained relatively the same since last year, with the exception of cybersecurity and marketplace entering the top.

Where Are These Companies Headquartered?
Similar to the overall venture landscape, 58% of the companies' headquarters are in California and New York. However, California and New York represent 63% of funding, with California-based companies representing 43% of total funding. There is still a large concentration of founders in Florida. Companies in Louisiana, Wisconsin and Minnesota have the highest median raises between $22M and $24M.

Founder & Investor Sentiment
Our report includes over 5,000+ investors across 1,128 companies. Leading the pack are 20 investors who have made 25+ investments and represent 864 investments total. The list includes different types of VC funds including accelerators, diverse-led & diversity-focused funds, corporate venture arms, and more.
This year we had the pleasure of including commentary from one unicorn founder and three investors in our report. We did this to supplement the quantitative data with some qualitative insights from those most tapped into the diverse ecosystem.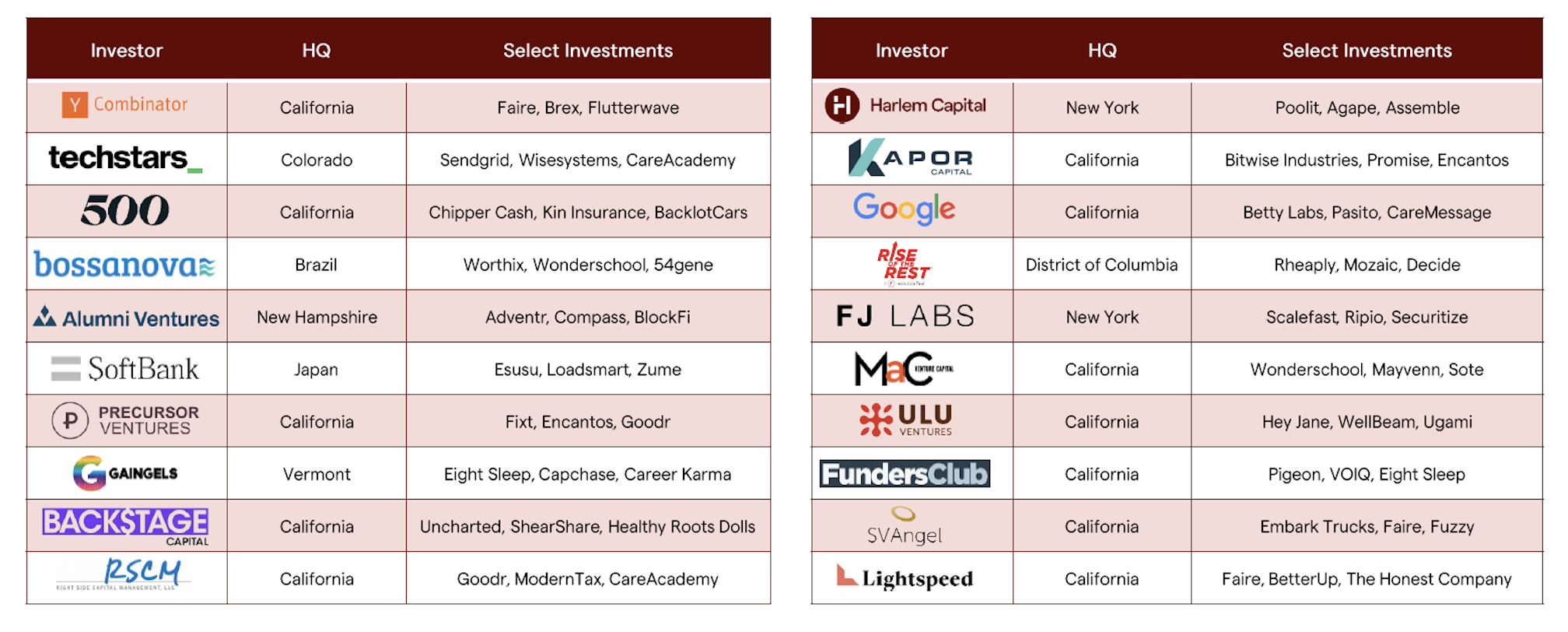 Wemimo Abbey, Co-Founder and Co-CEO of Esusu, on raising capital:
"When [my co-founder] Samir [Goel] and I finally closed our first contract, we were $100,000 in debt and couldn't even afford a hotel room. In fact, we decided to crash at a Denny's and work there through the night, but we eventually were kicked out. This experience and the many other challenges we've faced as diverse entrepreneurs keep us humble and grounded and remind us where we started at the beginning of the Esusu journey."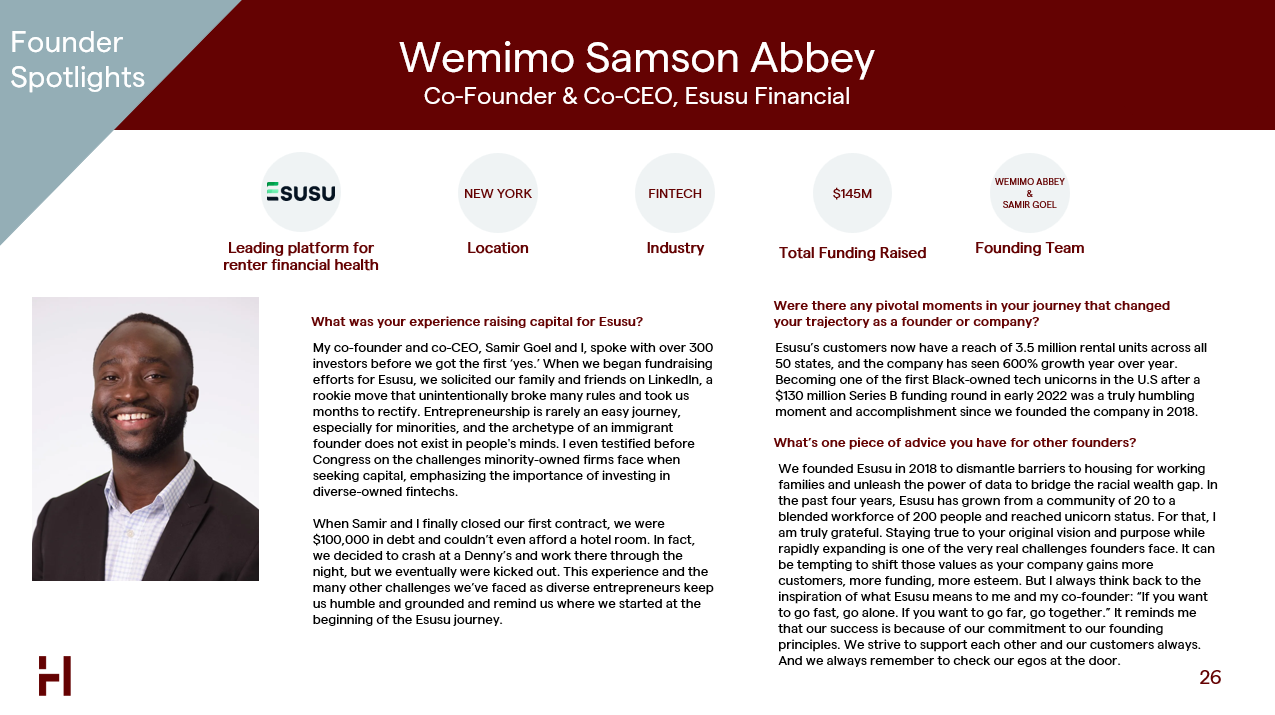 Conclusion
This year's report included more data than ever before. One of our core beliefs is that Data Drives Decisions so this new data will hopefully help more funds find incredible founders, as well as more founders, know they aren't alone. There are now over 1,100 Black and Latino founders that have raised $1M+ of venture funding.
We didn't have the data to prove our diversity thesis over 5 years ago, but now the data is clearer than ever before. Despite the disproportionate decline in venture funding for Black and Latino founders in 2022, we are still in the early innings of what we believe is an asset class: diversity investing. These groups are still underfunded, especially Black women, yet they have still created $100B+ in value. We also continue to believe that this list will represent $1T+ in value by 2030.
It is our mission at Harlem Capital to serve these founders at the earliest stages and we're excited that we represent 35 companies on this list. Check out the airtable to see the full list of 1,128 companies.
Subscribe to our monthly newsletter to stay up to date on our latest research.