Where Should You Start with Sales?
by Harlem Capital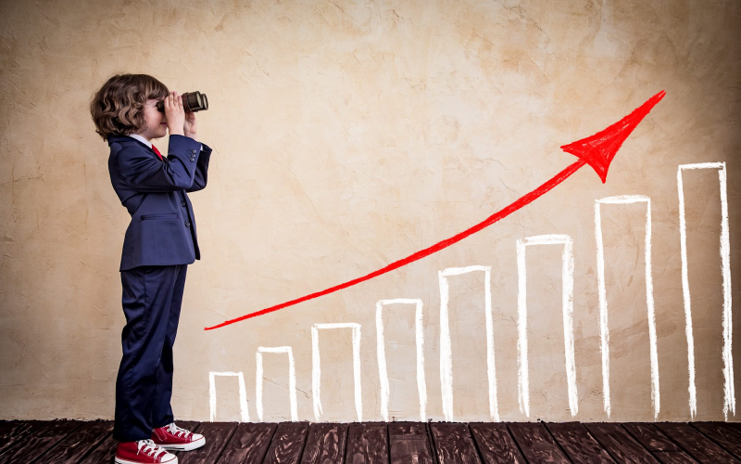 Sales, sales, sales. For first-time founders navigating sales can be a huge unknown, especially if you've never experienced it before in other roles. That uncertainty is challenging because your sales strategy directly impacts your entire business – from how you build and manage a customer pipeline to how quickly you can grow the business. We wanted to help founders demystify the sales process and provide a framework for a few focus areas by answering common questions we've heard from founders in office hours. The topics we'll focus on are:
Sales Strategy
Top Focus Areas
Hiring Sales Talent
Tools for Sales Teams
TL;DR
Regardless of what strategy, framework, or tools you are drawn towards, figuring out what works for your company takes time. Investing effort early on customer calls, working with your team, and experimenting with your process will pay dividends as you scale
First things first: How should I think about my sales strategy?
This is a common first question that we get and the answer depends on your product, customer target, pricing, and go-to-market tactics. You can think about two different approaches:
Product-led or Bottom-Up Sales
Outbound or Rep-Driven Sales
We've listed out the general characteristics for each for comparison.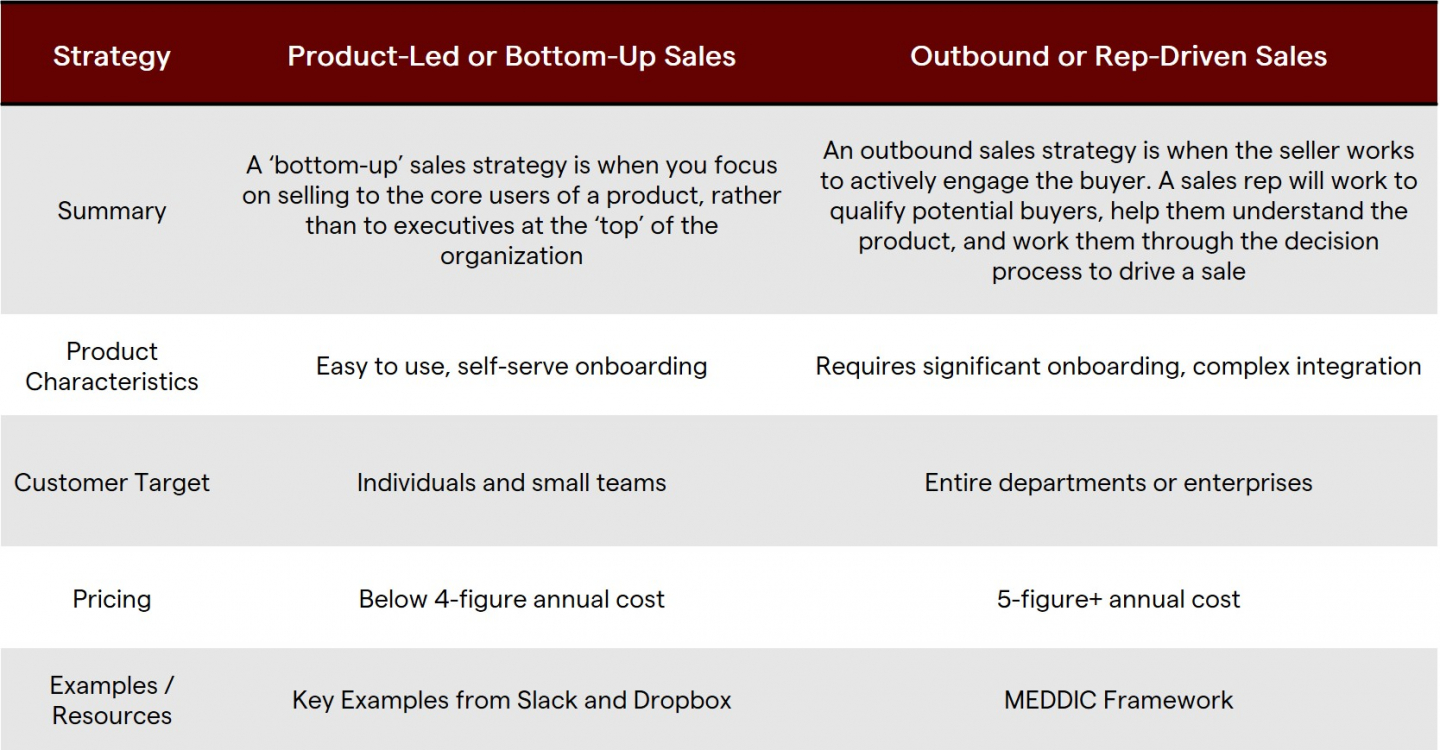 With a bottom-up focused sales motion, generating customer love and excitement is paramount, since users are driving purchasing and onboarding for the product. It's important that users can experience and recognize value quickly, so that you don't see initial bumps of churn. We find that investing in customer success, often before sales, is incredibly important. Your customer success team will ensure you're delivering on the value proposition for users and a smooth experience with the product. Even without a dedicated customer success team member, one easy way to ensure smooth onboarding is to create easy to use walkthroughs for users. Leveraging tools like Loom, you can create how-to-guides, tutorials, and they can even serve as early marketing materials.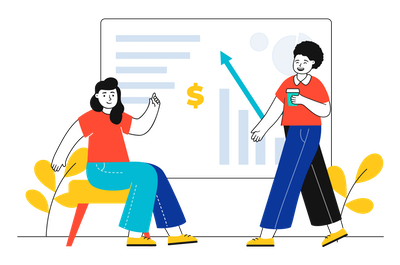 For an outbound sales motion, you'll want to focus on ensuring your team can successfully source and close customers. How? By instituting a process for identifying your Ideal Customer Profile (ICP). One of Harlem Capital's core values is 'Process is Religion', so this is one area we really love. Regardless of vertical, category, team size, it's never too early to start thinking about process, as process is what helps you scale. We recommend learning about different frameworks, identifying the ones that fit with your business, and testing how they work with your team.
A few to get started with are: MEDDIC, Bant, Challenger, Sandler
MEDDIC came up most frequently in our conversations with sales experts. Each letter in the acronym stands for each of the key areas you can use to determine if a potential customer is right for your product or service. By answering the questions in each segment, you'll help ensure your team is focused on the right and strongest leads in your pipeline
Great. So I've figured out what works best for me, what else should I be thinking about?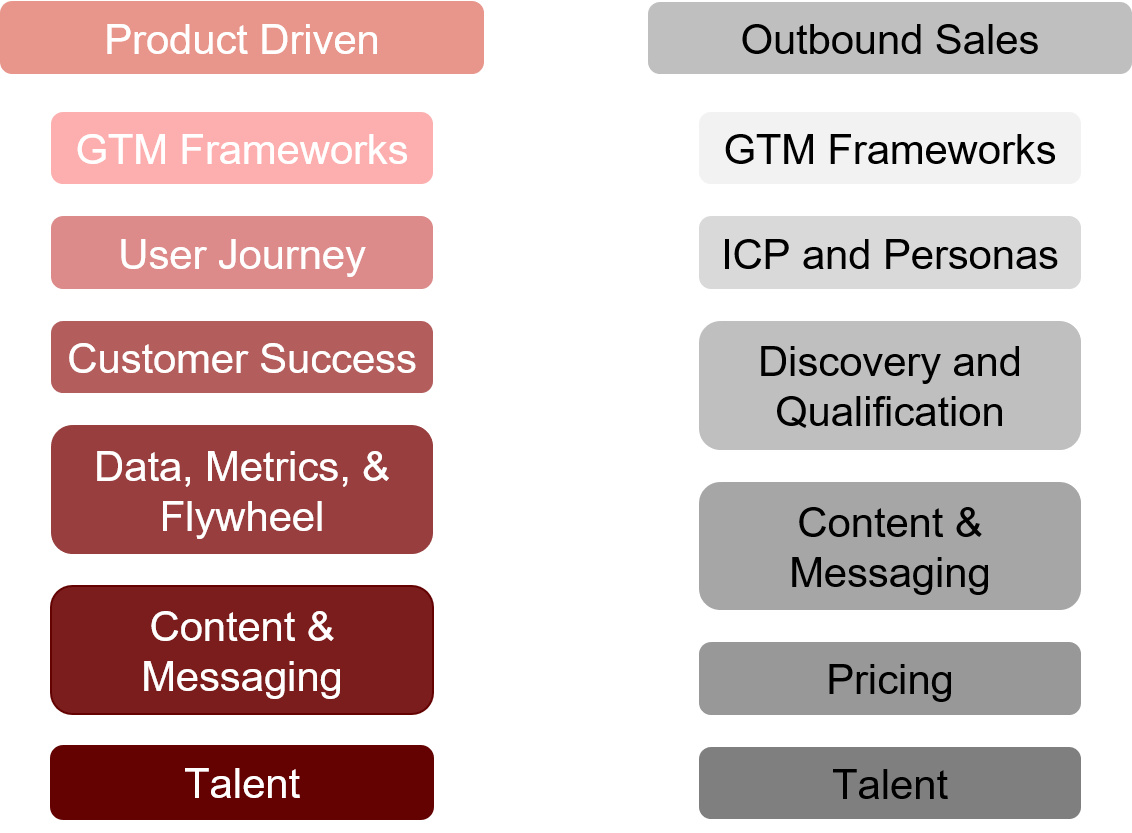 There's a seemingly endless list of items to think about. After meeting hundreds of companies, we've found that top founders are incredibly thoughtful about these core areas as it relates to sales. They identify when is the right time to incorporate each into their business. They're great at evaluating when something isn't working AND quickly adjust to try something else. Of course it's not 100% figured out – it's an iterative process and not static. But they're able to clearly present their point of view and potential approaches they might take in the future.  
How do I identify the right people for a sales role?
Your sales hire will be the face of the company to customers and their key contact for questions, praise, and complaints. We've found a few traits to optimize for in hires that set them up well for success in their role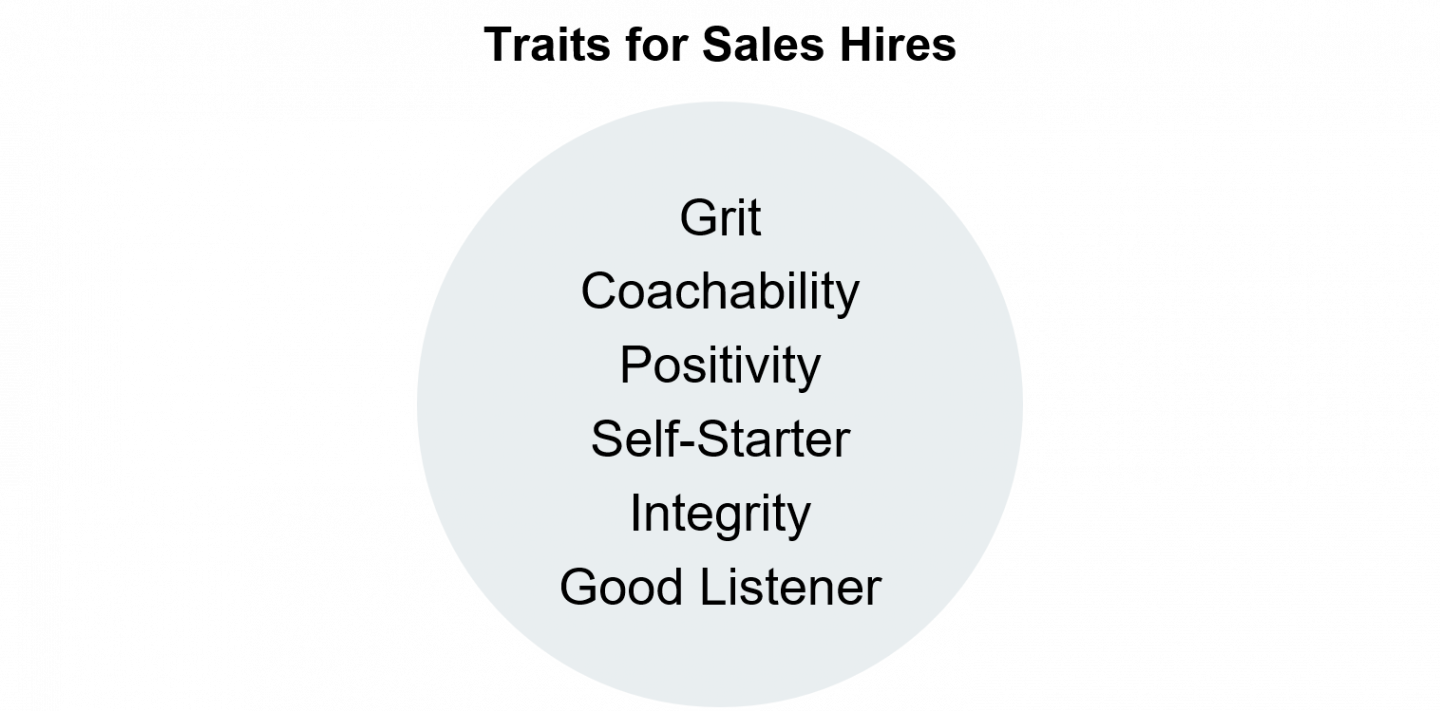 Why these traits? For your sales team members, it's important that they are self-motivated and can work independently towards their goals with some coaching. They'll need to persevere through all the cold-calling, the no's, and find ways to stay positive through that process. And once they do start getting closer to a yes, they'll need to build strong relationships with leads that start to move down the sales funnel.
When hiring for sales roles, hiring 2 people at the same time is quite valuable as they'll be able to push each other to identify more leads and as the founder, you can start to identify what good vs. great looks like for a sales role at your company.
Last question. Once I've found the right people, are there tools I should use to augment my team?
There are always new tools to try and increasingly more that are focused on supporting sales teams. Tools are great – but you want to make sure the tools you use:
Fill the gaps and pain points that your team has
Don't prevent the team from building their own skills
As much as we love to optimize and use technology, it can be a disadvantage if you introduce the wrong tool too early. You want to make sure your team leverages but doesn't lean so heavily on the tools that it impedes learning. Lastly, if any new tool will be customer facing, make sure to verify that it has a positive impact on end user experience.
Here are some tools that are commonly used by sales teams. These all won't be right at the earliest stage of building, but can be categories and product types to keep in mind as you grow and scale.
At Harlem Capital – we're always on the lookout for new tools. If you're building a company in this space, reach out to us at: deals@harlem.capital
Conclusion
We hope this is helpful and helps to answer some common questions. These notes are to get you started and we encourage you to test and find what works best for your team and your company. For more insight into Harlem Capital and what we're up to, subscribe to our newsletter and follow us on Twitter.
Thanks to our Senior Associate, Gabby Cazeau, for writing this piece.
Resources