What We've Learned From 6,000 Harlem Capital Intern Applications
by Harlem Capital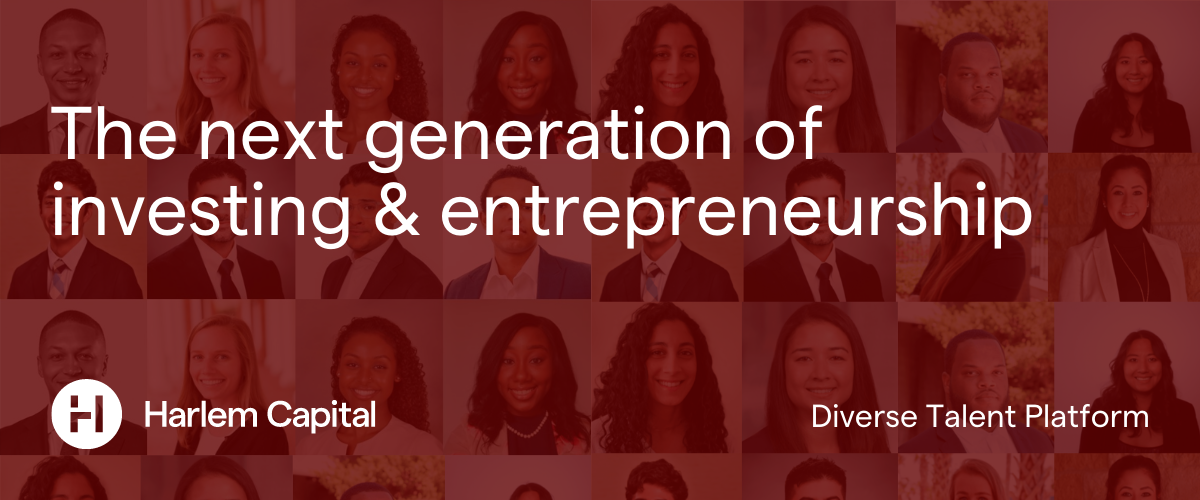 Three years ago Harlem Capital launched a program that changed the trajectory of the firm: The HCP Intern Program. What started as a way to help the Partners diligence deals and conduct market research as they prepared to raise Fund I, has grown to 11 classes and 6,000 applicants. After 6,000 applicants, we wanted to take the time to reflect on what has become one of the most influential processes Harlem Capital has ever implemented.
ABOUT THE INTERN PROGRAM
Harlem Capital's internship is a 10-week program that occurs 3 times per year, with winter, summer and fall cohorts. Each cohort consists of 6 interns and 1-2 fellows (returning interns). Interns are tasked with weekly deal screens, industry analyses, and key value-add projects over the course of the internship. Our interns are what we like to call our 'secret sauce' as they allow us to accomplish projects outside of regular deal work that expand the diverse ecosystem. Those projects range from research reports, to the HCP Newsletter to The More Equity Podcast, and more. Notably, both of our Principals and our Senior Associate have come from this program.
There are a number of key reasons the intern program has been so successful for HCP:
It is a priority for the Partners
We involve the entire team (juniors to seniors)
We have a detailed onboarding process in place
There are weekly check-in calls
We include the interns on as many calls as possible
We provide detailed feedback twice a class
It took a lot of upfront time and energy to develop the above processes, but long term it has led to infinite upside. It is often easier to put in processes for quantitative things like deals, but much harder for qualitative things like talent. However, we've come to realize people are the most important process to scale. Let's dig into what we've learned on this journey.
OUR COHORTS
We've had 11 classes and 6,000 applications. We have seen a steady increase in applicants since inception with Fall 2020 being our peak due to George Floyd and the Black Lives Matter movement.
WHAT WE'VE LEARNED
Our Supporters are LOYAL
We have found that 600+ applicants have applied more than two times — that's 10% of the total applicant pool. Even more astonishing, we have found ~150 of those applicants have applied more than three times, 3% of the total applicant pool.
All Applicants by # of Times Applied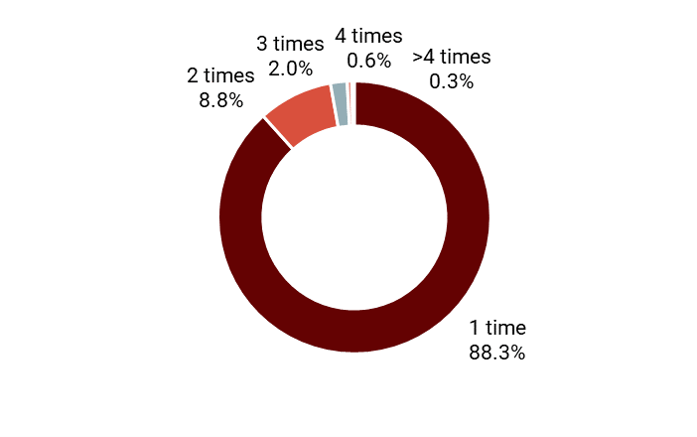 Re-Applicants are Slightly More Men
Most applicants who are reapplying are males, making up ~68% of the re-applicant pool compared to 62% of applicants. From a race perspective, ~50% of re-applicants are Black or African-American, ~19% are Hispanic or Latino and ~19% are Asian.

We Need More Women to Apply and Reapply
We have found that our applicants sway more male than female. Across all 11 classes, the applicants have been ~62% men, ~36% women and ~2% gender non-binary. As you can see from the above, women not only make up less of the applicant pool but they also shy away from reapplying. Many of our interns who have gotten the offer have applied more than once. We see so many exceptional individuals, but we encourage you to reapply if you are truly interested in being part of an intern cohort. To prove this to you, the next section dives deep into the Summer 2021 applicant data by interview round.
All Applicants by Gender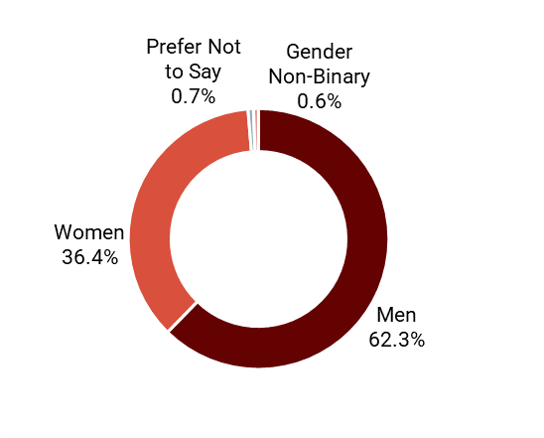 We Reward Those Who Reapply
At every stage of the Summer 2021 interview process, we over indexed on individuals who have reapplied to the program. More than ⅓ of applicants in each interview round had applied to the program previously. Excitingly, 50% of those offered a spot in our Summer 2021 cohort have applied more than once, with one even applying three times. We appreciate the determination and loyalty to HCP and we see you. Keep pushing!

We have Global Reach
Harlem Capital is only currently focused on U.S. based investments. Our 6 person team is also based in the U.S.. Surprisingly though, Harlem Capital receives intern applications from all over the world, with greater than 10% of our applicant pool being non-U.S. based. This shows the power of social media. Though Harlem Capital does not operate globally yet, we are able to reach global scale through our social media strategy. We are proud that our mission is resonating with individuals all over the world.
All Applicants by Geography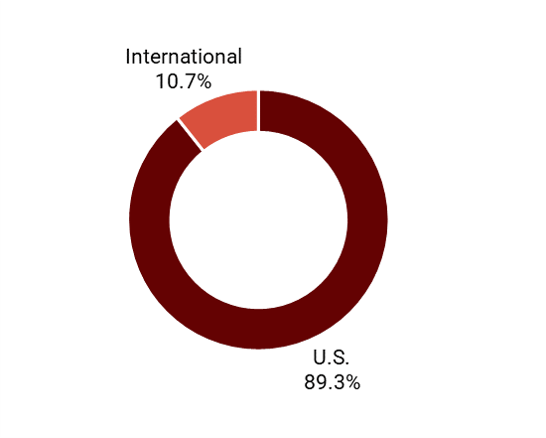 We Attract Applicants of All Educational Degrees
Most applicants have at least one higher education degree, with greater than 30% having multiple higher education degrees. However, on the flip side, ~8% of applicants have not completed a higher education degree of any kind. From this data, it is clear that Harlem Capital is attracting a range of individuals on a variety of different paths who want to join our journey.
All Applicants by Highest Educational Degree Received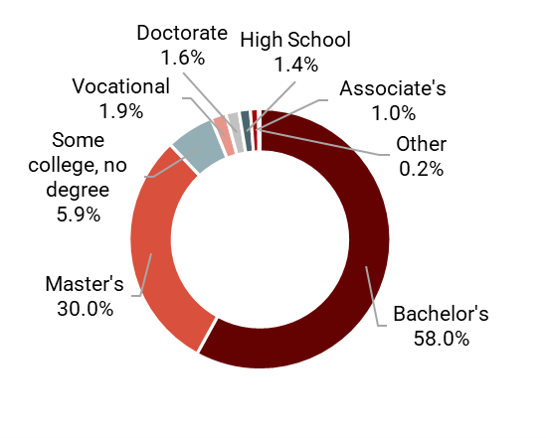 Most Importantly, there is NO Pipeline Problem
We have seen 6,000 applicants, of which ~90% have identified as non-white, with ~55% identifying as Black or Latino. That's 2.9k applicants. There is NO diverse talent pipeline problem. What we have discovered is firms are not attracting the applicants due to their homogenous networks. As part of Harlem Capital's mission to Change the Face of Entrepreneurship, we need to Change the Face of Investors as well. Given we can't provide opportunities to the majority that apply, we've launched the Harlem Capital Talent Platform on Hivebrite to provide access to career opportunities in the investing ecosystem to anyone we interview in the first round.
All Applicants by Race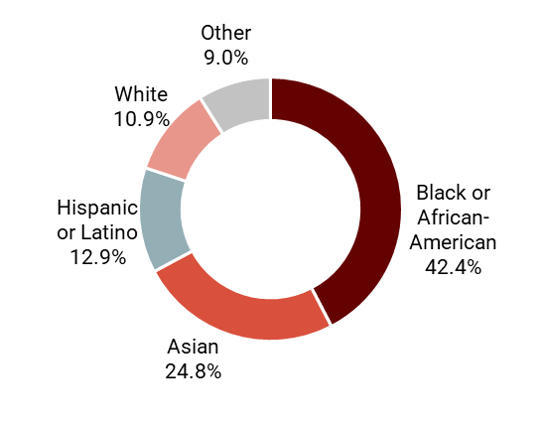 JOIN HARLEM CAPITAL'S TALENT PLATFORM
Gain access to top diverse talent through Harlem Capital's Talent Platform. We have over 200+ diverse individuals on the platform looking for their next opportunity. As a firm, you will have the opportunity to post jobs and engage directly with the individuals on the platform. Our only ask is that you interview at least one candidate from the platform per open position posted.
Are you an investment firm interested in joining the platform? Fill out this form and we will be in touch!
Are you a diverse young professional looking to break into VC? Check out Harlem Capital's More Equity Podcast, Demystifying VC Interviews, to get insight into VC interview structures as well as an inside look into Harlem Capital's interview process. Also be sure to complete the Fall 2021 intern application, which is due June 30th.