Top 4 Tips for Starting a VC Fund
by Harlem Capital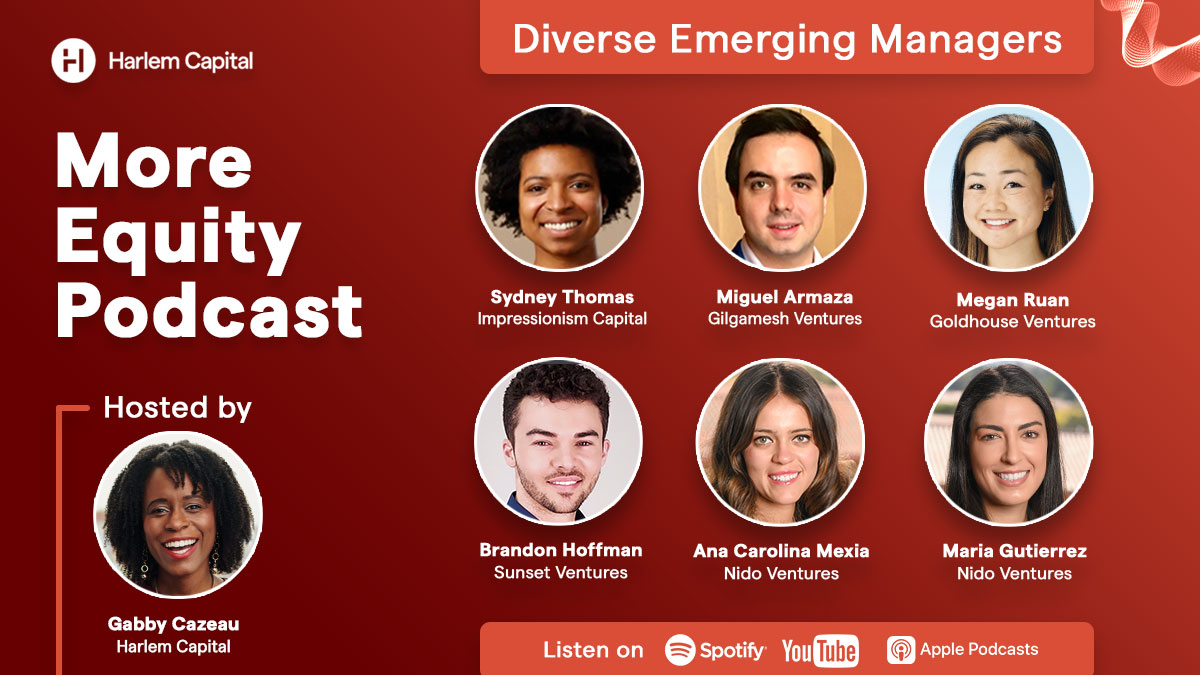 By Gabby Cazeau and Melody Hahm
So you want to start a VC fund? We know from our journey at Harlem Capital that there aren't many resources for emerging VC managers. It's hard to get answers to questions like: How do you fundraise? How do you find your first LPs? How do you start investing? Who is doing this that looks like me? It's a bit of a black box unless you've seen it done before. And even then, it's still tough. 
In the last few years, we've seen more people and money coming into early-stage investing. One trend is VCs leaving established funds to start their own. We're seeing the next wave of managers launching funds their way, and investing in great founders, and believe that they will continue to inspire others to do the same.
We wanted to highlight builders, get their insights, and help make that path clear. Their stories are inspiring and they're building the institutional funds of tomorrow. We interviewed 5 incredible emerging VC managers on our More Equity podcast to get their take on what it's like to launch a fund and a few tactical tips!
Courage, Resilience & Patience
One consistent theme we heard from the fund managers is how challenging it is to launch and run a fund. You have to do and be a little bit of everything – from raising funds, investing, doing back office work, and everything in between. 
Three of our guests, Miguel Armaza, Sydney Thomas, and Brandon Hoffman each shared their take on what it means to navigate that challenge.
In addition to co-founding Gilgamesh Ventures, Miguel Armaza is a media maven! He launched the Fintech Leaders podcast where he interviews founders, investors, and operators leading fintech innovation. As the platform grew, he built strong relationships with people who would eventually become some of his first Limited Partners (LPs).
One major lesson that Miguel learned that he applied to launching his fund: "you don't need to be the smartest in the room but you have to be courageous". That applies whether you're launching a fund or a founder navigating tough times. It's the  courage and grit you bring that leads to success."
When raising a first fund, fund managers need to be ready for a lot of 'Nos'. Some LPs won't be a fit for your thesis or stage or might not invest in first-time funds. That's part of the journey. 
Sydney Thomas shared that building a resilient spirit is essential when launching a fund. You have to find ways to take care of yourself and pick yourself up after those moments and keep pushing to the next yes. So stay the course and keep pushing!
The difficulties in launching and running a fund persist whether it's a bull or a bear market. Right now, we're currently navigating some tough market conditions. And as a new fund manager, it can be a temptation to slow down your deployment of capital because of fear and uncertainty. Brandon Hoffman shared his lens for why fund managers should take the opposite approach. 
He shared that the keys to investing in a difficult market are discipline and patience. You have to be disciplined as you think about your thesis and focus areas and patient enough to find the right opportunities. Venture capital is such a long game and you might not see any returns for 5-7 years. So patience is critical to ensure you can see returns and gains on those investments.
Practice Your Pitch
If launching a fund isn't already a huge feat, consider this: Maria and Ana Carolina launched the fund while full-time in business school at Stanford GSB!
One accelerator in their fund journey was the power of practicing their pitch with peers and other investors: They got feedback early about what resonated, what didn't, and how they could elevate the story to the next level. Doing all that work upfront makes pitching to LPs you don't know that much easier.
Create Your Own LP Checklist
A VC fund manager's first role is fundraising! But that can be hard to figure out who should or could be your first LPs in the fund. When fundraising for Gilgamesh Ventures, Miguel created a checklist to help narrow down quickly who might be a good fit for the fund. 
Here's the checklist that Miguel used:
1) Are they comfortable investing in venture capital as an asset class?
2) Are they comfortable investing in your chosen category (fintech, crypto, etc.)
3) Are they comfortable with your thesis?
4) Are they comfortable investing in you?
Numbers 1 and 2, you should try and make sure that they are ticked off before a call with any potential LPs. Doing this will help you increase your hit rate and reduce the number of conversations you have
Know Your Edge
VC fund managers are building their fund for two distinct audiences – LPs and founders. As venture capital has expanded over the last few years, new fund managers have to understand their edge as they pitch to both groups. Megan Ruan of Gold House Ventures shared how they took a data-driven approach to understand the landscape of founders and LPs who would be interested in their mission of investing in Asian founders. As you build your fund, do your research and know the stats on your market. Understand your unique edge and value in the category and weave that into your pitch. 
Huge thanks to these fund managers for sharing their stories with us. We're inspired by what they're building and the future of VC is so bright as they lead the way. To hear more of their stories, check out our podcast series here! For all aspiring VCs or fund managers, they shared a few book and podcast recommendations that were helpful in their journey. Check them out below:
Top Book and Podcast Recommendations
Books
Podcasts
To stay up to date on all the Harlem Capital news, subscribe to our monthly newsletter. 
Subscribe to the Harlem Capital YouTube channel to catch up on every episode of More Equity.