Meet The 2021 Fall Intern Class at Harlem Capital
by Harlem Capital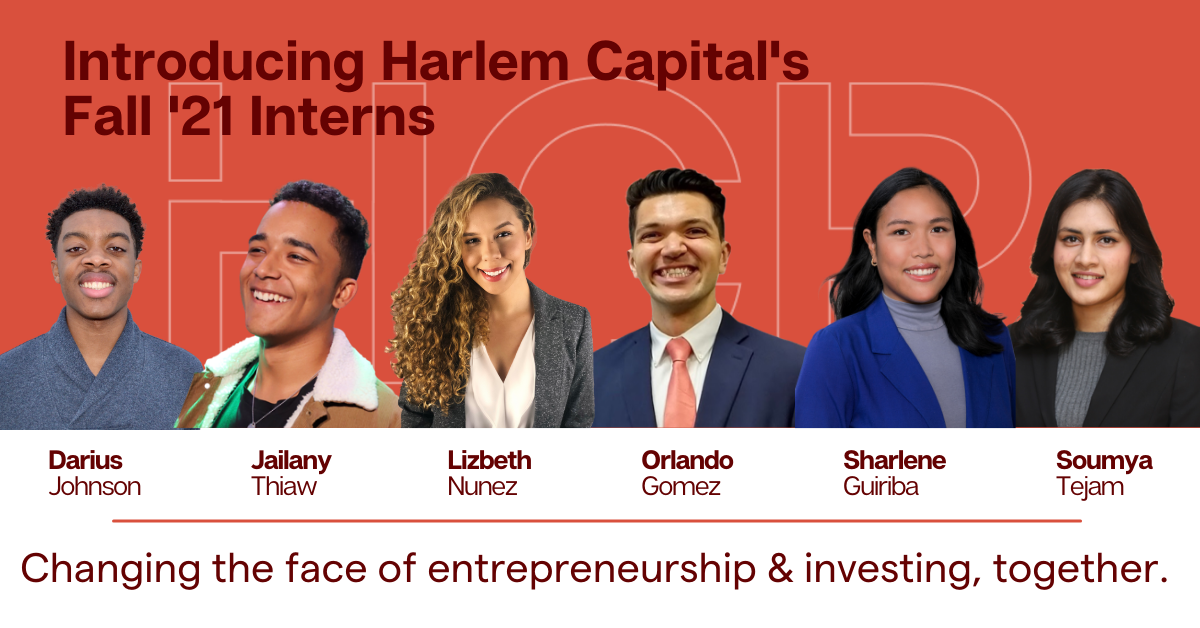 Harlem Capital Family,
Please help us in welcoming our Fall Intern Class: Darius Johnson, Jailany Thiaw, Lizbeth Nunez, Orlando Gomez, Sharlene Guiriba, and Soumya Tejam.
The 6 applicants were chosen from a pool of 635 applications, leading to a 0.9% acceptance rate. The applicants were 36% women and 51% Black and Latino/a. For the first time we also tracked first generation, and 40% were first generation college students.
This intern class has 3 undergrad students, 2 MBA students and 1 full-time employee.  This is our largest undergrad class to date, with them coming from Santa Clara University, University of Michigan and Princeton. The MBA students are attending University of Chicago and University of Pennsylvania. The employee comes from Drift. The class is 33% Black, 33% Latino/a and 33% Asian as well as 50% first generation college students.
We have now had 69 interns over 12 classes with 6,604 applicants, a 1.0% acceptance rate. Given we can't provide opportunities to the majority that apply, we are offering access to our HCP talent platform to all applicants that receive a first round interview. We currently have 75+ investment firms looking for top diverse talent and are looking for additional investment firms, please complete this form if you are looking for top diverse talent.
Our Winter 2022 application is now open until October 5th, APPLY or SHARE.
Regards,
The Harlem Capital Team