Marketing Basics for Founders
by Harlem Capital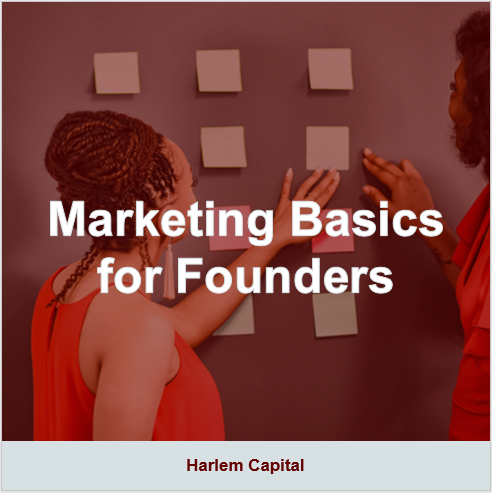 As a founder launching your startup, you'll face different business challenges along your journey, including how to market your product or service. We recently announced our partnership with DMC for our portfolio companies and select diverse founders so we wanted to share this post to provide marketing resources for the broader ecosystem. This post will cover a range of high-level marketing topics — including internal marketing strategy and external tactical execution.
We break this down into three sections:
Know Your "Why"
Align on a Marketing Strategy
Develop a Tactical Plan and Execute
1. Know Your "Why"
In his Golden Circle discussion, Simon Sinek emphasizes inspirational leadership begins with three key questions: Why, How, and What? Clear answers to these simple questions will guide your employees and customers as you build and grow your business.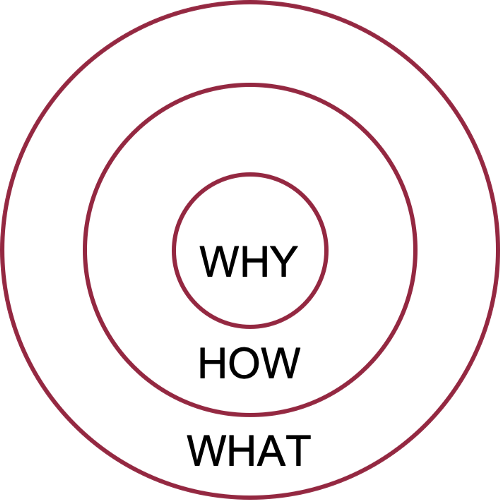 "Why" should live at the core of your business and all marketing and communication efforts; it is the reason you created your business — whether a purpose, cause, or belief
"How" is the specific actions your business takes to realize your Why and stand out from the competition
"What" defines the product(s) you sell or service(s) you provide — the result of your Why
Mission, Vision & Values
To align stakeholders with your "Why," you need brand Mission, Vision, and Values.
Your Mission Statement defines your company's business, its objectives, and its approach to reach those objectives
Your Vision Statement describes the desired future position of the company
Your Core Values should reflect the inherent principles that guide all your company actions, thus serving as cultural cornerstones
2. Align on a Marketing Strategy
Internal marketing strategy alignment is crucial to ensure your business leads to actionable growth and sustainable momentum. Developing this strategy will vary depending on your business focus.
B2B vs. B2C Marketing
B2B and B2C marketing serve different audiences, thus impacting best practices to effectively deliver communications.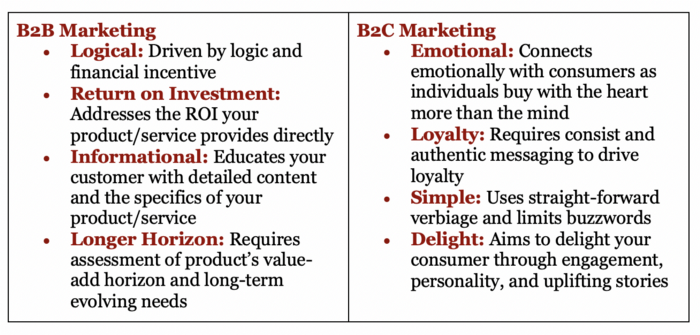 Developing your strategy for either a B2B or B2C business will include the following 5 key steps:
1) Define Your Market
Begin by identifying existing markets in which customers have similar applications of your product or service and further slice based on specialized use cases applicable to your offering.
You can approach market sizing in two ways:
Top-down sizing: Utilize statistics, reports, and other credible sources of information to apply assumptions to arrive at your market opportunity
Bottom-up sizing: Build the market size up by adding together the main variables of your business model e.g., sales per customer and number of customer
2) Confirm Your Value
Customer input is critical for strategic planning. First, develop hypotheses on what can create value and test them with customers. Through interactions with current and potential customers, you'll uncover customer needs and gain insight into the problem and its economic implications.
Next, you want to identify key needs that drive your customers' purchasing decisions and then confirm their value based on quantifiable metrics. Example: For defect reduction [need], reducing the number of defects per thousand lines of code [measure] from 10 [baseline] to 3 [target] would drive a margin improvement [value].
3) Segment Your Customers
You can then segment customers based on the shared importance of those identified key needs. This enables you to develop targeted propositions and marketing programs tailored for each segment, driving higher share and faster sales cycles.
4) Identify Your Unique Selling Proposition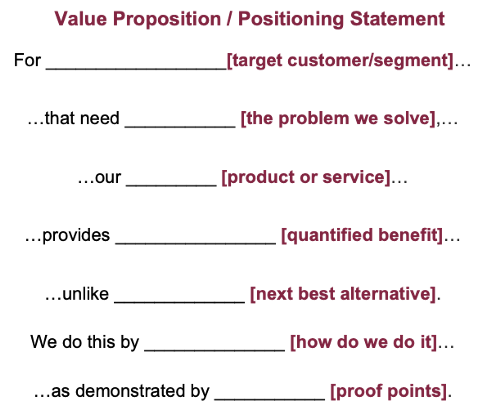 Successful positioning requires a clear value and unique selling proposition (USP). This enables your business to clearly communicate around your differentiated offerings so customers choose you over a competitor. In his book Crossing the Chasm, Geoffrey Moore offers the following positioning statement template to articulate your USP.
5) Position Your Brand
Brand positioning refers to the distinct place you want your brand to occupy in the mind of your target customers. One method of understanding your brand positioning is to visualize it on a perceptual map, which helps summarize the perceived benefits customers have of your brand versus competitors.
To help affirm and strengthen your brand positioning develop brand guidelines, which includes a set of rules that define your brand. Brand guidelines ensure your brand remains consistent and memorable across marketing channels and often highlight your brand's personality, tone, values, and visual representation (i.e, logo, colors, font).
3. Develop a Tactical Plan and Execute
Tactical marketing is how you actually take your product or service to market by leveraging different execution channels.
Public relations can enable your business to manage the sharing of information between your business and the public. Your PR strategy's purpose is to help you build and maintain awareness and credibility with your target audiences.
To implement, you can use a combination of tools such as:
Owned content: Owned channels such as your website, blog, newsletter, podcast, or social media profiles
Earned media: Unpaid publicity gained through promotional efforts such as editorials, social media shares, amd rating/reviews
Executive presence: Executive communications and engagements that position execs as thought leaders and strengthen your customer's trust
Strategic partnerships: Partnerships with industry-relevant, like-minded organizations, non-profits, and events
Digital Marketing
The digital marketing ecosystem encompasses paid, owned, and earned elements including paid advertising, company properties, and organic sharing. Digital marketing also includes the growing role of search and social media. Through search engine optimization(SEO), you increase traffic to your website by optimizing keywords on owned channels to drive your brands' appearance on organic search results. By executing a well-designed social media strategy, you can also increase your traffic and strengthen your brand.
Options for paid digital marketing include:
Additional Tactical Marketing Opportunities
Additional tactical marketing opportunities include influencer and traditional marketing. Influencer marketing involves collaborating with an online influencer to market your brand; it can be beneficial for increasing brand awareness, reaching new audiences, and generating sales / conversions. Similarly like any marketing platform,traditional marketing channels, such as home ads and TV commercials, should be selected based on target customer segments and can help you reach a wider audience.
Conclusion
As you build and scale your business, marketing will become increasingly important to securing, connecting with, and retaining customers. We hope this overview has provided you with some food for thought as you begin to develop your marketing strategy. See links mentioned above for additional resources that will help you as you dive deeper into specific topic areas as you work to bring your vision to market.
Stay up to date on Harlem Capital news by subscribing to our monthly newsletter.
Thank you to Kelly Goldstein and Ana Barrera for their work on this.