HCP Founder Spotlight – Stuf
by Harlem Capital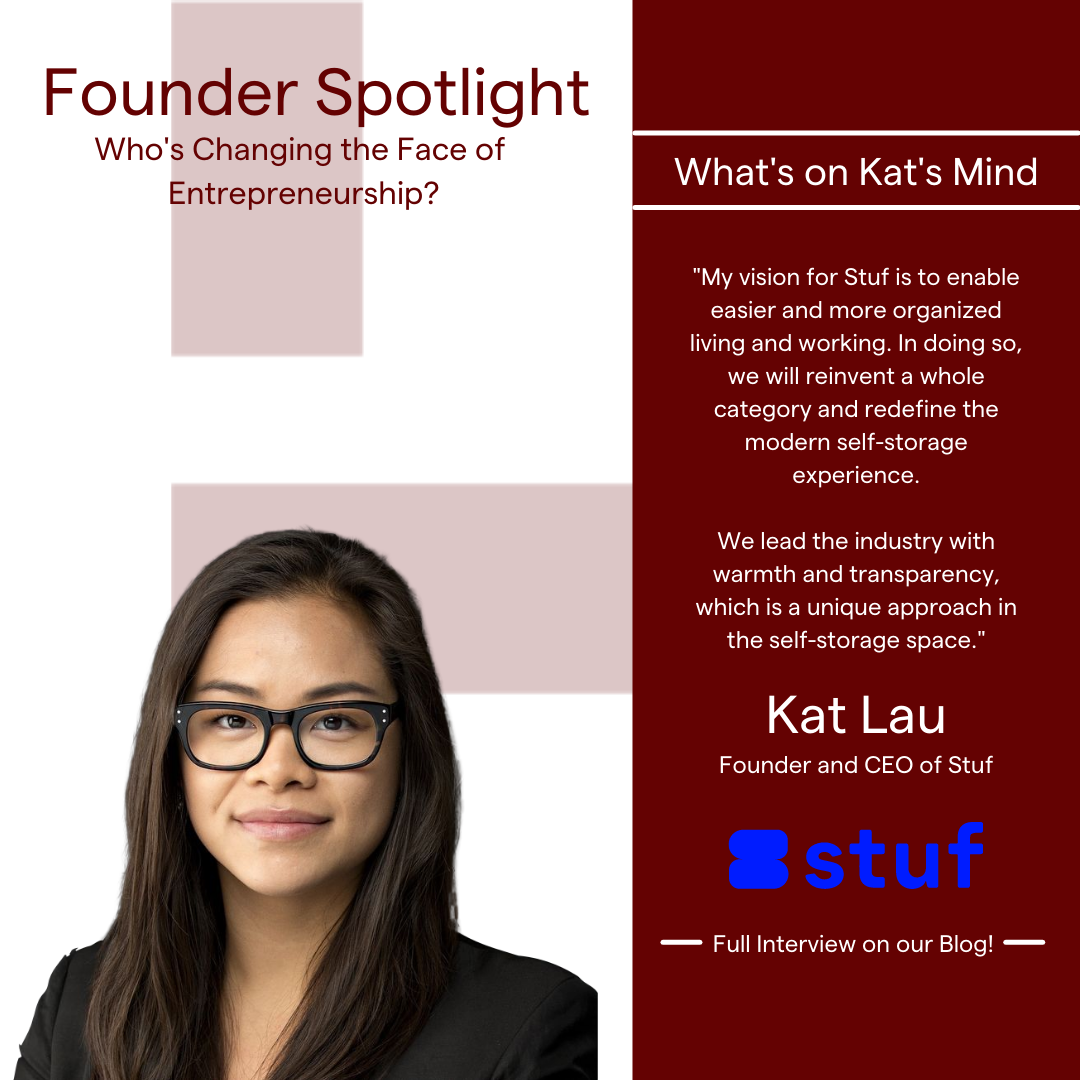 HCP introduced the Founder Spotlight series in August 2021 to highlight our exceptional founders who are changing the face of entrepreneurship. Our Founder Spotlight series continues with Katharine "Kat" Lau, Founder and CEO of Stuf. Kat takes us through her journey starting Stuf and shares some insights on what's next for the company.
HCP: What is Stuf and what's your vision for the company?
Kat Lau: Stuf is a next-generation self-storage startup, and our mission is to be the home away from home for people's stuff. We provide safe, inviting, and convenient storage closer to where people live and work, and we're able to do that by partnering with landlords to monetize their underutilized commercial real estate.
My vision for Stuf is to enable easier and more organized living and working. In doing so, we will reinvent a whole category and redefine the modern self-storage experience. I look to companies like Casper and Quip that made mattresses and toothbrushes modern, cool, and relevant!
HCP: Tell us a little bit more about yourself. What were you doing before you started Stuf?
Kat Lau: Before Stuf, I spent 4.5 years at Industrious leading supply-side growth. I was the first real estate hire and eventually built a team of 20+ people who pioneered asset and liability-light agreements in the coworking space. I'm proud to have had a front row seat in scaling the business which led to an acquisition by CBRE earlier this year! Prior to joining Industrious, I worked for PGIM Real Estate (Prudential), L&L Holding Company, and Equinox, which gave me well-rounded commercial real estate experience on both the ownership and occupier sides.
HCP: Wow, that's a breadth of experience, how did those experiences lead you to found your own company?
Kat Lau: Throughout my real estate career, I toured many types of buildings – retail, office, multifamily, etc. One thing I paid attention to was underutilized spaces, including basements, garages, and storage areas. It always bothered me that they sat empty and served no real use. Last year, during the pandemic, I was looking for self-storage after a robust spring cleaning. However, I was completely underwhelmed by the available options, and I quickly learned other consumers felt the same way. I had to create my own!
HCP: What sets Stuf apart?
Kat Lau: We lead the industry with warmth and transparency, which is a unique approach in the self-storage space. Stuf monetizes underutilized commercial real estate rather than buying land for ground-up development, and we set ourselves apart in 3 ways:
Better and closer locations that are in and around where people live and work
Welcoming and inviting spaces that have hospitality-inspired design features and on-site amenities to provide a high-touch experience
All-inclusive pricing and tech-enabled operations that make for a seamless user experience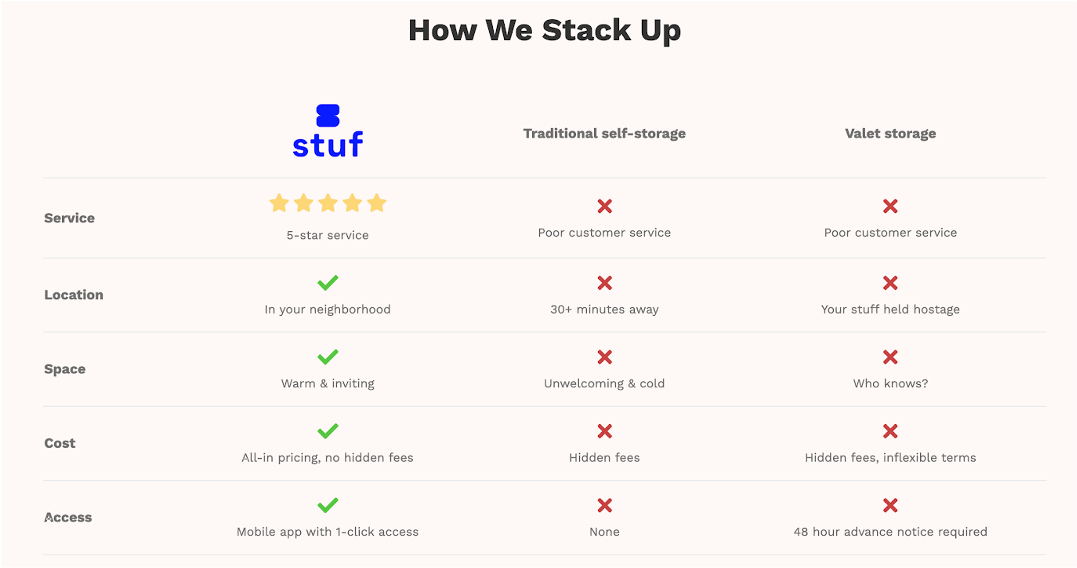 HCP: How did you know your customers needed Stuf's storage solutions?
Kat Lau: After my spring cleaning experience, I started asking friends and family about their experience with self-storage. I was shocked that the majority of people had used self-storage in the past and/or were currently using it. That insight sent me down a rabbit hole where I learned self-storage demand and supply have grown significantly year-over-year over the past few decades. The percent of households renting a storage unit increased from 8.9% in 2005 to 10.6% in 2020; that is a meaty percentage and a meaningful increase. If more than 1 in 10 households have a storage unit, I knew we would find demand with more central locations and a better product.
HCP: What do customers love about Stuf?
Kat Lau: Our members love the service, and we see that in our 5-star reviews. We listen, we care, and we always follow up. Additionally, our customers love using our mobile app for keyless and touchless access.
HCP: We love to hear that, 5-star reviews are very motivating. What is the most valuable lesson that you've learned from your customers?
Kat Lau: In the early days, we had a new member sign up with us in San Francisco. Everything that could go wrong did go wrong between onboarding and move-in. We're fortunate to have an excellent team that navigated an unhappy member and a challenging situation. A few days later, we received an unexpected email from this member about how she felt taken care of and heard despite all the issues. That experience taught me that you can turn a negative into a positive with the right attitude and approach, and even earn loyalty in the process.
HCP: What is one of the most rewarding customer experiences you have had?
Kat Lau: One of our Brooklyn members sent us a note after moving in that said we helped her save $15,000. She lived in the neighborhood and had a small e-commerce business. Rather than paying rent on an extra bedroom, she was able to rely on Stuf because our spaces are clean and inviting, and our mobile app and facial recognition features make for seamless access and provided assurance that her inventory was safe. Now that I'm thinking about it, I need to print and frame that email.
HCP: Shifting the focus for a bit, what led you to become interested in partnering with Harlem Capital?
Kat Lau: Harlem Capital's mission to invest in 1,000 diverse founders over 20 years is game-changing. As a woman and person of color, I've often found myself to be the only woman or person of color in the room, especially having worked in commercial real estate for so many years. When I put aside HCP's why and focused on their what, it was clear from my first interactions with Henri, Jarrid, and the team that they were astute investors, and I knew I wanted to join the community that they were building.
HCP: What advice do you have for other founders that are seeking early-stage investments?
Kat Lau: Research potential investors to ensure there is a good fit with their investment themes, and single out partners who might be a better fit for your business. Do a few practice rounds before you go after your top picks – trust me, you will need the practice no matter how good you are. Additionally, make sure you have a data room set up and regularly updated so you can maintain momentum after the first conversation.
HCP: Where can readers learn more about your business?
Kat Lau: Visit us at www.stufstorage.com or follow us on Instagram @storemystuf.