HCP Founder Spotlight – Sauce
by Harlem Capital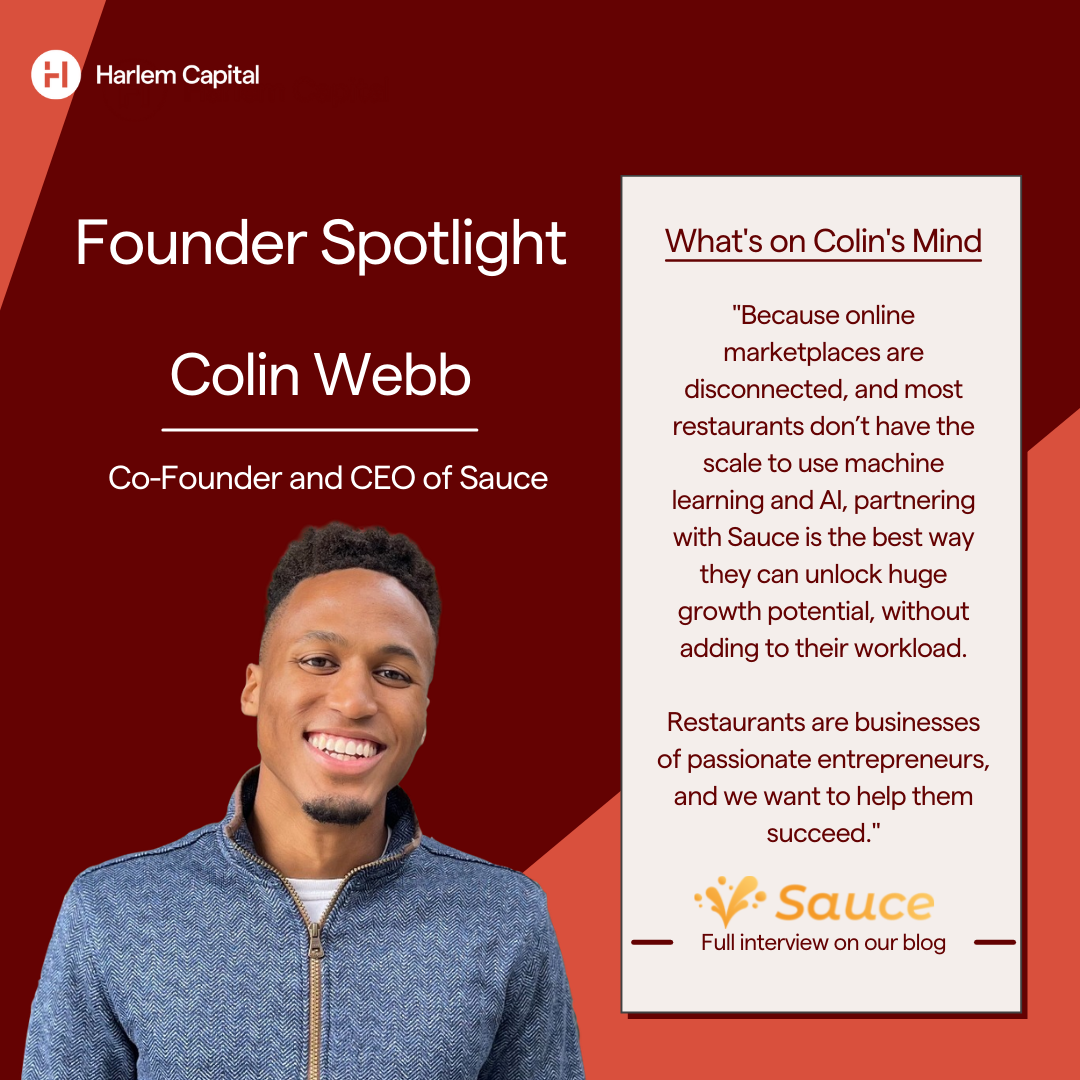 HCP is introducing the Founder Spotlight series to highlight our exceptional founders that are changing the face of entrepreneurship. To kick off the first Founder Spotlight, we are excited to introduce Colin Webb from Sauce.
Colin takes us through his incredible journey behind starting Sauce and shares some insights on what's next for the company.

HCP: Tell us a little bit about yourself? What were you doing before you started Sauce and what led you to build the company?
Colin Webb: After studying mechanical engineering and computer science at MIT, I wanted to work on ideas that would change the world.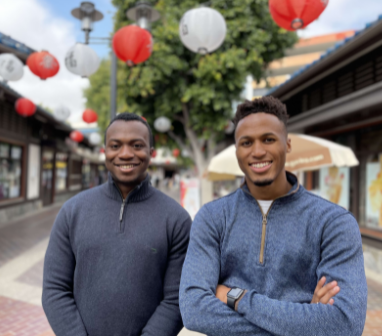 I joined Cruise/General Motors in the autonomous sensing team to work on their robotaxi program, specifically with LiDAR, radar, ultrasonics, and cameras. As a design release and development engineer, I product managed hardware that got released onto Cruise vehicles, and I also led a software testing effort to better assess LiDAR performance in adverse road conditions. While I learned a lot in my previous role, I knew I could have a greater impact faster by going the entrepreneurial route, plus I had a good support network in the Bay area encouraging me to take the plunge. It was a special decision to create Insemble and Sauce because I'd come from a family of small business entrepreneurs, and I worked in the food business. Sauce was an idea that would change the world by empowering hardworking small business owners to use big data to drive returns, and it could make a wide-scale impact much faster than self-driving cars.
HCP: What is Sauce?
Colin Webb: Sauce is a technology platform that helps restaurant owners make more money through dynamic pricing.
HCP: Tell us what Sauce does? How has the company reinvented restaurant technology?
Colin Webb: Sauce integrates with existing online ordering platforms to monitor what people are buying, how often those customers buy, and what drives customers to purchase more from the restaurant. We then change menu prices in response to the demand and market trends in order to generate more sales for restaurateurs. It's the easiest way that restaurants can get tremendous increases to revenue (up to 40% or more) without any operational overhead. There are no installations, no training, no effort required—all you have to do is log in and press start.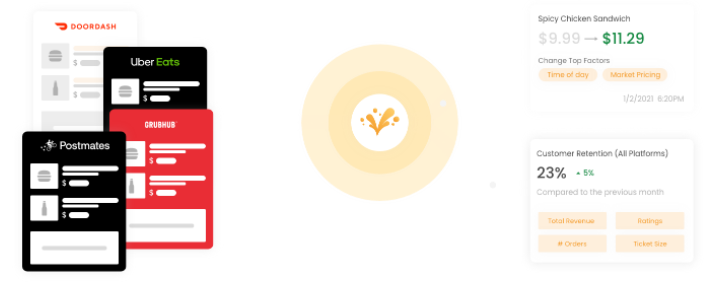 HCP: We imagine that building Sauce was not easy, what were some roadblocks that you faced, and how did you overcome them?
Colin Webb: Pre-Sauce we were in the retail real estate market, which entirely collapsed during the COVID-19 pandemic. That led to a series of pivots, products that didn't quite resonate with our target audiences, and lessons learned on how to fail fast and quickly validate ideas and the challenges involved in each.
HCP: In the process of validating your ideas how did you know that the restaurant industry needed Sauce?
Colin Webb: Restaurant owners have excelled at making great food and building a brand, but they don't often have the time or resources to onboard a data scientist or an expert pricing team to help them sell in this new online environment that's become an increasingly important part of their business. Because online marketplaces are disconnected, and most restaurants don't have the scale to use machine learning and AI, partnering with Sauce is the best way they can unlock huge growth potential, without adding to their workload.
HCP: Could you share a little bit about how your restaurant technology platform is differentiated?

Colin Webb: Most tech platforms in the restaurant industry require significant overhead, including a multi-month process of onboarding complex hardware, or a long process of training staff on how to use the new software in their operations. Sauce does not require either of these and can get started the same day, running in the background to generate returns while giving restaurateurs peace of mind.
We're building the largest price elasticity repository and fine-tuned model that is going to make our pricing system the most robust and defensible to others entering the space without any history of dynamic pricing.
HCP: We imagine that customers and customer experience are the foundation for a platform like Sauce, how did you know that customers needed Sauce?
Colin Webb: Restaurant menu pricing often is made arbitrarily, and many restaurateurs wonder if they can be making more money with different pricing than they have now. However, changing prices on all the platforms is a tedious effort that requires significant research and time spent making updates on each platform. Additionally, restaurant owners are always looking for ways to increase revenue, and we can see this through their adoption of delivery platforms and virtual brands. Adopting Sauce becomes a no-brainer especially when they realize how quick and easy it is to try out.
One of our most rewarding customer experiences was when a restaurant owner personally delivered some new food they were making to express how happy they were to use Sauce!
HCP: Has your company vision changed since Sauce first launched? If so, how and why?
Colin Webb: We initially launched as a real estate marketplace called Insemble, helping restaurants expand and find great locations. An issue that we kept running into were the questions around:
"Does this real estate space work for my brand and food needs?"
"What are my operations and supply chain distribution going to look like?"
"How am I going to hire staff to get up and running?"
These issues stalled restaurants from reaching the revenue opportunity that they sought. That got us to think…was there a way that we could give restaurants a huge increase to revenue and profitability much faster, and without having to do any work at all? That's where Sauce began – the idea that you could create a restaurant success story with the push of a button.
HCP: Shifting our focus, what are your company's values? Is there a dogma you're guided by?
Colin Webb: We approach our company values by leaning into these six points…
Fail Fast: iterate quickly, focus on results, and find the fastest way to deliver value to customers
Jump Up and Down: you know you have solved someone's problem when they're jumping up and down for what you're providing
Democratize Technology: empower the masses who are working hard to achieve their dreams; restaurants are businesses of passionate entrepreneurs, and we want to help them succeed
Take Moonshots: anything is possible
Disney Effect: go above and beyond to help solve customers' business issues, and give the gold standard of customer care and support
Humility and Continuous Improvement: we can always be better, always seek to find the next best way to help our clients' businesses become more successful
HCP: What led you to become interested in partnering with Harlem Capital?
Colin Webb: Harlem Capital showed not only a strong presence with e-commerce startups, but they also had an attention to data and detail that was unparalleled amongst VCs that we considered partnering with. We resonated with their mission, their founders spoke extremely highly of HCP's support for founders, and they presented the most diverse evaluation committee of any VC we pitched to.
This gave us the confidence that they would be the best equipped to help us overcome challenges in our industry and challenges for underrepresented leaders in tech.
HCP: What advice do you have for other founders that are seeking early stage investments?
Colin Webb:
Be diligent on sourcing and taking feedback
Talk to as many people as possible who can challenge your business approach
Show results and an indication of product-market fit
Signups and revenue speak louder than tech development progress
Try to get someone to make an intro for you (cold outreach has a low success rate in VC)
Make adjustments to your approach or direction, but don't give up
HCP: What motivates you and why?
Colin Webb:
Empowering others
Making life easier for people
Working with great teammates
Beating the odds
Solving the "impossible"
HCP: What's next? What does the next chapter look like for Sauce?
Colin Webb: Enhancing product-market fit, then scaling.
HCP: Where can readers learn more about your business? Plug your socials!
Colin Webb: Visit us at www.saucepricing.com and follow us on Instagram at @saucepricing