Digging deeper into diversity in VC
by Harlem Capital
What is this and why are we doing it?
Following the death of George Floyd and the ensuing racial justice movement, we have seen a dramatic increase in the number of diversity-focused and diverse-led funds in the United States. Now, a year after that monumental summer, we wanted to take the opportunity to showcase the progress to date by highlighting funds in the current landscape.
At Harlem Capital, we are proud to be among those in the diverse venture ecosystem. We do not view other funds as our competitors, we are pushing for all of us to win.
Our methodology:
Over the last few months, we have compiled a database of diversity-focused and diverse-led funds, building upon our existing Harlem Capital reports, data from our networks, as well as information from Pitchbook and Crunchbase. We define these funds as having a Black or Latinx Founding Partner and/or an investment focus on Black or Latinx founders. Below are some of our key findings, and more details of the funds we included can be found on Airtable.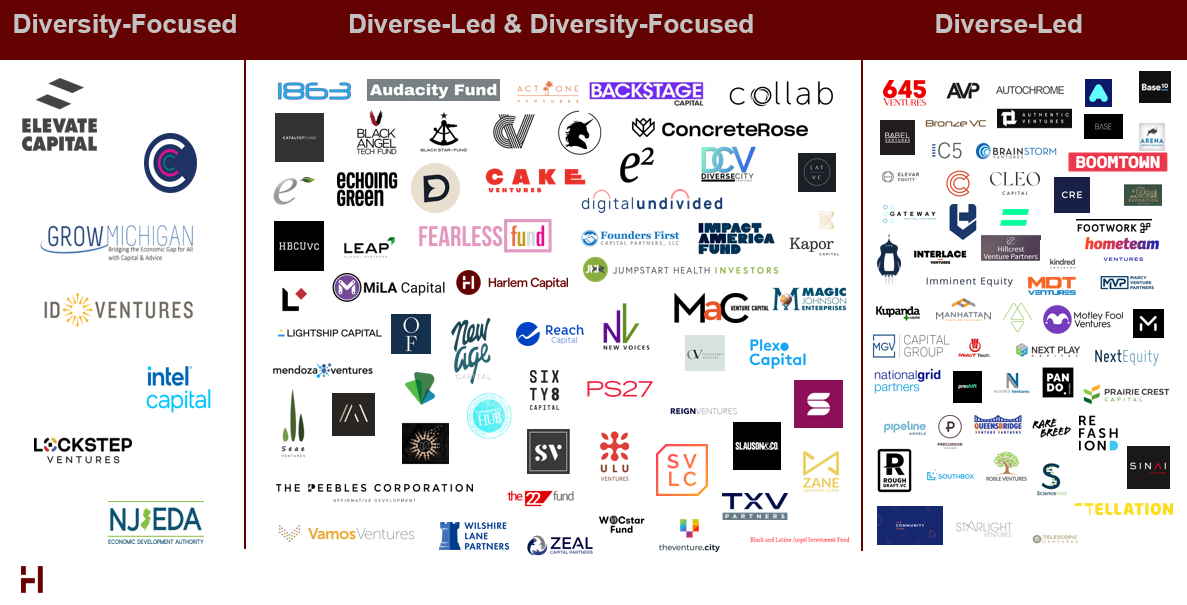 The high level:
Our research identified 131 funds that met our criteria as either diverse-led or diversity-focused, with approximately half (49%) of funds categorized as both. For context, the latest National Venture Capital Association reports that as of March 2021, approximately 1,965 VC firms were managing 3,680 venture funds in the United States (source). Comparatively speaking, these 131 funds we've identified represent only 3.5% of all funds in the US. Looking at AUM across the funds, the total AUM equals $8.4 billion, which equates to approximately 1.5% of the total VC AUM in the United States (source). Note that out of the 131 funds we identified, 43 of those did not disclose AUM, and therefore were not included in our analysis.
When were they founded?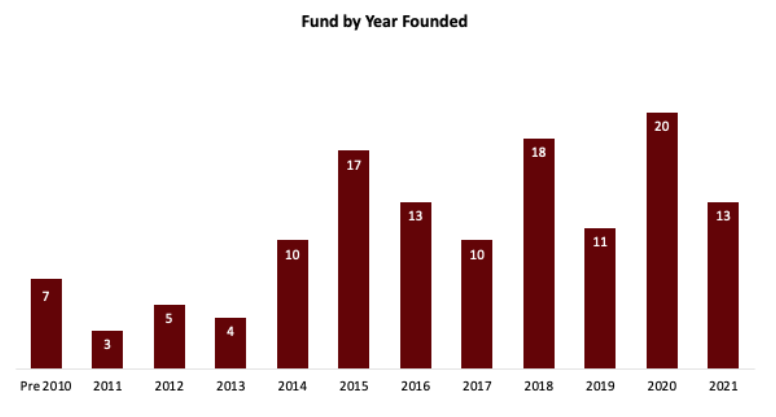 The VC industry reached an inflection point in 2020 — last year alone, 20 new diverse-led or diversity-focused funds were founded, the highest number in any one year ever, and a third of all funds active today have been launched since 2020. While we're only halfway through this year, 13 funds have been founded to date. At this rate, the number of new diverse-led and diversity-focused funds in 2021 has the potential to surpass those founded in 2020, underscoring the accelerating pace and momentum we expect to see moving forward.
How big are the funds?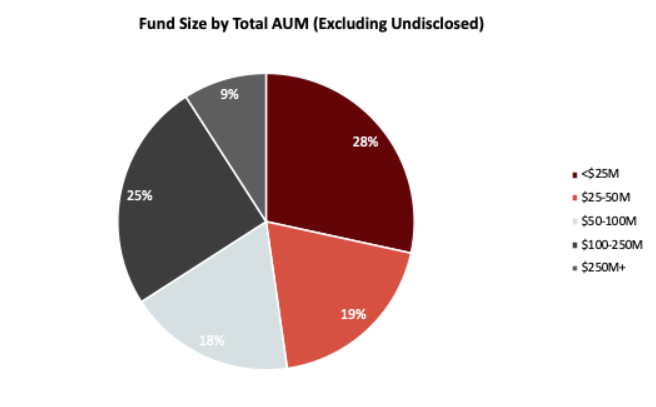 In terms of fund size, we looked at the total assets under management (AUM). Our research found that of the funds that disclosed AUM, 28% had $25M, 19% had $25-$50M, and 18% had $50-$100M — meaning that 65% of all diverse-led and diversity-focused funds today are considered micro-VC funds. However, with many new funds launched in the past year, we expect to see AUM increase significantly as these firms raise subsequent, larger funds in the years to come.
What stage are they investing in?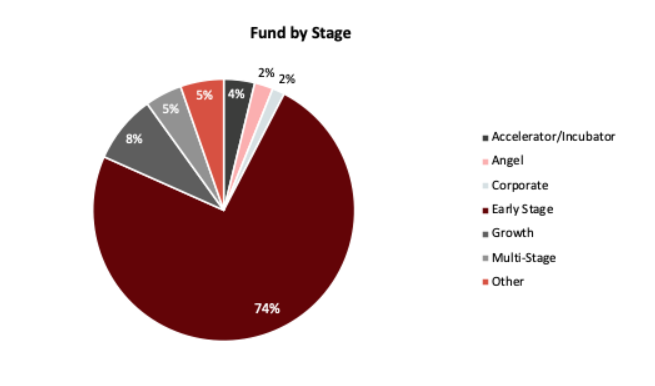 While there are funds investing across the entire VC investment lifecycle, our report shows a majority are focused on early-stage companies, with 74% of the 131 funds investing in early-stage (pre-seed, seed or Series A). Notably, our research found that only 8% of diverse-led and diversity-focused funds invest at the growth stage (Series B+). Of those, only about half were diversity-focused, indicating a significant need for more funds dedicated to backing diverse founders at later stages. Other investors we identified include five accelerators/incubators, three angel syndicates, and two corporate venture capital funds — representing a combined 8% of all funds.
Where are these funds headquartered?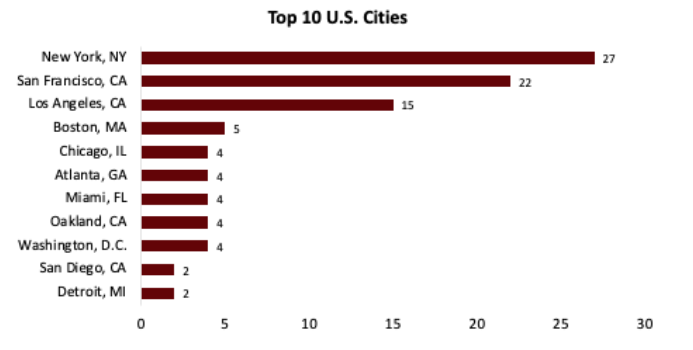 Approximately 50% of the funds in our sample are headquartered in three cities: New York City, San Francisco, and Los Angeles — roughly mirroring the geographic concentration of all venture capital firms in the United States (source). However, our research also found that a handful of the funds were headquartered in cities outside of traditional tech hubs that had sizable Black populations, including Atlanta and Detroit.
Conclusion:
Looking back on this past year, we are encouraged by the incredible growth made on diversity in venture capital. At the same time, we are also inspired to work harder with our colleagues in the space to ensure the recent momentum leads to long-term, systemic change. By working together, we are better equipped to drive our mission forward of changing the face of entrepreneurship.
If you know of other funds that we missed, please submit them here so we can continue to keep this list updated for founders. 
To stay up to date on Harlem Capital news, subscribe to our monthly newsletter.
Thanks to our intern, Amira Khatib, for putting this report together.