892 Women Founded Startups Have Raised $1M+ in VC Funding in 2022 ($17.9B Total)
by Harlem Capital
By Gabby Cazeau and Gitika Pahwa (Winter Intern 2023)
We just released Harlem Capital's 2022 Women Founder Report. As a fund that focuses on investing in women founders, we wanted to dive into the data to better understand the funding landscape for women founders in 2022.
How much did women founders raise in 2022?
This year the report focuses on women founders that raised over $1M in 2022. Of the 977 companies we found, only 892 had publicly available funding information. This report focuses on those 892 companies. The 892 companies raised $17.9B of capital with a median raise of $6.5M. 30% of companies raised a round at the seed stage.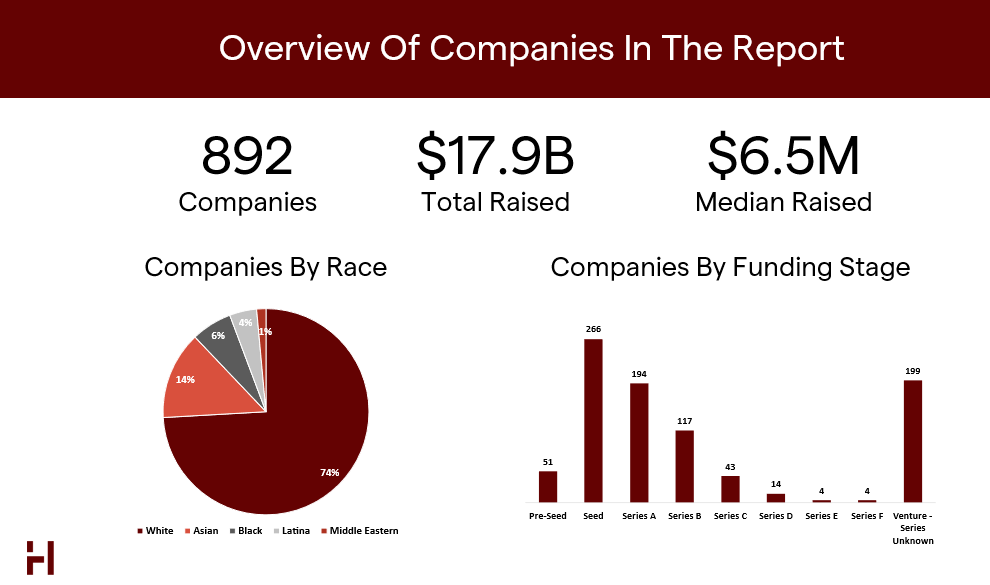 Who are the founders by gender and race?
Out of the 892 companies, 74% were founded by White women. In terms of median capital raised, Asian women raised the most at $8.0M, followed by Middle Eastern women at $7.0M. Black women had the lowest median capital raised at $3.5M.
What industries are they in?
This year's top industries were software, healthcare, biotech, and fintech, representing 41% of all companies that raised capital. Software companies raised the most capital overall, but Health and Wellness jumped into the top 4 industries, with more capital raised than in Fintech. In total, the top 4 industries raised 52% of the total capital.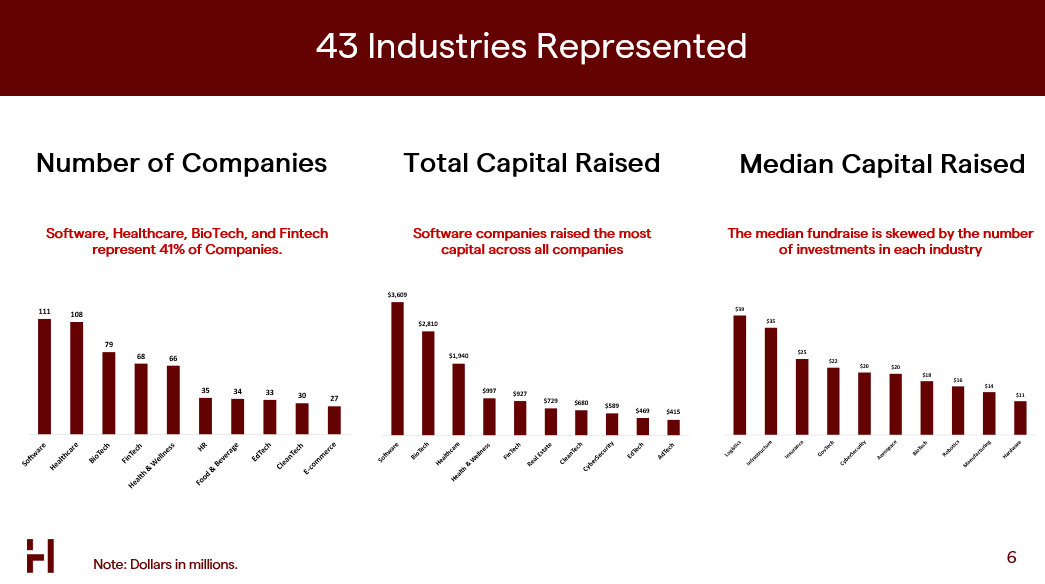 Where are these companies headquartered?
Similar to the overall venture landscape, 56% of the companies' headquarters are in California and New York. However, California and New York represent 67% of funding, with California-based companies representing 53% of total funding. There is still a large concentration of founders in Massachusetts. Companies in California, New York, and Massachusetts have the highest median raises between $10M and ~$7M.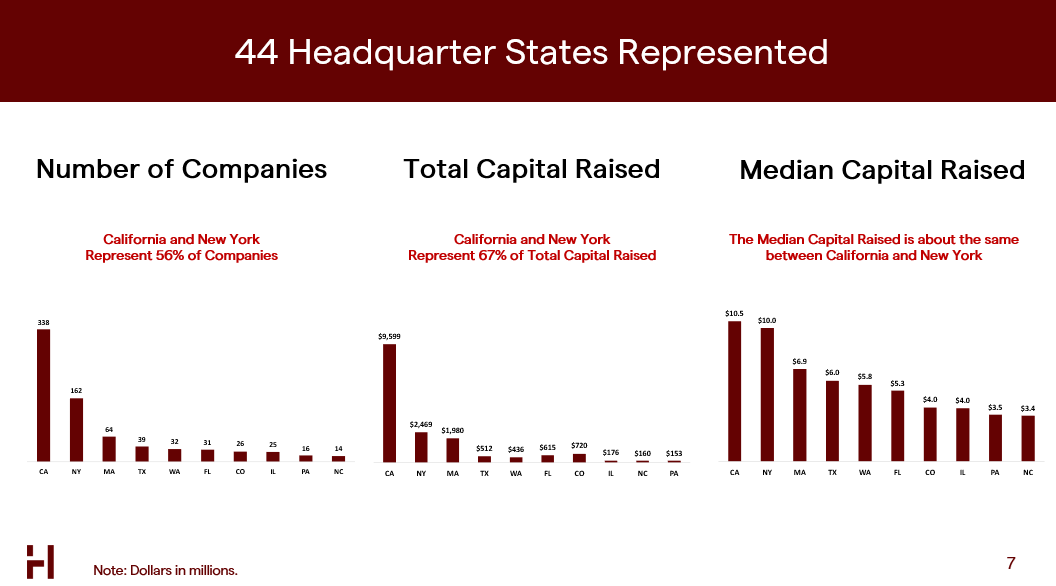 What were the top fundraises?
The top 10 largest fundraises in 2022 raised $3.9B in capital, representing 22% of the total capital raised. These fundraises include industries beyond the top 3, showing that founders are able to successfully raise large rounds outside of those categories.
Who were the top investors in women founders?
Our report includes 2,000+ investors across these 892 companies. Of these investors, 61 invested in at least 5 women-founded companies and 9 firms stood out having invested in 10+ women-founded companies.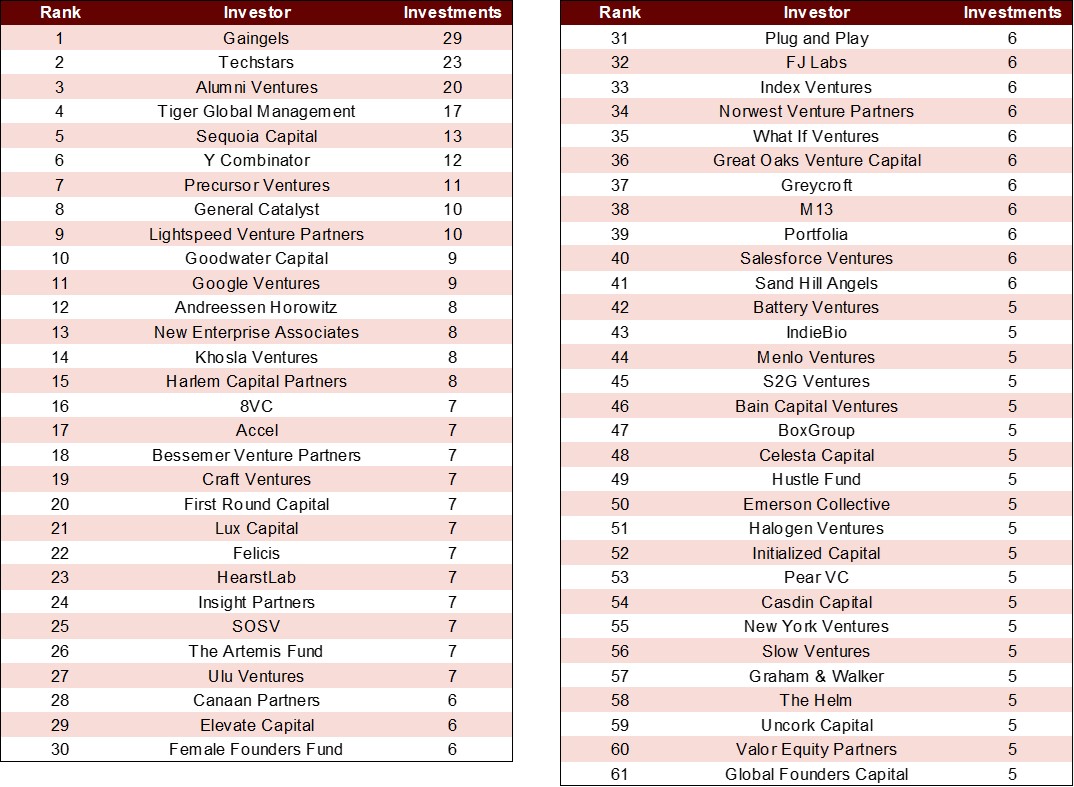 Conclusion
We know 2022 was a tough year for fundraising overall and we know that women founders still don't receive their fair share of funding. This is especially true for women founders of color who face additional barriers when accessing capital. But we continue to believe and see that women founders are building and scaling world-changing companies. Various studies have shown that women founders outperform their industry peers and in a market environment laser-focused on capital-efficient and profitable companies, backing women founders presents the best opportunity to drive meaningful returns to investors. As the industry recalibrates in the coming years, it's important that all VCs maintain the commitments they've made to backing women founders and build on the early progress we've made.
Our mission at Harlem Capital is to back women founders at the earliest stages and we're proud to have backed eight of the companies on this list.
Check out the Airtable to see the full list of 892 companies and to stay up to date on Harlem Capital news, subscribe to our monthly newsletter.