Welcome Harlem Capital's Fall 2019 Intern Class
by Harlem Capital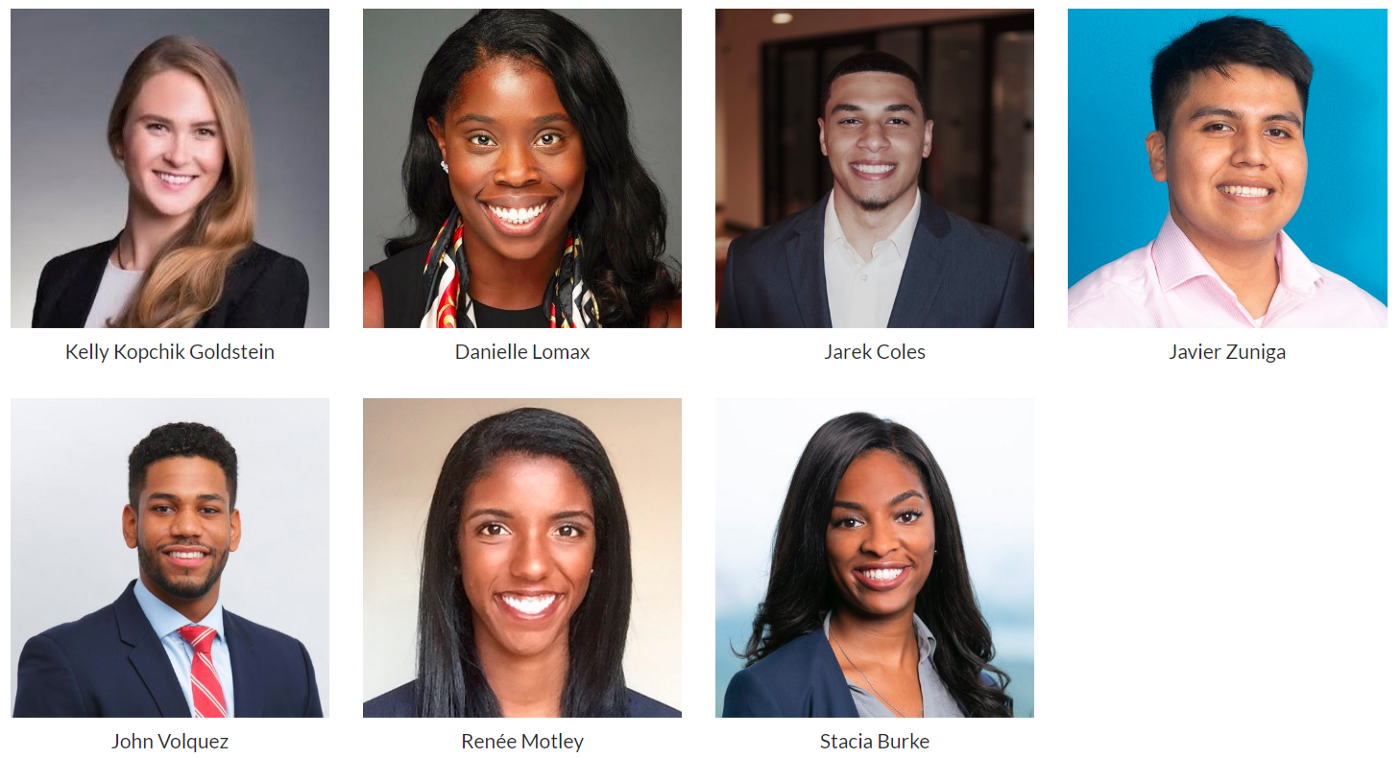 Dear Harlem Capital Family,
We are pleased to announce Harlem Capital's 2019 Fall Intern Cohort, our sixth cohort.
This intern class has 2 MBA students, 1 undergraduate student, and 3 full-time employees. The students come from Stanford, Michigan, and Baruch, while the employees come from CB Insights, Apollo, and Lazard. The interns' experiences include finance, consulting and business development.
The applicants were chosen from a pool of over 450 applications, 32% of which were women and 76% Black and Latinx. We continue to be amazed by the pipeline of talent as this was our largest application pool to date. Please join us in welcoming them.
We will also have 1 fellow joining with this cohort. Our fellow was a prior intern and is now taking on a more senior role at the firm. We are fortunate and excited to have our fellow continue on with the team.
We have now had 34 interns across 1,400 applicants and are building a diverse family across the country. Some of our alums have gone on to become investors, founders and even GPs of new funds. It is exciting to see what they have already accomplished.
Our Winter 2020 applications are now open until October 9. Apply here.
Interns:
Danielle Lomax
Danielle Lomax is a second-year MBA candidate at the University of Michigan's Ross School of Business At Ross. Danielle is committed to amplifying Michigan's technology ecosystem and strengthening the student experience. She holds leadership roles with Women Who Launch and the Black Business Student Association. She also leads the Michigan pod for Contrary Capital, a university-focused venture fund that invests exclusively in student-run startups.
During her MBA summer, Danielle interned at Google as a member of the emerging markets user operations team. Prior to business school, she founded a digital marketing company advising small and medium sized-businesses on social media optimization. She then pivoted to management consulting as a member of Deloitte's strategy and operations team and later as a founding member of CapTech's Atlanta office. Danielle graduated from Howard University in 2014 with a bachelor's degree in Journalism and Sports Management. In her free time she enjoys traveling, practicing yoga, and discovering new podcasts.
Jarek Coles
Jarek Coles currently works on the Business Development team at CB Insights. In his role, he provides market research for venture capital, private equity, and fortune 500 corporate innovation teams. Prior to CB Insights, Jarek was a member of SV Academy; a fellowship dedicated to developing leadership and diversity in the tech industry. He received his Bachelor of Business Administration from Bellarmine University, where he was captain of the Men's Basketball team; resulting in two Division II Final Four's and nominated as the 2018 Defensive Player of the Year.
Javier Zuniga
Javier Zuniga is a Junior at Baruch College majoring in Finance. Previously, he interned at TPG Real Estate Partners (TREP), where he was tasked with performing data analysis for the deal teams' investments as well as conducting due diligence on potential acquisitions across their various platforms. In addition, he helps as a math tutor for the Baruch SEEK Department which serves financially and academically disadvantage students within Baruch College. Javier is also a member of various diverse initiatives such as America Needs You, Management Leadership for Tomorrow, and Sponsors for Educational Opportunity (SEO).
John Volquez
John Volquez was previously an investment banking analyst in the Power, Energy and Infrastructure group at Lazard in New York. He graduated from Yale University in 2017 with a B.A. in Ethics, Politics and Economics. While at Yale, he held summer analyst positions at Goldman Sachs, in the Private Wealth Management group, and at Lazard. John is from the Bronx, New York.
Stacia Burke
Stacia Burke currently works at Apollo Global Management ("Apollo"). She joined Apollo in 2018 and is based in New York. Prior to Apollo, she began her career on Wall Street as an Investment Banking Analyst at J.P. Morgan in the Technology Coverage group where she focused on companies across the enterprise software, technology services, and fintech sectors.
Stacia graduated summa cum laude with a Bachelors of Science from Georgia Tech in Operations & Supply Chain Management and minor in Engineering & Business through the Denning Technology & Management Program.
Outside of work, Stacia enjoys taking photos of food and coordinating dinner events in the spirit of #FoodandFellowship.
Renée Motley
Renée Motley is currently a second-year MBA student at Stanford GSB. A foreign language and culture aficionada, she graduated from Harvard University with a degree in Economics and Middle Eastern Studies. She spent two years at J.P. Morgan in New York before transferring to London where she spent most of her weekends earning miles on budget airline flights to lesser known European cities. After a much anticipated call from Stanford, Renée decided to trade in her budding British accent for the land of palm trees, Steph Curry, and unicorns.
Now going into her final year at the GSB, Renée is heavily involved on campus as an Arbuckle Fellow, vice chair of FOAM, and an active member of the VC Club, Women in Management, and the Black Business Students Association. She spent the summer at Plus Capital, a Los Angeles based celebrity venture capital and advisory firm, where she focused on direct-to-consumer investments. In addition to perfecting her handstand as an aspiring yogi, Renée enjoys watching other people play sports and reading French translations of her favorite novels. Renée is originally from Pittsburgh, PA.
Fellows:
Kelly Kopchik Goldstein
Kelly Kopchik Goldstein is a second year MBA candidate at the University of Michigan Ross School of Business focused on Venture Capital and Private Equity. At Ross, Kelly is co-president of Women Who Launch (an organization dedicated to creating a gender equal entrepreneurial ecosystem) and a Peer Coach to first year MBAs pursuing careers in private markets investing. During her first year of business school, Kelly served as a winter-term venture intern for Harlem Capital Partners and dedicated her 2019 summer internship to Partners Group where she supported the Private Equity Integrated Investments team.
Prior to Ross, Kelly spent seven years in global brand development and marketing with Unilever and Edelman, the world's leading communications marketing firm. During that time, Kelly developed and executed comprehensive consumer and corporate marketing strategies for international brands including five of Unilever's leading personal care lines as well as HP Inc.
A former college volleyball player, Kelly is passionate about health & wellness and serves as a RYT-200 yoga instructor in her spare time. Kelly holds a B.A. from Bowdoin College in Sociology and Economics.
Regards,
The Harlem Capital Team