MORE EQUITY Lightning Talks
by Harlem Capital
⚡Harlem Capital is launching a six-part speaker series presented by JPMorgan Chase & Co. in partnership with Advancing Black Pathways.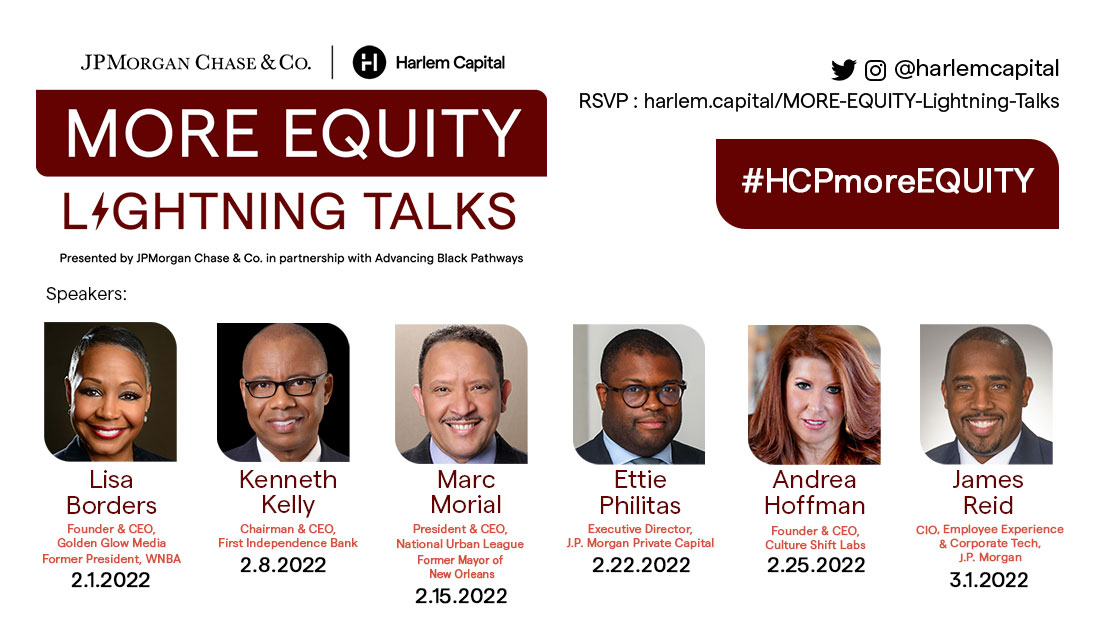 In honor of Black History Month, we are excited to announce MORE EQUITY Lightning Talks. This series features six prominent leaders discussing critical topics affecting diverse communities, ranging from resiliency and mental health to preserving generational wealth through proper planning. The 20-minute episodes will be released throughout Black History Month.
Register below and join the conversation! #HCPmoreEQUITY
SPEAKER BIOS
Lisa Borders, Golden Glow Media Founder & CEO
Lisa Borders has three decades of leadership experience, delivering results across the private, public and non-profit sectors across several roles — former president of Women's National Basketball Association (WNBA), executive at Coca-Cola Company and the Coca-Cola Foundation, and the inaugural CEO of TIME'S UP.
Currently, Lisa serves as the host of "Enlightened", a new weekly podcast featuring a diverse array of people from all walks of life, highlighting stories of inspiration and overcoming adversity. She is the CEO of LMB Group, LLC, a management consultancy firm, and recently chaired the Borders Commission, a strategic task force chartered by the United States Olympic and Paralympic Committee (USOPC).
Borders was the inaugural president and CEO of TIME'S UP, an organization that advocates for safe, fair, and dignified work for all women. Borders was also formerly the president of the Women's National Basketball Association (WNBA), where she is credited with accelerating the league's growth and creating new ways for fans to engage with the league. Prior to the WNBA, Borders was vice president of global community affairs at The Coca-Cola Company and chair of The Coca-Cola Foundation. From 2004 to 2010, Borders held elective office as president of the City Council and vice mayor of Atlanta.
Ms. Borders remains fully engaged civically and in her community, and has received recognitions including Forbes.com, Most Powerful Women In U.S. Sports 2018. Ms. Borders earned a BA from Duke University and an MSHA from the University of Colorado at Denver.
Marc Morial, National Urban League CEO
Marc Morial, who has been described as one of the few national leaders to possess "street smarts", and "boardroom savvy", is the current President and CEO of the National Urban League, the nation's largest historic civil rights and urban advocacy organization.
He served as the highly successful and popular Mayor of New Orleans as well as the President of the U.S. Conference of Mayors. He previously was a Louisiana State Senator and was a lawyer in New Orleans with an active, high-profile practice. He is a leading voice on the national stage in the battle for jobs, education, housing, and voting rights equity.
A graduate of Georgetown University Law Center, and the University of Pennsylvania, he has been recognized as one of the 100 most influential Black Americans by Ebony Magazine, one of the top 50 Non Profit Leaders by the NonProfit Times, one of the 100 Most Influential Black Lawyers in America and he has also been inducted into the International Civil Rights Walk of Fame in Atlanta, GA.
James Reid, J.P. Morgan Employee Experience Chief Information Officer
James Reid is the Chief Information Officer for the J.P. Morgan Chase Employee Experience and Corporate Technology organization. In his role, he leads an organization that builds and maintains systems used across the bank's corporate functions such as workforce technology, legal, chief administrative office (CAO), audit, tax, and robotics. He oversees efforts that include building a "seamless and unified digital interface" across common employee-facing technologies.
Prior to this role, Reid was the Head of Corporate Technology's Engineering and Architecture team. He is one of the firm's Distinguished Engineers and a member of the Cloud Design Council and the Global Technology Architecture Council (GTAC). In addition, he's an active leader of J.P. Morgan Chase and GT's Diversity & Inclusion initiatives, and a member of the firm's Black Executive Forum, where he represents Corporate and serves as an ambassador and thought leader for firm-wide initiatives.
Prior to joining J.P. Morgan in May 2019, JR worked at Equifax for 17 years and served as SVP of Core Software Engineering, leading a global software organization that designed, built, and delivered its strategic global platforms and capabilities.
He holds software patents created from his passion to use technology to deliver business value. James graduated with a degree in Computer Science from Rutgers University and holds a Master of Business Administration, Global Business from the Georgia Institute of Technology.
Ettie Philitas, J.P. Morgan Private Capital Executive Director
Ettie Philitas is an Executive Director with J.P. Morgan Private Capital, where he serves as Head of Infrastructure Debt. He is also a member of the Infrastructure Debt Group's Portfolio Oversight Team and a Portfolio Manager for J.P. Morgan Asset Management's Private Credit solutions, focusing on infrastructure debt.
He was previously an Investment Director with Africa50's Project Finance team where he originated and managed infrastructure investments across Africa. Prior to his role at Africa50, Ettie was an Associate with the Private Credit team at KKR, where he focused on direct lending, opportunistic credit, special situations, and equity investments. He has also worked with the Private Debt team at Muzinich & Co. and with the Leveraged Finance Origination & Restructuring group at Credit Suisse, where he advised clients on over $19bn of high-yield and leveraged loan financings and provided dedicated coverage to issuers in the Power & Utilities space.
Ettie began his career as an Analyst with Deutsche Bank's Private Wealth Management group in New York. Ettie holds a B.A. from Princeton University and an MBA in Finance from the Wharton School of the University of Pennsylvania.
Andrea Hoffman, Culture Shift Labs Founder & CEO
Andrea is a strategist, dealmaker, author, and the founder and CEO of Culture Shift Labs (CSL) a diversity and innovation consultancy. She's been at the forefront of diversity and innovation since 1999.
CSL advises Fortune 500's, tech companies, investment firms, nonprofits, and private clients on growth and innovation through diversity and inclusion. Andrea consults with C-suite executives and their teams across a wide range of industries to identify opportunities that deliver social and financial returns.
Andrea conceived the Knowledge + Network Formula to help companies drive tangible outcomes, as well as Culture Shifting Weekend — a summit that unites over 350, technologists, innovators, investors, tech leaders, CEOs, and social impact leaders of color and allies to enable deals and collaborations.
Andrea serves on the advisory council of the J.P. Morgan Chase Advancing Black Pathways and as a Senior Fellow of Social Innovation at Babson College, a top-ranked entrepreneurship business school. Andrea is the author of The Innovation Diversity Connection, co-author of Black is the New Green, and 50 BILLION Dollar Boss: African American Women Sharing Stories of Success in Entrepreneurship and Leadership (nominated for a 2015 NAACP Image Award for Outstanding Literary Work).
Kenneth Kelly, First Independence Bank Chairman & CEO
Kenneth Kelly serves as Chairman and CEO of First Independence Bank, a minority depository institution based in Detroit, Michigan. He is a respected leader in the banking community and currently serves on the Board of Directors of the American Bankers Association, the voice of the nation's $20.3 trillion banking industry.
In the past, Kelly has served in a number of elected board positions including — director of the Michigan Bankers Association, chairman of the National Bankers Association representing minority banks, and a member of the Federal Reserve of Chicago Bank Seventh District Community Depository Institutions Advisory Council (CDIAC). Kelly was also selected in 2018 to become a member of the Federal Deposit Insurance Corporation Chairman's Advisory Committee on Community Banking which is charged with providing advice and recommendations to the FDIC on a broad range of community banking policy and regulatory matters. In this role, Kenneth has provided input to the White House, the Secretary of the Treasury, and the U.S. Congressional House Financial Services Committee on matters such as COVID-19.
Prior to banking, Kelly enjoyed a 27-year career as an electric utility business leader in numerous roles within Southern Company — leading to his induction into the State of Alabama Engineering Hall of Fame in 2020. Kelly grew up in Eufaula, Alabama, received an electrical engineering degree from Auburn University, and completed the executive MBA program at the University of Alabama.
Follow the conversation #HCPmoreEQUITY on Twitter, LinkedIn, and Instagram.