Meet The 2018 Fall Intern Class at Harlem Capital
by Harlem Capital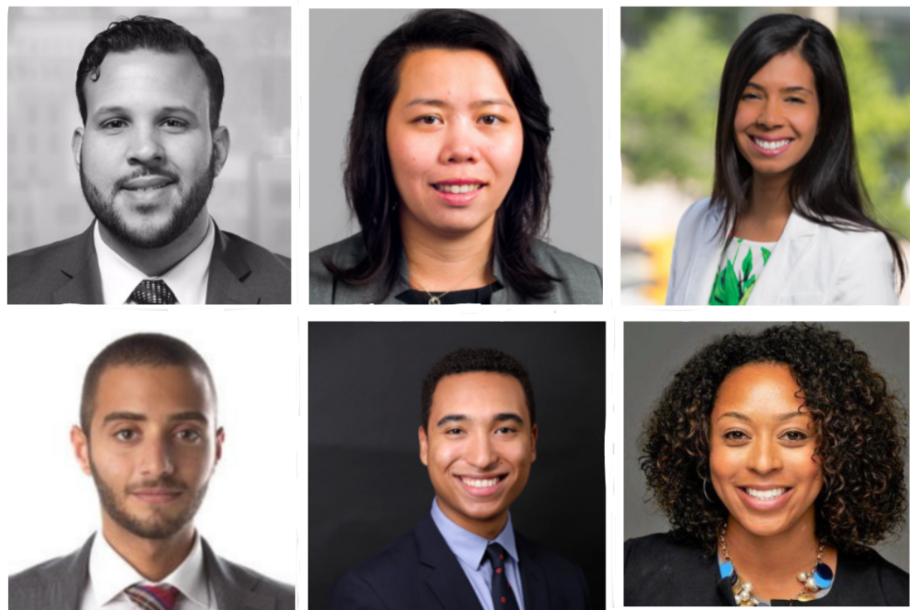 We are pleased to announce Harlem Capital's 2018 Fall Intern Cohort.
This is our third intern class and we feel very honored to have had 15 interns to date join the HCP family. Our additional teammates have enabled us to scale exponentially faster and they challenge us in new ways. Often times we forget that an internship is a two way street, but it is a humbling experience for us as a team. The continued interest from such high caliber diverse talent is inspiring, as there is no greater validation than talented individuals wanting to join our mission.
This particular intern class is unique in that 5 of the 6 are graduate or undergraduate students, compared to just 1 of the previous 9 interns. The students come from Harvard Business School, NYU Stern, Duke Fuqua and the University of Michigan. Their experiences range from finance to consulting to marketing.
For this intern cohort, selected applicants were chosen from a pool of over 200 applications, 25% of which were women and 34% non black and latino. From the 200 applicants, we narrowed it down to just 30 candidates for the first round, 15 for the second round and 10 for the final round with an Investment Presentation. Ultimately, a total of 6 new interns were chosen as a result of the process. Please join us in welcoming them.
BIOS
Anothony De La Rosa
Anthony De La Rosa is an NYC born and raised native. He is a manager within the Strategic Transformation group at Slalom Consulting, a $1bn tech consulting startup with strong partnerships with Amazon, Google, Salesforce, and Microsoft. Previously he was a Senior Consultant at Ernst and Young, and before that, he was an Underwriter within AIG's Financial institutions' group focusing on Asset Management, Real Estate Investment Trusts, and Banking. On his spare time, Anthony is a Brazilian jiu-jitsu practitioner at Renzo Gracie's gym in NYC, and a co-host for a Podcast called the Slingshot which focuses on destigmatizing failure.
Bonnie Kong
Bonnie Kong is an MBA candidate at the Fuqua School of Business at Duke University. This summer, she worked for Sikich Investment Banking, a boutique investment bank focused on sell-side M&A. At Fuqua, Bonnie holds leadership roles on the Entrepreneurship and Venture Capital Club, Media Entertainment and Sports Club, and the Black and Latino MBA Organization.
Before business school, Bonnie worked at J.P.Morgan for five years in various finance and strategy roles. Her last position there was on the finance and strategy team supporting senior management of the firm's Corporate and Investment Bank. Bonnie graduated with honors from Syracuse University, where she received her Bachelor of Science in Economics and Bachelor of Arts in Public Policy.
Currently, Bonnie serves as a consultant for Sana Services, a healthcare startup based in Chicago, and a board member for Neighborhood Advisory Board 13, where she is responsible for determining community block grants in her hometown neighborhood, Coney Island. As a native New Yorker, Bonnie is passionate about ethnic food and a suffering New York sports fan.
Jazmin Cabeza
Jazmin Cabeza is a second-year MBA candidate at NYU Stern School of Business, focusing on Finance and Global Strategy. Recently, Jazmin worked as an Investment Banking Summer Associate in William Blair's Technology group. At Stern, Jazmin is the Co-President of the Association of Hispanic and Black Business Students (AHBBS) and partakes in the Student Government's Diversity Committee. Prior to Stern, Jazmin worked as a Management Consulting Manager in Accenture's Finance & Risk practice, focused on business process improvement and risk management. Jazmin holds a B.S/M.S. in Industrial Engineering from the University of Central Florida and is originally from Venezuela.
Nabil Ibrik
Nabil Ibrik is currently a 2nd year student at the Harvard Business School, having spent his first summer of school at Lenovo serving in the Corporate Strategy department. His work at Lenovo revolved around addressing both the short-term and long-term strategy of the company, specifically in the internet of things and artificial intelligence space.
Prior to HBS, Nabil Ibrik was a management consultant at McKinsey & Company, serving in both the MENA and North America regions. His work entailed strategy development and process optimization for both public and private sector clients in the mining, real estate, infrastructure and travel & tourism sectors.
Nabil completed his undergraduate education at Texas A&M University, where he completed his bachelors in Mechanical Engineering. He was a recipient of the "The Thomas S. Gathright Scholar Academic Excellence" Award and served as a leader on the university's Chem E-Car team.
For leisure, Nabil enjoys watching and playing sports, curating music playlists and traveling. He is originally from Palestine, having grown up in the United Arab Emirates and currently residing in Boston.
Temisan Hambraeus
Temisan Hambraeus is a junior at the University of Michigan, Ross School of Business where he's studying a BBA with an emphasis in Finance and a Minor in African Studies. Most recently, Temisan worked as a Private Equity Summer Analyst at Apollo Global Management where he conducted due diligence on potential acquisitions in the gaming, leisure and retail spaces.
At Michigan, Temisan serves as Vice President of Corporate Relations for the Black Business Undergraduate Society and on the board of 180 Degrees Consulting, a student-run consultancy focused on non-profit and social enterprise clients. He is also involved in the Global Investments Committee, a student-run multi-strategy hedge fund and Alpha Kappa Psi Professional Business Fraternity. Originally from Stockholm, Sweden, Temisan spends time working with international students on campus through the Michigan International Student Society.
Temisan is fellow of Management Leadership for Tomorrow (MLT), Sponsors for Educational Opportunity (SEO), the JumpStart Network and the Raoul Wallenberg Academy. Next summer, Temisan will further his career as an Investment Banking Summer Analyst at Morgan Stanley. In his free time, he enjoys skiing, classical music and sailing.
Tyler Simpson
Tyler Simpson, a native of Cartersville, Georgia, graduated from Columbia University in 2013 with a B.A in Psychology. While at Columbia, she was a member of the Women's Basketball team and avid supporter of Columbia Athletics. Upon graduation, Tyler joined the National Basketball Association as a member of the Associate Program. In her 5 seasons at the NBA, Tyler held roles in the NBA's International Licensing group as well as the Global Partnerships group where she managed the marketing partnership accounts for three of the NBA's major global partners. This summer, Tyler interned with minority owned-startup, Shelfspace, as a Product Marketing Intern before taking her talents to Harvard Business School where she'll concentrate on building her general management skills and pursuing her entrepreneurial goals. When she's not working or going to school Tyler enjoys socializing, taking kickboxing classes, and traveling with friends.
Regards,
The Harlem Capital Team