Meet Harlem Capital's Fall 2023 Interns
by Harlem Capital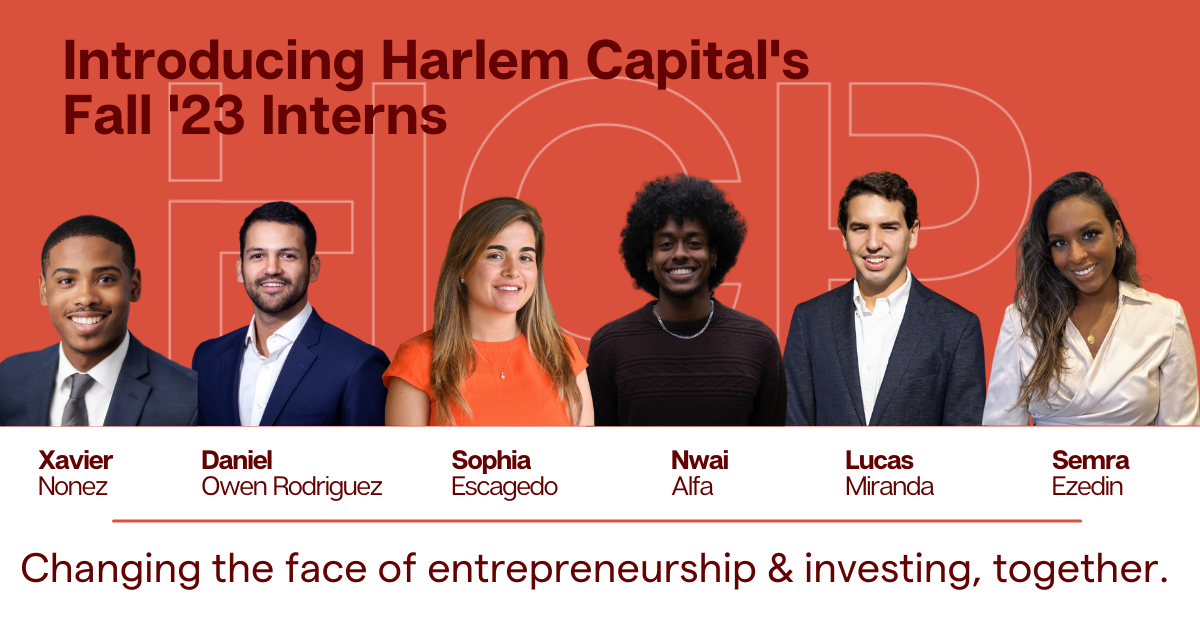 Harlem Capital Community,
Please join us in welcoming our Fall Intern Class: Xavier Nonez, Daniel Owen Rodriguez, Sophia Escagedo, Nwai Alfa, Lucas Miranda, and Semra Ezedin.
ABOUT THE INTERN PROGRAM
Harlem Capital's internship is a 10-week program that occurs 3 times per year, with winter, summer, and fall cohorts. Each cohort consists of 6 interns and 1-2 fellows (returning interns). Interns are tasked with weekly deal screens, industry analyses, and key value-add projects over the course of the internship. Our interns are what we like to call our 'secret sauce' as they allow us to accomplish projects outside of regular deal work that expand the diverse ecosystem. Notably, our Partner, Gabby Cazeau and Principal, Nicole DeTommaso have come from this program.
WE'VE HIT A MAJOR MILESTONE
We've crossed the 100-intern milestone!
We continue to be amazed by what our small but mighty team can accomplish. With a team of 5 investors, we have invested more than $75M into 51 companies in a 4.5-year period. A big part of our productivity has come from our intern program. We have received over 12,500 applications and hired 105 interns over 18 classes in a 5-year period. 30+ of those interns now work in VC or PE, which is one of HCP's proudest stats as we've become one of the largest diverse funnels into VC. It's also led to co-investing, sourcing and collaboration opportunities. It's incredible to see 5 of them make Partner already and we are excited to see the others progress.

ABOUT THIS COHORT
The 6 applicants were chosen from a pool of 942 applications, marking a 0.6% acceptance rate.
This intern class has 2 undergraduate students, 1 MBA student, and 3 full-time employees. The current undergraduate & MBA students hail from Babson College, University of Pennsylvania and The Wharton School. The class is 50% Latino and 50% Black as well as 17% first-generation college students and 83% first-generation American.
Additionally, 17% of this class applied more than once, with 1 applying two times. In fact, 20% of the candidate pool were reapplicants from previous classes. We appreciate the determination and loyalty to HCP.
A DIVE INTO THE FALL '23 APPLICANT POOL
Let's take a look at the demographics of the Fall '23 applicant pool. Alongside race & gender data, we also started tracking some other important diversity data stats in our application (optional for candidates).
The Fall '23 applicant pool was 37% Black, 33% Asian, and 11% Latino as well as 36% first-generation American and 38% first-generation college students.
The applicant pool was 43% women or non-binary individuals and 14% identified as LGBTQ+.
Harlem Capital takes a lot of pride in having a diverse applicant pool not only for race and gender, but also amongst other areas of identity and life. We continue to prove to the ecosystem that there is no pipeline problem.
AN INSIDE LOOK: BEING AN HCP INTERN
During the 10-week program, interns are focused on two main tasks: (1) Deal work & (2) An Individual project.
Deal work includes a few calls with founders every week or so (the sourcing side) along with analysis to understand prospective startup investments (the diligence side). The diligence process is in-depth and can look like putting together memos, market research, building models in excel around the potential revenue of a company, or identifying and sizing up other startups doing something similar.
For the individual project, you are paired with a full-time HCP team member who will work with you each week to achieve an output. Projects vary but can include reports, market research, portco support, newsletter help and more (see above for past intern projects). To read more about the intern experience, check out A Day in the Life as a Harlem Capital Intern.
Most importantly the internship is meant to be a learning experience. Not only do we want to give interns hands-on work, we also want to provide resources on all areas of the VC ecosystem. As a result, we have the interns read through our curated syllabus – The Harlem Capital Syllabus: A Primer on Venture Capital.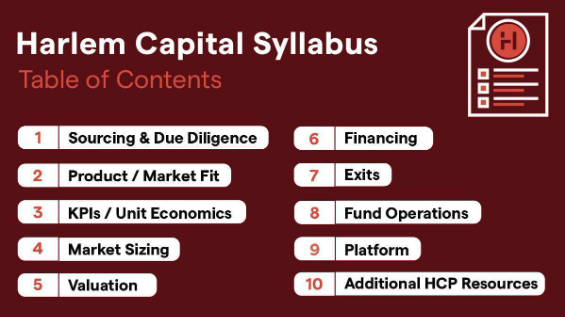 CONCLUSION
We have now had 105 interns over 18 classes with 12,791 applicants, equating to an overall 0.8% acceptance rate. Given we can't provide opportunities to the majority that apply, we are offering access to our HCP talent platform to all applicants that receive a first-round interview. If you are a VC firm looking to get access to top diverse talent, please join our Talent Collective.
Joining this invite-only community will give you access to:
Top diverse talent profiles that include past experience & what they are looking for next
Pre-vetted candidates who have interviewed for the HCP internship
Request convos from desired candidates directly to fill open roles
Our Winter 2024 application is now open until October 4th, APPLY or SHARE.
Regards,
The Harlem Capital Team