Meet Harlem Capital's 2022 Summer Interns
by Harlem Capital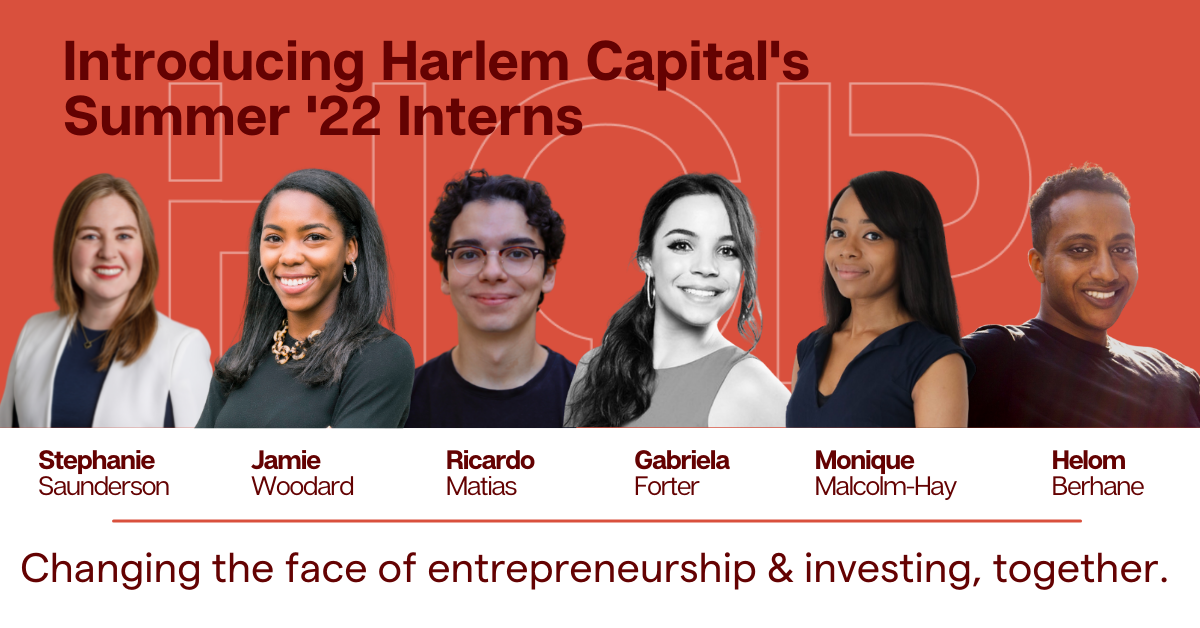 Harlem Capital Community,
Please join us in welcoming our Summer Intern Class: Stephanie Saunderson, Jamie Woodard, Ricardo Matias, Gabriela Forter, Monique Malcolm-Hay & Helom Berhane.
ABOUT THIS COHORT
The 6 applicants were chosen from a pool of 1,177 applications, marking a 0.5% acceptance rate.
This intern class has 3 MBA students and 3 full-time employees. The current MBA students hail from Harvard Business School and Stanford Graduate School of Business. The 3 employees work at Meta (prev. Facebook), Dentologie, and The Common Application. The class is 50% Black and 50% Latino, as well as 33% first-generation American and 17% first-generation college students.
Additionally, 50% of this class applied more than once, with 1 applying three times and 1 applying six times. In fact, at every stage of the Summer 2022 interview process, we over-indexed on individuals who have reapplied to the program. We appreciate the determination and loyalty to HCP and we reward those who reapply.

A DIVE INTO THE SUMMER '22 APPLICANT POOL
Let's take a look at the diversity of the Summer '22 applicant pool. Alongside race & gender data, we also started tracking some other important diversity data stats in our application (optional for candidates).
This class we collected data on:

1. First-generation college students
2. First-generation Americans
3. Childhood zip codes (K-12 education years)
The Summer '22 applicant pool was 37% Black, 30% Asian, and 11% Latino as well as 32% first-generation American and 34% first-generation college students.
Diving into childhood zip codes, we collected this data to approximate the socioeconomic backgrounds of our applicants. We used U.S. Census Data to match zip codes to median household income. It's the second class where we analyzed this data and we found that of those who responded (40% of applicants), the median childhood household income in their zip codes was $75K. Notably, the median childhood household income appeared to have dropped towards the last three rounds of our interview process; the median childhood household income of our 6 Summer '22 interns' zip codes is $66k.

AN INSIDE LOOK: FULL-TIME VC AFTER HCP
One of our goals at Harlem Capital is to provide access and transparency into the venture capital industry and increase the number of diverse investors at funds.
Since launching our intern program in 2018, we've had 29 interns go on to roles in VC and PE. We've even been able to co-invest with former interns at their new funds!
We love to support our interns regardless of where their paths take them – the worlds of venture, tech, or becoming founders of their own.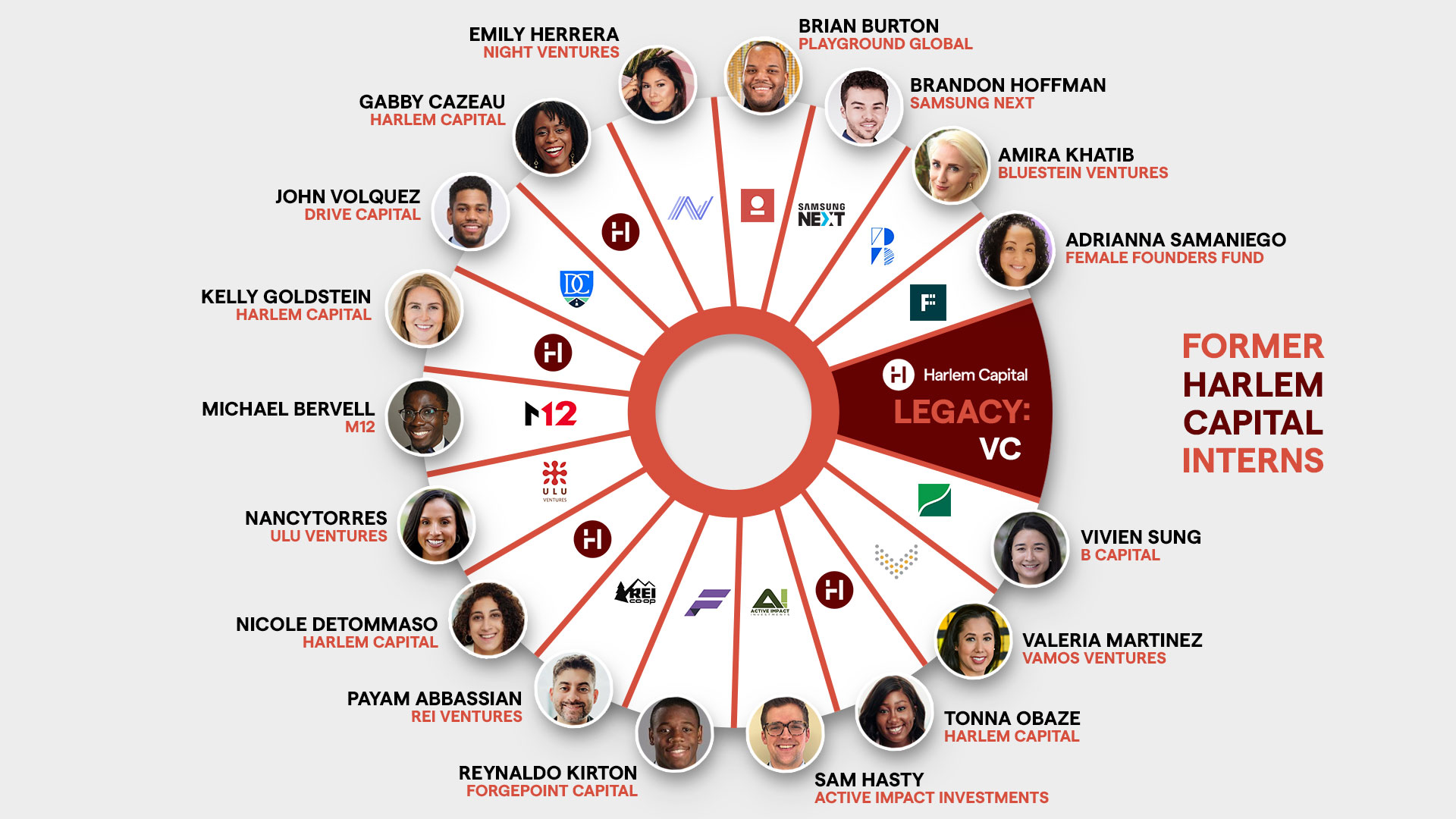 CONCLUSION
We have now had 82 interns over 14 classes with 8,617 applicants, equating to an overall 1.0% acceptance rate. Given we can't provide opportunities to the majority that apply, we are offering access to our HCP talent platform to all applicants that receive a first round interview. We currently have 75+ investment firms looking for top diverse talent and are looking for additional investment firms, please complete this form if looking for top diverse talent.
Our Fall 2022 application is now open until June 28th, APPLY or SHARE.
Regards,
The Harlem Capital Team