Meet Harlem Capital's Winter 2019 Intern and Fellow Class — Spring Application Now Open
by Harlem Capital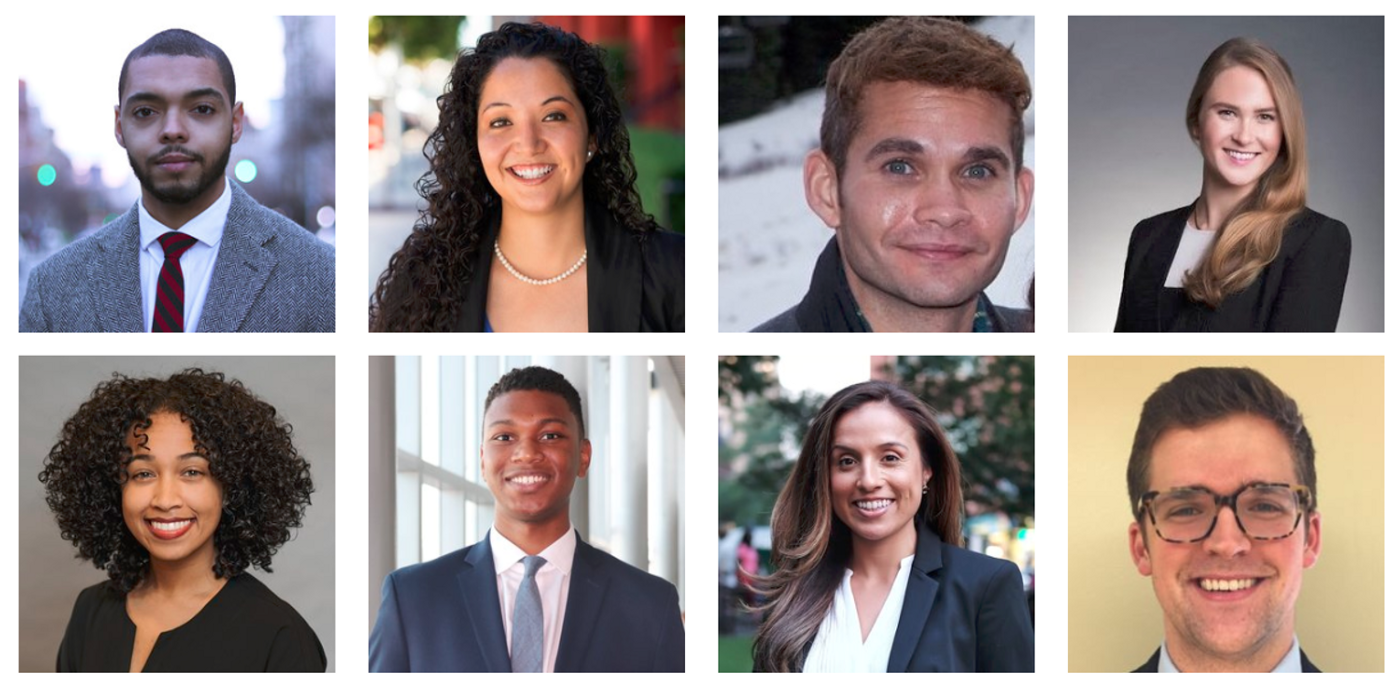 We are pleased to announce Harlem Capital's winter intern class and first fellow class.
This intern class has 5 graduate students, 1 undergraduate student, and 2 full-time employees. The students come from Harvard Business School, Wharton, Columbia Business School, Ross School of Business and Morehouse. The interns' experiences include finance, entrepreneurship, tech, marketing and nonprofit.
The applicants were chosen from a pool of over 230 applications, 35% of which were women and 63% Black and Latinx. From the 230 applicants, we narrowed it down to just 30 candidates for the first round, 20 for the second round and 15 for the final round with an Investment Presentation. Ultimately, a total of 8 new interns were chosen as a result of the process. Please join us in welcoming them.
We also have 3 fellows who were prior interns taking on a more senior role at the firm. They were all exceptional interns and we are fortunate to have them continue on with the team. They will help oversee our fourth intern class, which is our largest to date. It is humbling to think that we started as a team of 4 and are walking into 2019 as a team of 15.
Our Spring 2019 Intern application is now open. Please apply or share as the deadline is January 31st.
Intern Bios:
Adam McWilliams
Adam McWilliams hails from Plainfield, NJ and resides in Harlem, NY. He graduated from the Gabelli School of Business at Fordham University where he studied finance and economics. Currently, he is a strategic finance and business analyst for XO Group, a $1bn digital media and tech company behind the brands The Knot and The Bump. Prior to his work with XO Group, he worked as a financial analyst for PepsiCo.
Adam is applying his learned skills to the real estate industry where he is focused on analytical tooling for investors. He draws from his 5+ years of experience in strategic finance and business development.
Adrianna Samaniego
Adrianna Samaniego is currently an MBA candidate at Columbia Business School. Previously, she served as Co-founder & Co-CEO at Area 120 Google's Startup Incubator. In this role, she led a team to rapidly build and launch a new product with a mission of empowering minority and women-owned/led businesses to unlock untapped economic potential for their businesses and community. Adrianna formerly led and created Google's Global Supplier Diversity Program that created over $1B in opportunities for diverse-owned businesses. Adrianna grasped this intersection of business and societal impact in her first year at Google when she co-founded HOLA — Google's Hispanic Employee Resource Group. Prior to joining Google, Adrianna worked at Goldman Sachs as an Analyst in the Finance division.
Adrianna is a founding member of the Latino Community Foundation Latinx LGBTQ+ Giving Circle, Advisory Council for Hispanic Scholarship Fund, and Founder of the Monchi Titlist Scholarship.
Adrianna was born and raised in the small border town of Douglas, Arizona. At age fifteen she relocated to Buford, Georgia, and eventually attended the University of Georgia, where she earned a bachelor's degree in Business Finance. An Innovator, Philanthropist, Social Entrepreneur, and Investor. Adrianna is an advocate of social change through technology, education, and entrepreneurship.
Edgar Friloux
Edgar Friloux is a MBA candidate at Wharton Business School. Previously, Edgar spent seven years working at J.P. Morgan's investment bank in the public finance group. In this role, Edgar led over $5 billion of debt origination transactions for states, cities, and local municipalities so they could fund public projects. At Wharton, Edgar is a member of the Private Equity and Venture Capital, African American MBA, Analytics, Blockchain, and Soccer clubs. Edgar is also a member of the Management Leadership for Tomorrow and Toigo organizations. Edgar graduated with honors with a B.A. in Economics from the University of Chicago.
Kelly Goldstein
Kelly Kopchik Goldstein is an MBA candidate at the Ross School of Business at the University of Michigan. At Ross, Kelly serves as the co-president of the Women Who Launch club, which is dedicated to creating a gender equal entrepreneurial ecosystem. Kelly is also a consultant to Ashoka (measuring the impact of their social entrepreneurship bootcamp), a member of the Entrepreneurship and Venture Capital Club, and a participant in the Michigan Investment Challenge.
Prior to business school, Kelly spent seven years in global brand development and marketing with Edelman, the world's leading communications marketing firm, serving global brands such as Unilever and HP Inc. in the US as well as Asia. Kelly graduated as a Sarah and James Bowdoin Scholar from Bowdoin College where she received her Bachelor of Arts in Sociology and Economics.
Kelly also serves as a consultant to Rebelhouse Studios, a social impact startup and production house known for acclaimed documentaries such as Soufra and Waiting for Mamu. A former college volleyball player, Kelly is passionate about health & wellness and serves as a RYT-200 yoga instructor in her spare time.
Leila Meliani
Leila Meliani is a first-year MBA candidate at Harvard Business School, focusing on the intersections of social impact, investing, and technology. At HBS, Leila is a member of the Diversity, Equity and Inclusion Council and holds leadership roles with the Women's Student Association and African American Student Union. She is also involved with the Harbus Foundation, a fund run by HBS students that provides $50,000 in grant awards annually to non-profit organizations in the greater Boston area.
Most recently, Leila worked as an Associate in the Human Capital Management division at Goldman Sachs in New York where she led initiatives to advance the firm's talent and diversity strategies. Leila graduated with honors from Howard University in 2013 with a bachelor's degree in English. For leisure, Leila enjoys spending time with family and friends, traveling, and live music. She is originally from New Jersey and currently resides in Boston.
Maximilian Sanders
Maximilian Sanders is a senior Business Administration major with a concentration in Finance at Morehouse College, and an incoming analyst in the Alternative Investments & Manager Selection Group at Goldman Sachs. Most recently, Maximilian interned at Goldman Sachs in the Alternative Investments & Manager Selection group, working with the Hedge Fund Strategies team and Private Equity team. He worked alongside top decile managers to develop opportunistic and thematic investment ideas and collaborated with general partners to execute co-investments and secondary transactions. He also worked with Goodie Nation and Village Capitals tech pathways initiative to help develop underrepresented founders of high-growth companies. Additionally, Maximilian worked at Lowe & Associates LLC, a boutique corporate law firm, and studied Macroeconomics at the London School of Economics and Political Science.
On campus, Maximilian is involved in the Morehouse Business Association, the Investment & Finance Club, and Kappa Alpha Psi Fraternity Inc. Maximilian is a fellow at Management Leadership for Tomorrow (MLT), Sponsors for Educational Opportunity (SEO), and BLK Capital Management (BLK). In his free time, he enjoys tennis, recreational basketball, and mentoring.
Nancy Torres
Nancy Torres is a joint MBA and MPP candidate at Harvard Business School and Harvard Kennedy School. Previously, Nancy spent five years working in the technology sector at Google, Uber and IDEO focusing on data analytics, business operations and venture design. Committed to the advancement of Latinos in tech, she led Latino business development and community outreach efforts at Google and Uber. At Harvard, Nancy is on the board of the Latino Student Organization at Harvard Business School and the Latinx Caucus at Harvard Kennedy School. A native Marylander with Colombian roots, Nancy graduated from University of North Carolina at Chapel Hill with a B.S. in Business Administration. She has completed coursework at Copenhagen Business School in Denmark, the Chinese University of Hong Kong in Hong Kong, and Universidad EAFIT in Colombia. When not on the go, Nancy enjoys running, writing and salsa dancing.
Sam Hasty
Sam Hasty is a Founding Partner and Director of Finance at LITE; a 501(c) 3 in Memphis that empowers Black and Latinx students with the skills to create wealth in their communities long-term. After beginning his career as a middle school mathematics teacher through Teach For America, Sam completed a year in Poland as a Fulbright Scholar, where he taught and conducted research on entrepreneurship development and financing to new ventures in rural areas. Over the last several years, Sam has also served as an angel investor to several private companies in aerospace, agriculture, cyber security, manufacturing and biotechnology. Sam holds a B.A. from Rutgers University in Political Science and Economics and a M.S. in Cognitive Science from Johns Hopkins University.
---

Fellow Bios:
Anthony De La Rosa
Anthony De La Rosa is an NYC born and raised native. He is a manager within the Strategy and Innovation group at Ernst and Young and an InsureTech leader. Previously he led the development of a digital strategy practice at Slalom Consulting, a $1bn tech consulting firm with strong partnerships with Amazon, Google, Salesforce, and Microsoft. Prior to Slalom, he was an Underwriter within AIG's Financial institutions' group focusing on Asset Management, Real Estate Investment Trusts, and Banking. In his spare time, Anthony is a Brazilian jiu-jitsu practitioner at Renzo Gracie's gym and a volunteer with Hope for New York.
Gabby Cazeau
Gabby Cazeau is an MBA candidate at the Yale School of Management. At Yale, Gabby is an Innovation Advisor at TSAI City, Yale's startup incubator and accelerator, where she guides early stage startups through through the process of building and expanding their venture. Prior to Yale, she worked in R&D and innovation at General Mills where she created new cereal and snack products. She also interned at Harlem Capital Partners in Spring 2018. Gabby holds a B.S from Washington University in St. Louis in Chemical Engineering.
Jazmin Cabeza
Jazmin Cabeza is a second-year MBA candidate at NYU Stern School of Business, focusing on Finance and Global Strategy. Recently, Jazmin worked as an Investment Banking Summer Associate in William Blair's Technology group. At Stern, Jazmin is the Co-President of the Association of Hispanic and Black Business Students (AHBBS) and partakes in the Student Government's Diversity Committee. Prior to Stern, Jazmin worked as a Management Consulting Manager in Accenture's Finance & Risk practice, focused on business process improvement and risk management. Jazmin holds a B.S/M.S. in Industrial Engineering from the University of Central Florida and is originally from Venezuela.