Lessons From Diverse Founders Who Have Raised a Series A
by Harlem Capital
Since the fund's inception in 2015, Harlem Capital has invested in 50+ companies across 15+ cities and 3 countries. We know that our job as investors doesn't stop when we write a check. We are supporters of the founders from incubation to exit, but one of the larger early milestones is raising the Series A. It's a consistent question from our founders, "What are the key things I need to be best prepared for the Series A?"
We decided to interview some of our founders that raised a Series A as well as the investors that led their rounds to find out the key lessons that can't be found online. After 10 interviews, there were three key themes that stood out for the founders and VCs. Check out the full report for the interview highlights.
Lessons from Founders and Investors
During these conversations, we covered the qualitative and quantitative metrics that are expected at a Series A and some key lessons learned on the journey. Below are three of the key takeaways from our conversations and important lessons for early-stage founders:
1. Be Strategic and Methodical when Targeting New Investors: One piece of advice that came up repeatedly in conversations was the importance of being strategic early on when targeting the proper investors for their Series A. Being strategic in finding investors for a Series A round is crucial for the success of a startup because the right investors not only provide financial support but also bring valuable expertise, networks, and guidance to the table. A strategic approach involves identifying investors who have a deep understanding of the industry, relevant experience, or a track record of successful investments in similar ventures. By carefully selecting investors who align with the startup's vision and long-term goals, entrepreneurs can leverage their expertise to make informed decisions, navigate challenges, and unlock growth opportunities. Furthermore, investors can provide access to additional funding rounds and potential exit opportunities, increasing the startup's chances of achieving sustainable growth and success in the competitive market. Below are some pieces of advice from founders and investors on the importance of targeting the right investors: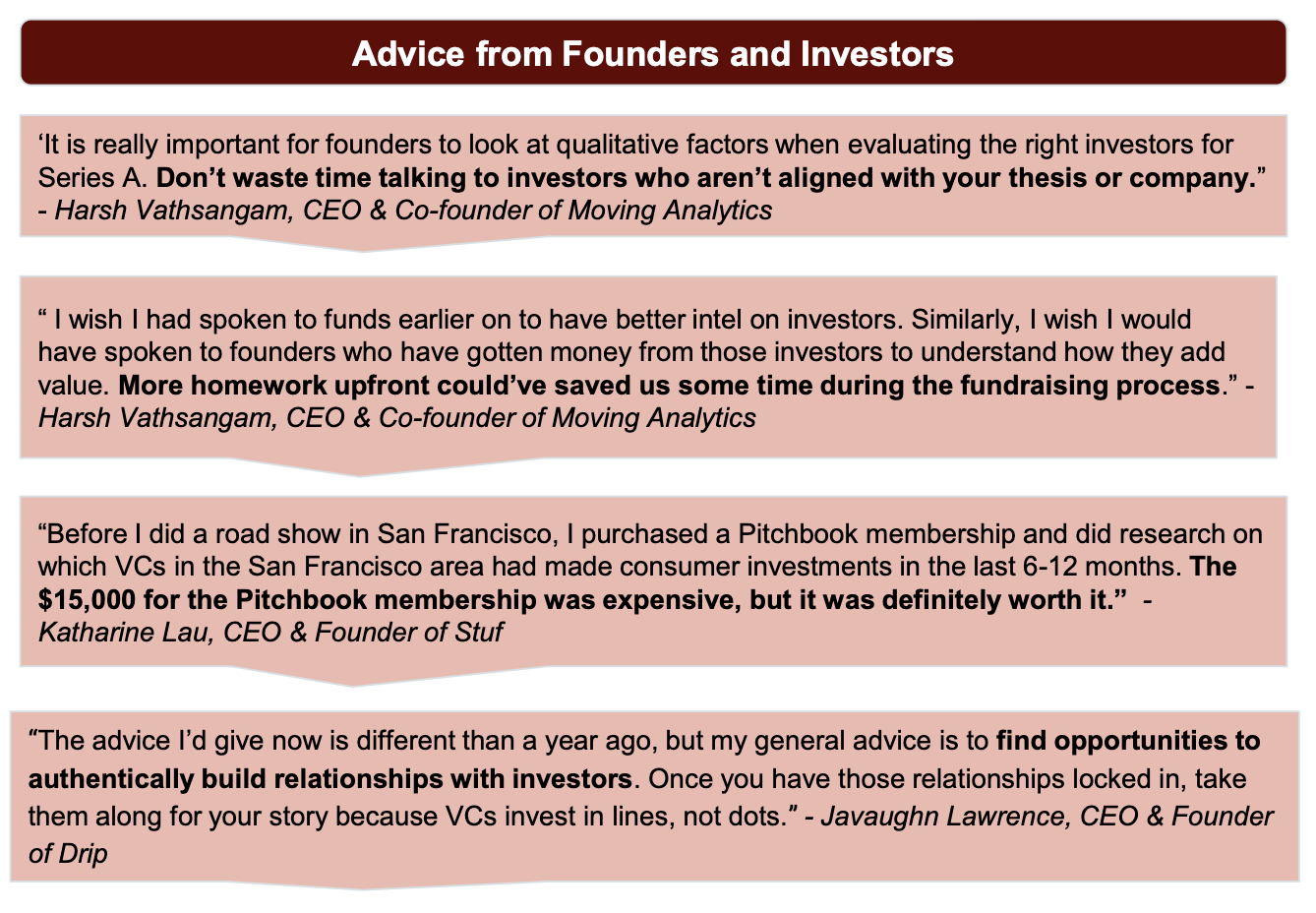 2. Start Marketing Your Series A Early: On average, it takes founders approximately 22 months between raising a Seed and Series A round. Although this may seem like a long time, founders shouldn't wait until they're running out of money to start raising a Series A. Entrepreneurs should start planning and marketing your Series A 9-12 months before you run out of runway and solicit buy-in from existing investors before speaking to new VCs. By creating awareness and generating interest among potential investors, marketing efforts can help build momentum and attract the right investors to fuel the company's growth. Early marketing allows startups to showcase their achievements, market potential, and unique value proposition, creating a compelling narrative that resonates with investors. It also enables founders to establish relationships and engage with potential investors in advance, allowing for a more thorough due diligence process. Overall, early marketing maximizes the chances of securing the desired funding and sets the stage for future fundraising success.
3. Balance Being An Aspirational and Inspirational Storyteller: One piece of advice we give our founders is that VCs invest in lines not dots, so there should always be a consistent thread, or story, between fundraising rounds. When speaking to Series A investors, founders should make sure they understand and can convey the values, history, people, and journey that makes their company an exciting investment opportunity. 
Focus on the long-term vision while also conveying where your current progress fits in and how you plan to reach your destination. It's also important to keep an organized data room that you are always prepared to share with potential investors.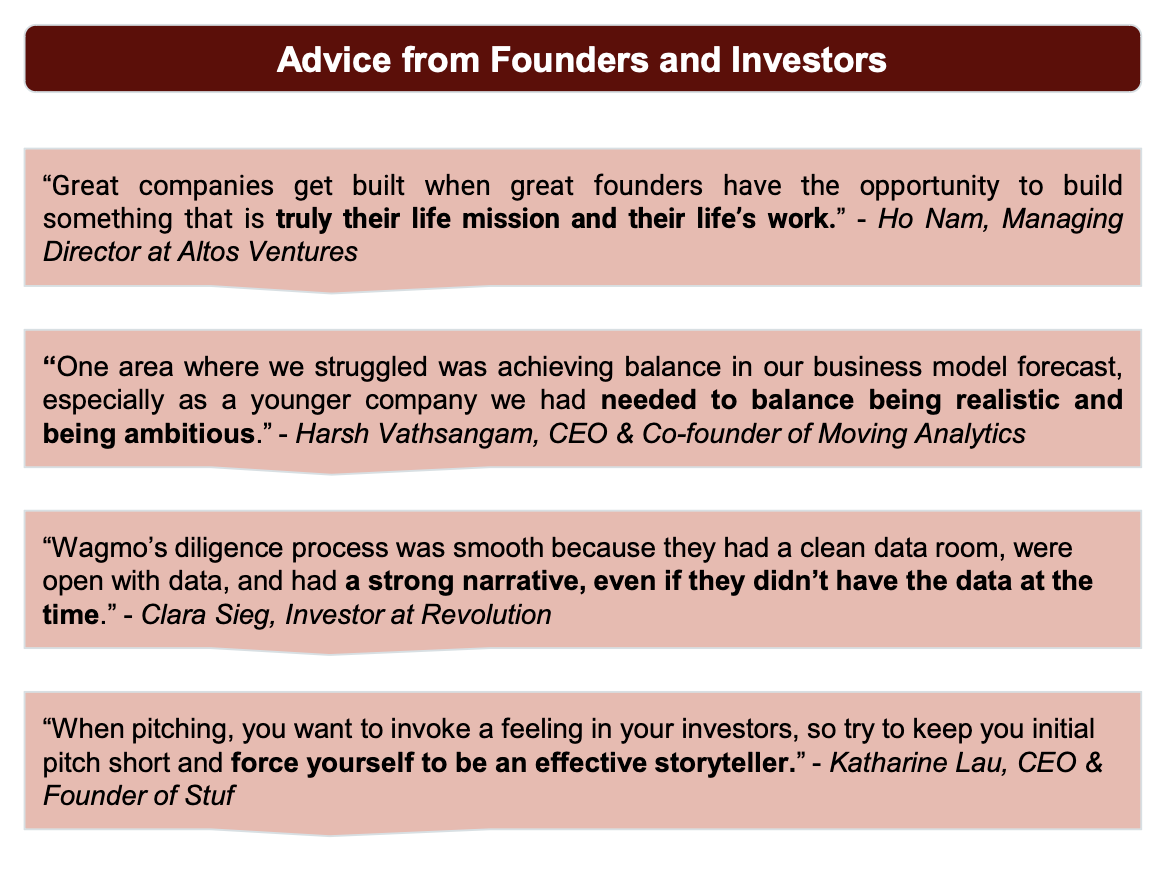 A Deeper Look at Harlem Capital's Portfolio
We wanted to also better understand the quantitative data as there isn't much public data on how diverse founders perform at the Series A compared to the broader market. As a result, we looked at our own portfolio to provide some insights on the diverse market. We focused on some key metrics, including round size, valuations, dilution, and months from Seed to Series A.
This analysis showed that Harlem Capital portfolio companies raised a median of $8.5M at a median valuation of $58M, representing an average dilution of 22%. Median time between seed and Series A rounds was 23.8 months, only slightly higher than the industry median of 22.3 months.
Since the majority of these Series A rounds were completed before Q1 2022, we wanted to get a sense of how the diverse founders in our portfolio were faring compared to industry averages. We found that Harlem Capital portcos raised a median of $8.5M, 15% less than the average of $10M, but on the bright side, our median post-money valuation of $58M was slightly higher than the 2021 median of $55M. In terms of dilution and timeline from seed to series A, our median dilution of 22% and median timeline of 23.8 months were both slightly higher but generally in line with market averages of 20% and 22.3 months.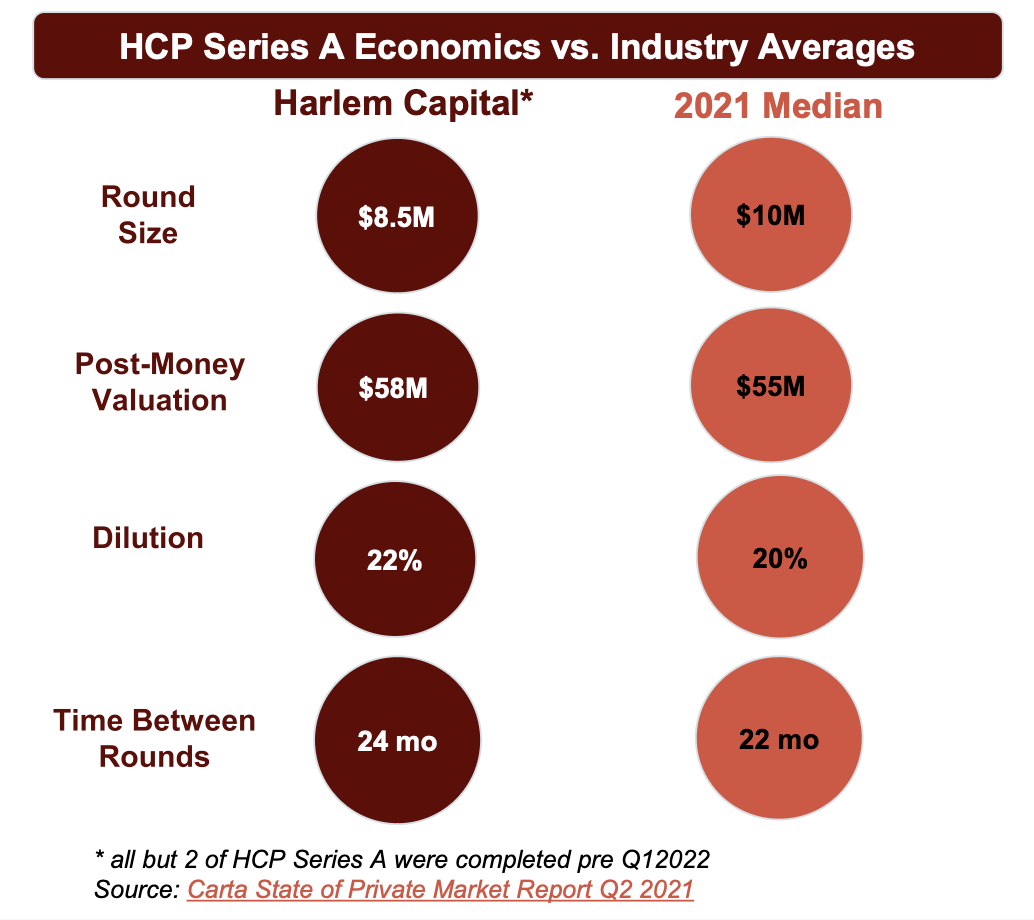 Series A Investment Landscape 2022
According to data from Crunchbase, there was approximately $38.8B invested across 1,800 Series A rounds in 2022. Although the year started off extremely strong with $7B raised across 169 rounds in January, there was a steep drop off towards the end of the year, with only $1.8B invested across 110 rounds in December.'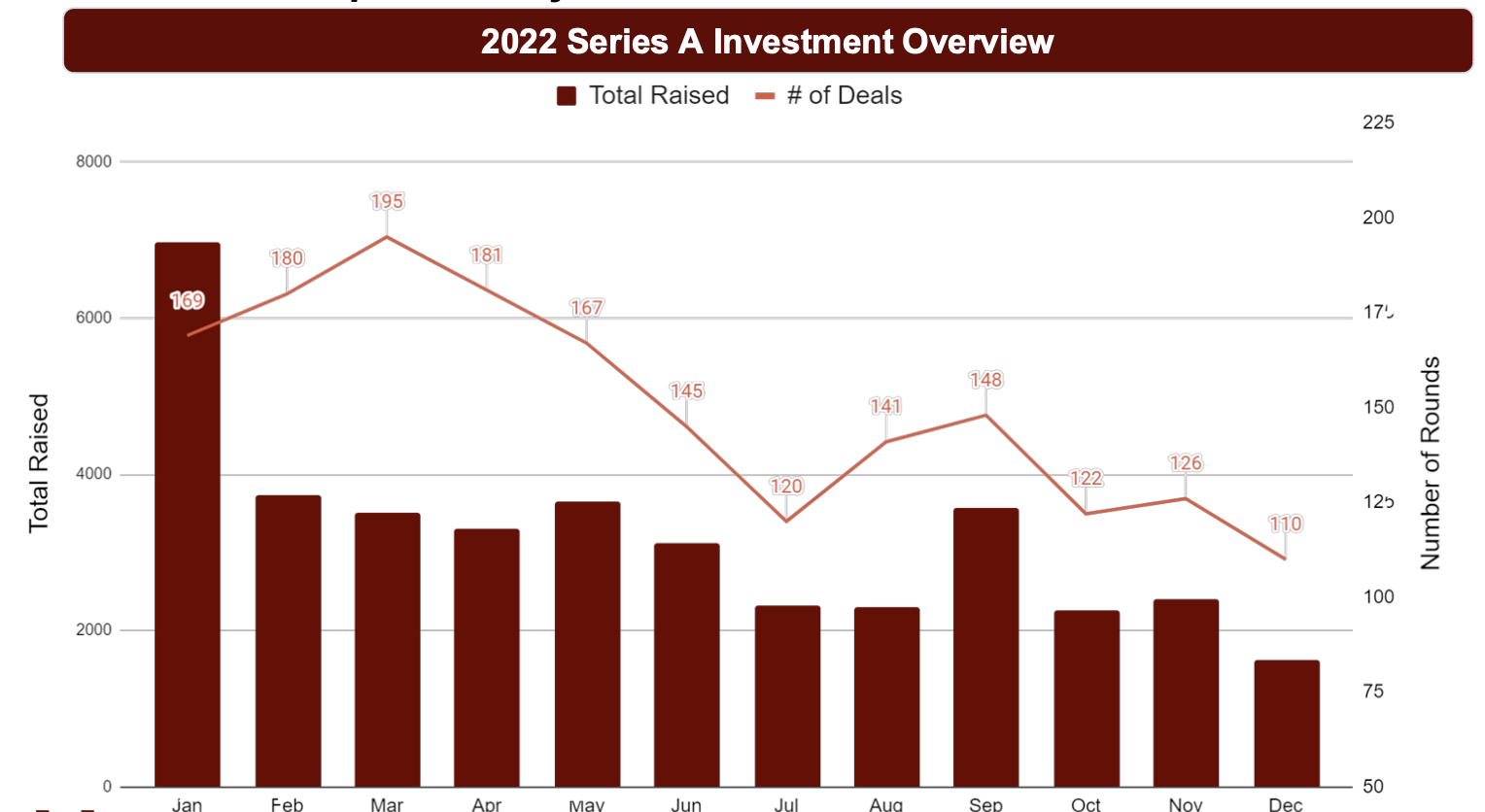 We also analyzed the Series A fundraising landscape specifically for Black, Latino, and women-founded startups in 2022 to better understand what metrics diverse founders can expect to see during Series A rounds. We found that in 2022, black founders raised $131M in Series A funding across 18 rounds, receiving only 0.34% of all Series A funding. The average round size was only $7.3M for black founders, almost 50% less than the industry average of $15M. The largest Series A round with a black founder was Nice Healthcare's $30M Series A led by Brown Venture Group. The most active investor for Series A rounds with black founders was Google for Startups with 3 investments. Harlem Capital, Techstars, Comcast, Morgan Stanley, Alumni Ventures, Precursor Ventures, Right Side Capital Management, Elemental Excelerator, and Serena Ventures all participated in 2 Series A rounds.
In 2022, Latino founders raised $441M in Series A funding across 31 rounds, receiving only 1.1% of all Series A funding. The average round size was $14.2M for Latino founders, slightly less than the industry average of $15M. The largest Series A round with a Latino founder was Endpoint Health's $52M Series A led by Y Combinator. The most active investor for Series A rounds with Latino founders was Y Combinator with 12 investments. Techstars and Alumni Ventures both completed 5 investments in Series A rounds with Hispanic or Latino founders.
In 2022, teams with at least 1 woman founder raised $2.5B in Series A funding across 183 rounds, representing 6.5% of all Series A funding in 2022. The average round size was $13.9M, slightly less than the industry average of $15M. The largest Series A round with a woman founder was Seismic Therapeutics $101M Series A led by Lightspeed Venture Partners. The most active investor for Series A rounds with women founders was Techstars, with 18 investments, Alumni Ventures, with 14 investments, Y Combinator, with 11 investments, 8VC, with 9 investments, and Right Side Capital, with 8 investments.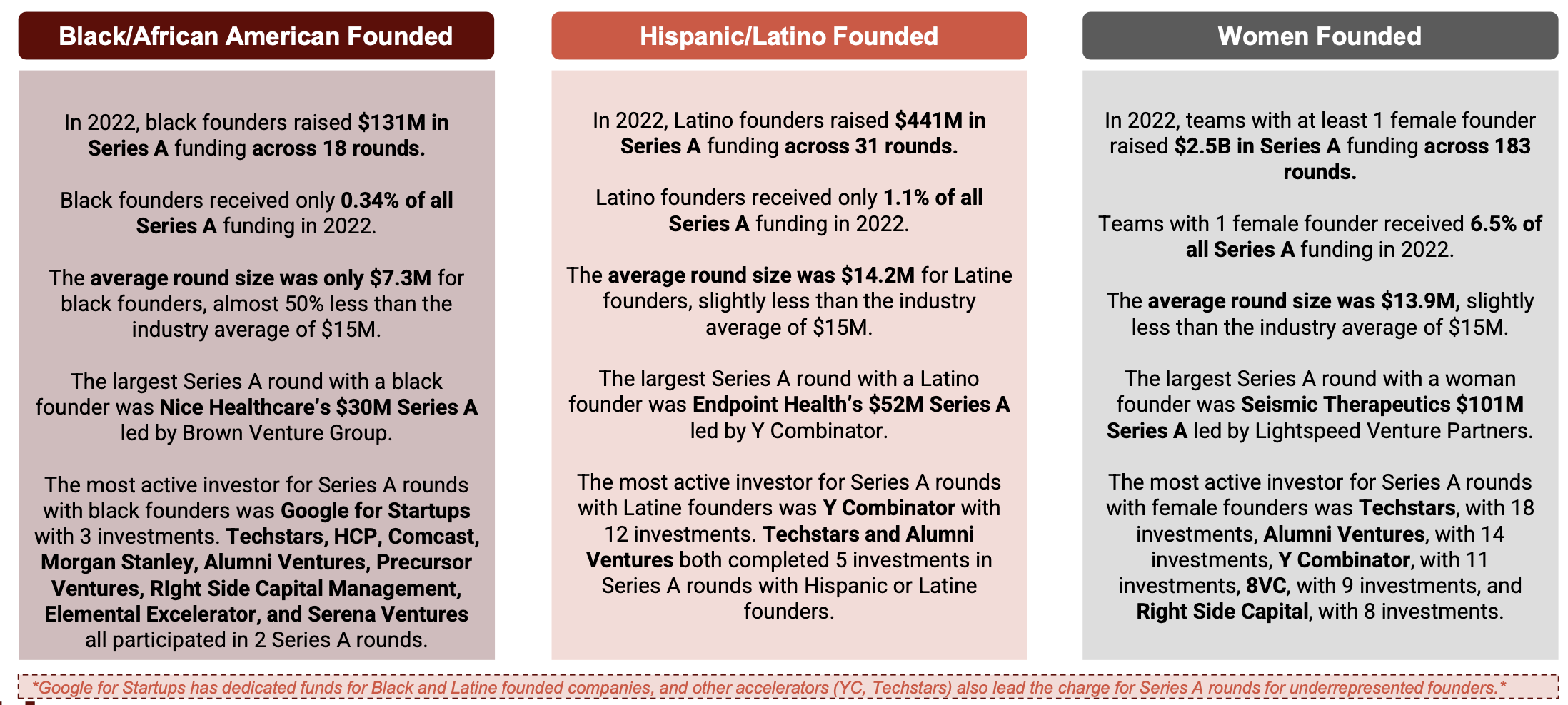 Conclusion
In conclusion, we hope this research helps early-stage founders prepare for a Series A funding round, which is a crucial step for startups looking to take their businesses to the next level. It requires careful planning, strategic decision-making, and a strong focus on key areas such as financials, team structure, market positioning, and scalability. By proactively addressing these elements and effectively communicating your vision to potential investors, you can increase your chances of securing the necessary funding and fueling your growth trajectory. Remember, the Series A funding round is not just about securing capital; it's about establishing credibility, attracting top talent, and positioning your startup for long-term success. So, invest the time and effort into preparing for this milestone, and you'll be well-positioned to thrive in the competitive startup ecosystem
We would like to give a special thank you to everyone who supported and lent their time to make this project possible, with a special shoutout to Katharine Lau from Stuf, Javaughn Lawrence from Dripshop, Neeraj Agrawal from Battery Ventures, Frederik Groce from Wellington, Amy Spurling from Compt, Ho Nam from Altos Ventures, and Harsh Vathsangam from Moving Analytics. And most importantly to our fellow, Raquel Scott, for conducting the interviews and doing the research.