Harlem Capital Intern Alumni Interview Series
by Harlem Capital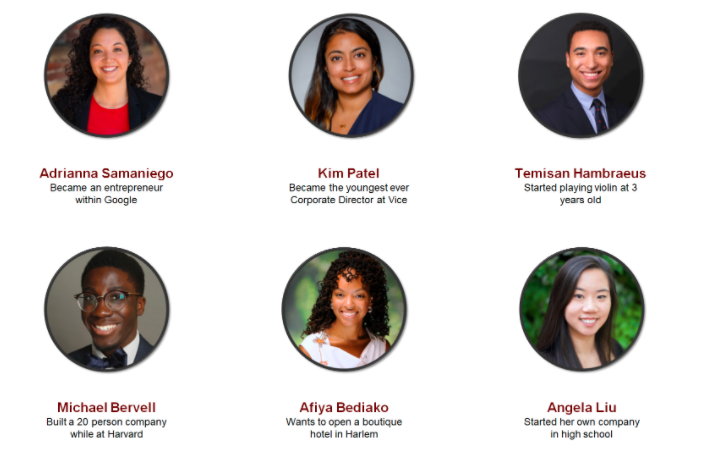 Ever wonder what it is like to be an Intern or Fellow at Harlem Capital? Well, you've come to the right place. In this series, we interviewed six exceptional interns and fellows that have been part of the Harlem Capital family. Take a read through to learn about their journeys and how the Harlem Capital internship shaped their careers. All have taken different paths post-HCP – some have chosen to join VC full-time, while others have remained in technology roles. Learn how they succeeded and landed roles at firms like Female Founders Fund and KKR and how Harlem Capital played a role.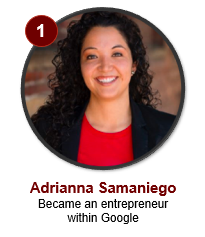 Meet Adrianna Samaniego! Adrianna joined the Harlem Capital team as an intern within the 4th cohort. The most notable project that she worked on as an intern was building out an investment thesis on the femtech industry, where she created a 40 page deck on the space. She said this was one of the biggest factors in helping her succeed in VC interviews post Harlem Capital. She's incredibly grateful for the team, saying, "Harlem Capital bet on me before anyone else in the industry would have." After the Harlem Capital internship, Adrianna went on to land jobs at four other VC firms including LTX VC, JetBlue Technology Ventures, New Media Ventures and Female Founders Fund, where she currently works.
Adrianna spent her earliest days in Douglas, Arizona, a small border town to Mexico, before relocating to finish high school in a town outside of Atlanta. After attending the University of Georgia, Adrianna started her career at Google, where she initially focused on supporting Chief Marketing Officers and Fortune 500 companies in the B2B sector. After a few years, Adrianna became an entrepreneur within Google launching their Supplier Diversity Program, where she sought to diversify Google's supply chain, and founding a startup, Emporium, a B2B marketplace for Fortune 500 companies to procure from diverse-owned companies, within Google's Startup Incubator, Area 120. After Emporium, Adrianna decided to attend business school, the first in her family to do so, with hopes of either starting her own business or breaking into VC. During her time at Columbia Business School, Adrianna set her mind on joining VC and Harlem Capital was top of mind.
To stay connected to Adrianna, follow her on Twitter @adrianna_says
Meet Kim Patel! Kim joined the Harlem Capital team as an intern prior to the launch of Fund I within the 5th cohort. Kim helped the team invest in Wagmo, one of the firm's early investments. She recounts her time at HCP as 'wearing many hats' and says that Harlem Capital took a chance on her, giving her the opportunity to break into VC with a non-traditional background. As Kim puts it, "Harlem Capital opened the door a little bit, and I just kicked it open." Post Harlem Capital, Kim was able to land VC jobs at AlleyCorp and Lerer Hippeau. She also went on to attend Harvard Business School. One of Kim's most recent endeavors includes her work building Envision Accelerator, the first virtual accelerator for women and people of color who are currently in college or recent graduates.
Kim spent her early days in New Jersey, where she grew up, prior to heading off to NYU to study Economics, History and Politics. Kim's first role post-grad was as an investment banker before she joined NBC Universal as a Business and Strategy Associate in the News division. Following her stint at NBC, Kim joined the Huffington Post, which was acquired by Verizon, along with the other AOL subsidiaries, within a month of her start, propelling her into a whole new role. Kim became the Deputy Chief of Staff of AOL Media Brands, where she oversaw ten of AOL's digital media businesses. After two years in that role, Kim was offered a position at Vice Media, where her career skyrocketed. She created a new division within Vice called Global Corporate Strategy and became the youngest corporate director ever appointed at Vice. Outside of her role, Kim started to advise a friend who was launching a startup, which was her first jump into the startup and VC communities. Seeing her friend's excitement about that world, Kim began building her network in the space. Kim was named a Forbes 30 Under 30 scholar the same year as the Harlem Capital team, which is where she became more familiar with the firm and decided to join the team.
To stay connected to Kim, follow her on Twitter @kimpatel24.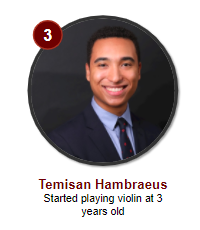 Meet Temisan Hambraeus! Temisan joined the Harlem Capital team as an intern prior to the launch of Fund I in the 3rd cohort. During his time at the firm, Temisan worked on a project analyzing Harlem Capital's pipeline to ensure Harlem Capital was properly mitigating unconscious bias. From a deal perspective, Temisan was a part of the investment committee for one of Harlem Capital's first investments, Aunt Flow. He said the firm made a push after that investment to hire women, given they lacked the experience of being Aunt Flow's end consumer. Overall, Temisan mentioned one of the biggest highlights of the experience was the trust the team had in him. After the Harlem Capital internship, Temisan went on to land roles at Morgan Stanley and KKR, where he is currently a Private Equity Analyst.
Temisan spent his early days in Sweden prior to moving to the US to attend Stephen M. Ross School of Business at University of Michigan to study Finance and African Studies. His first foray into the finance and business world was at Apollo, where he worked as a Private Equity Analyst. After his Apollo experience, Temisan decided to join the Harlem Capital team. Knowing he liked being an investor, Temisan was excited by the opportunity to get VC investing experience from such a young fund, a stark contrast to his experience at Apollo.
To stay connected to Temisan, you can find him on LinkedIn.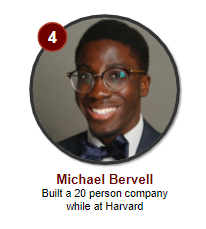 Meet Michael Bervell! Michael joined the Harlem Capital team as an intern in the 7th cohort. The first deal Michael worked on at Harlem Capital started the first week of the internship; it was for Dexai Robotics. He describes the experience as being an uphill battle given his lack of finance experience outside of the YouTube videos he used to watch. For Michael, Harlem Capital not only taught him about a field he previously had no experience in, it also gave him the opportunity to help his network and in particular, those individuals within underrepresented communities. Outside of Harlem Capital, Michael runs a blog called Billion Dollar Startup Ideas, where he posts one new startup idea every day.
Michael was born and raised in Washington. When Michael was in 6th grade, his family moved towns within Washington to Mill Creek, which turned out to be a pivotal moment in Michael's life. The move meant that his school was now 45 minutes away, a ride which he took with his father every morning. During those rides, he would chat to his dad about life while listening to jazz music on NPR. This shaped Michael into the person he is today. He also details how living that far away from school meant he didn't see his friends much, so instead would research various topics to learn different concepts. Given his intellectual prowess, Michael went on to attend Harvard University, where he studied Philosophy and Computer Science. After spending two college summers at Microsoft, Michael realized that entrepreneurship and VC excited him. Michael says he was interested in exploring business from a social justice lens and Harlem Capital was doing just that.
To stay connected to Michael, follow him on Twitter @michaelbervell and subscribe to his blog Billion Dollar Startup Ideas.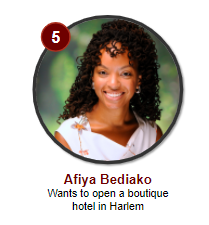 Meet Afiya Bediako! Afiya joined the Harlem Capital team as an intern before the launch of Fund I in the 2nd cohort and then rejoined the firm as a fellow in Summer 2019. Joining the firm with no prior finance experience, Afiya details how the weekly Monday calls played a huge role in getting her up to speed on not only on deal and project work, but also on fundraising updates. From a project perspective, Afiya worked to build out Harlem Capital's pipeline to ensure underrepresented founders saw Harlem Capital as the go-to place for capital. Overall, Afiya feels lucky to have learned the VC space from such a tight knit group and continues to flex the muscles she learned at HCP in her future endeavors. Currently, Afiya works at American Express and runs Harlem Handbook, a startup that sets out to share, promote and celebrate the vibrant and ever-changing Harlem community..
Afiya was born and raised in Harlem, where she currently resides. Afiya moved to Massachusetts to attend Amherst college to study Black studies. She wrote her senior thesis on the transgenerational transmission of trauma in the Africa American community, a topic now at the forefront of society. Post-grad, Afiya moved back to NYC to start her career at Goldman Sachs in the Derivatives Operations division, where she remained for five years. Afiya joined Harlem Capital after business school to help the team empower underrepresented founders and learn how investors think with hopes of starting her own company one day.
To stay connected to Afiya, follow her on Instagram @afiyab and follow her startup Harlem Handbook @harlemhandbook.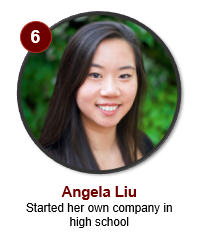 Meet Angela Liu! Angela joined the Harlem Capital team as an intern in the 7th cohort. She went on to join the 8th cohort as the youngest fellow the firm has ever had. During her time at the firm, Angela created Harlem Capital's first podcast series, the Female Founders series (listen here), where she interviewed six women founders. After the Harlem Capital internship, Angela went on to work at Mckinsey as a Summer Business Analyst in Seattle, Washington.
Angela spent her early days in Portland, Oregan prior to attending Columbia University, where she is currently a senior studying Financial Economics and English. When she first moved to New York, she was drawn to its lively startup and VC ecosystem after founding a company called StandTall Desks in high school that built lightweight, affordable, sustainably-made standing desk additions for classrooms. After her first jump into VC through 37 Angels, Angela continued her path with Girls Who Invest, which helped her get placed at TPG for a summer. Coincidentally, the same summer Angela got placed at TPG, TPG became the anchor investor in Harlem Capital's Fund I. Angela describes the TPG office at that time having a lot of excitement about the partnership and even more buzz about the new investors on the block, Henri and Jarrid. Before joining Harlem Capital, Angela had the impression that finance was a job where juniors had no voices and little autonomy over their career path, but after hearing Henri and Jarrid speak about starting their own fund, Angela knew she wanted to join the team.
To stay connected to Angela, follow her on LinkedIn.
Thanks to our fellow, Nicole DeTommaso, for writing this piece.