Apply to Harlem Capital's Founder Launchpad!
by Harlem Capital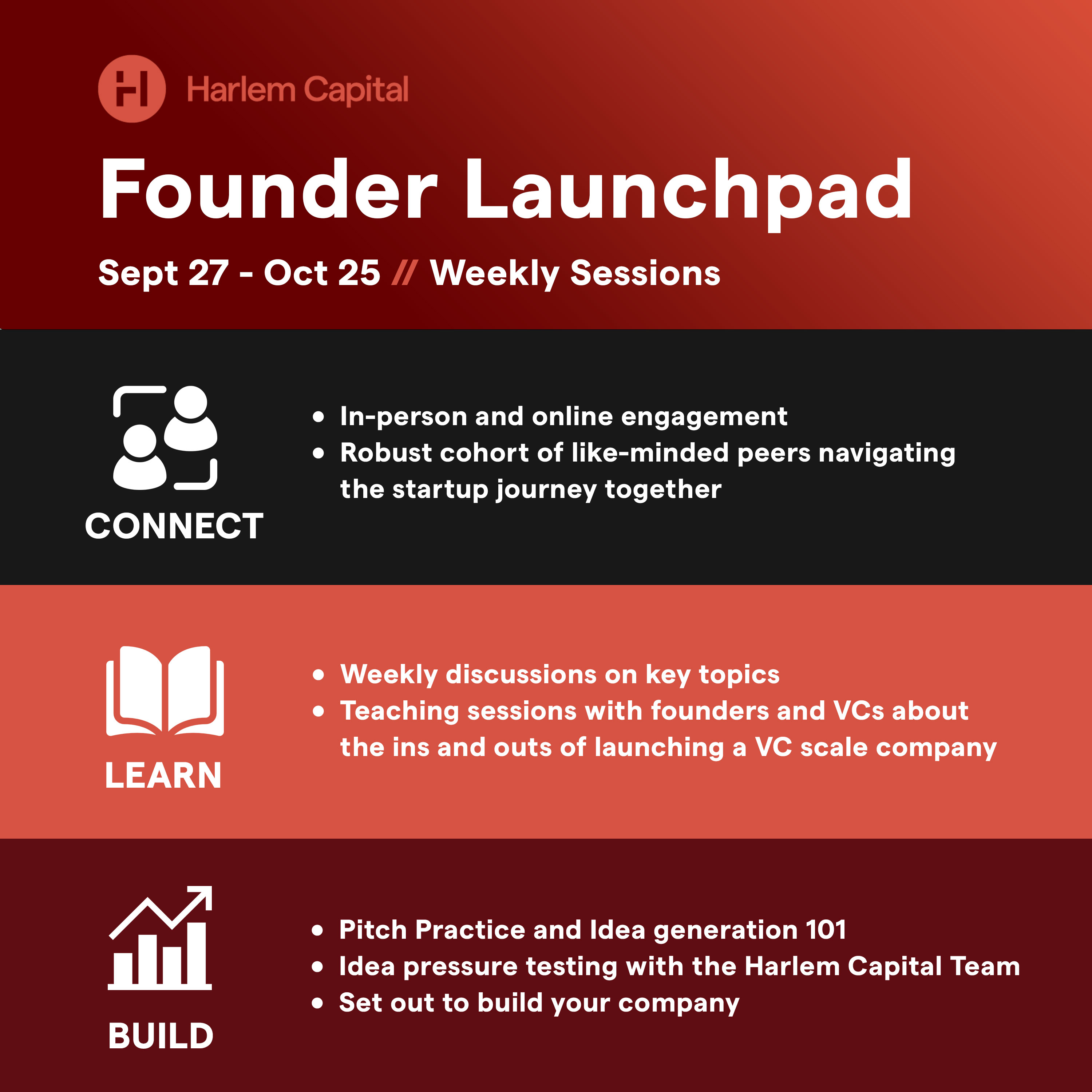 The Harlem Capital team is building upon their experience as early-stage investors and expertise in crafting the most robust and diverse VC internship program to bring intentional community to high-performing operators.
Applications are open through September 7, 2023
In late 2015 the founders of Harlem Capital set out to invest in underrepresented entrepreneurs as a small angel syndicate. Since then the team has evolved into an institutional early-stage venture capital firm on a mission to invest in 1,000 diverse founders over the next 20 years. Throughout this journey, we have had the privilege of building and nurturing a network of budding and experienced founders, investors, and operators.
We quickly realized we are uniquely positioned to foster a more diverse and inclusive entrepreneurial ecosystem beyond our portfolio. We began with the first Harlem Capital internship class in 2018 and never looked back. Our program has received over 10,000 applicants and has become one of the most diverse and robust in the industry, providing opportunities for historically overlooked talent to break into investing.
Earlier this year we created the first cohort of our Founder Launchpad for high-performing tech industry operators to start the next decade-defining company. We had over 200 applications and chose 8 members to be about of the cohort.
We are excited to announce our second cohort for the Founder Launchpad. With the first cohort under our belt we have fine-tuned the experience for the best builders to find community, pressure test company ideas and prepare for raising their first round of institutional capital
The Founder Launch program will equip operators interested in becoming founders with the community and knowledge required to launch companies that change the face of entrepreneurship.
Harlem Capital, a New York-based early-stage venture capital firm, doubles down on its mission to change the face of entrepreneurship through a new operator program
Diverse operators face 4 key challenges when thinking about launching a company: 1) Isolation, 2) Idea Generation, 3) Potential Co-founders, 4) knowledge about VC and working with VCs. This community will provide intentional programming, tools, and connection to help bridge these gaps
The Harlem Capital Founder Launchpad will provide underrepresented tech industry operators with the community, network, and tools to set them up for launching a company
Program Dates: The five-week Harlem Capital Founder Launchpad Program will run from September 27 through October 25, 2023
APPLY or SHARE: Applications for the first Harlem Capital Founder Launchpad cohort open on August 14th and are due on September 7th, 2023 at 11:59 PM
FAQ's
Who is eligible for this program?
Any person who has worked full-time in tech for 3yrs+
Actively working on a startup idea full-time 
What type of company should apply?
We are primarily focused on founders who are building software for enterprise or small businesses
This includes: Enterprise Software, Vertical Software, Fintech, E-commerce Enablement, and Ai
How much does it cost?
There is no cost associated with this program, we're looking to build a long-term relationship with top operators
What's the time commitment?
We expect individuals to commit approximately one hour weekly, and attend all events in person or on Zoom
Does Founder Launchpad happen in person or virtually? What if I'm not based in NYC?
Our first event is in person, mainly to build community, so if you're not in NYC that's OK
All sessions afterwards will be virtual