128 LATAM Women Founded Startups Raised $4B+ in 2021
by Harlem Capital
By Gabby Cazeau (Principal) with help from Zhenny Gong (Winter Intern 2022)
2021 was a remarkable year for startups in Latin America (LATAM). Venture funding poured into the region like never before and shattered all previous records.
Harlem Capital started investing in LATAM in 2021. As we started to learn about the market, we wanted to understand what the funding landscape looked like for women founders. But there wasn't robust data on how much women founders raised, the types of companies they launched, and importantly, how much they raised compared to their male counterparts. With all that VC funding in 2021, did women founders have an equal opportunity at getting their share of funding?
Those are a few of the questions that drove our research to understand what the 2021 VC funding landscape in LATAM looked like for women founders.
Harlem Capital's inaugural 2021 Latin American Women Founders Fundraising Report analyzes the 128 Women (co-)founded startups that raised VC funding in 2021. You can find the full report here:
Women-in-LatAm-Report_v16

Methodology
For this report, we compiled a database of the 1,002 companies based in Latin America that raised funding in 2021. Of the total 1,002 companies, only 820 companies disclosed fundraising information across 948 funding rounds.
This report only focuses on those 820 companies as we relied on publicly available information. Out of those 820 companies, 128 were founded or co-founded by women. Our data comes from Harlem Capital's proprietary database alongside databases from Crunchbase and Pitchbook.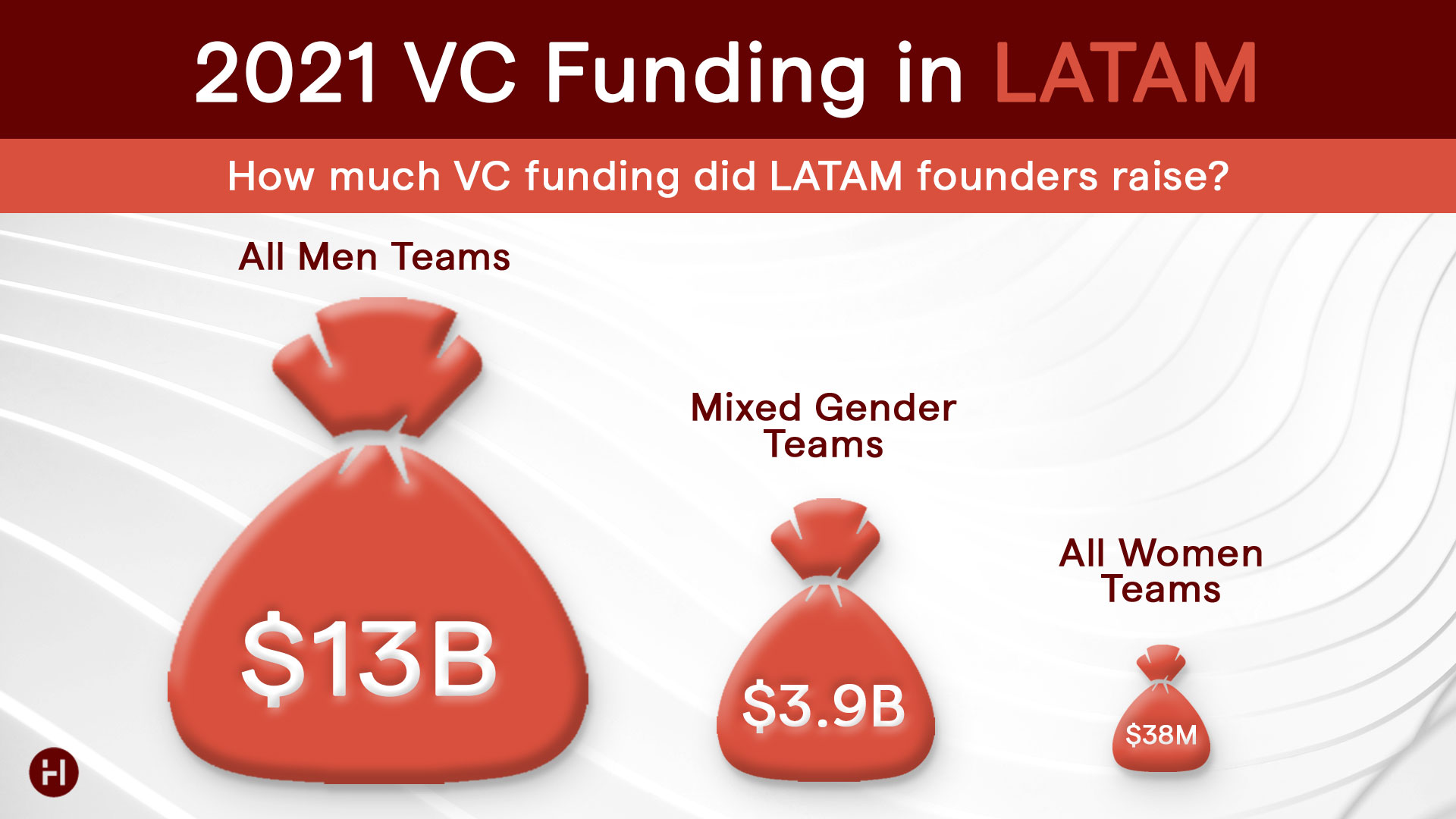 How Much VC Funding Did Companies in LATAM Raise in 2021?
Of the 820 companies, 82% had all men founding teams, 12% had mixed-gender founding teams, and only 4% were founded by all women. All men teams raised $13B in VC funding, about 3 times the capital raised by mixed-gender teams, and 345 times the capital raised by all women teams. All Women teams only raised capital in the Pre-Seed, Seed, or Series Unknown stages, compared to All Men teams who raised across all funding stages. Most companies that raised capital in 2021 were at the Seed stage and the majority of the 820 companies were based in Brazil.
We dove deeper into the data to understand if the capital allocated to companies was in equal proportion to their percentage of companies overall. With this analysis, if all things were equal the percentage of capital allocated to certain teams should match their percentage of companies in the overall dataset.
But our analysis found that all things are far from equal, and illuminated the glaring disparities. All women founding teams made up 4% of the companies that raised capital, yet received a mere 0.2% of VC funding. Mixed-gender founding teams were 12% of the companies and received 23.2% of the capital raised in 2021 (almost double their share!).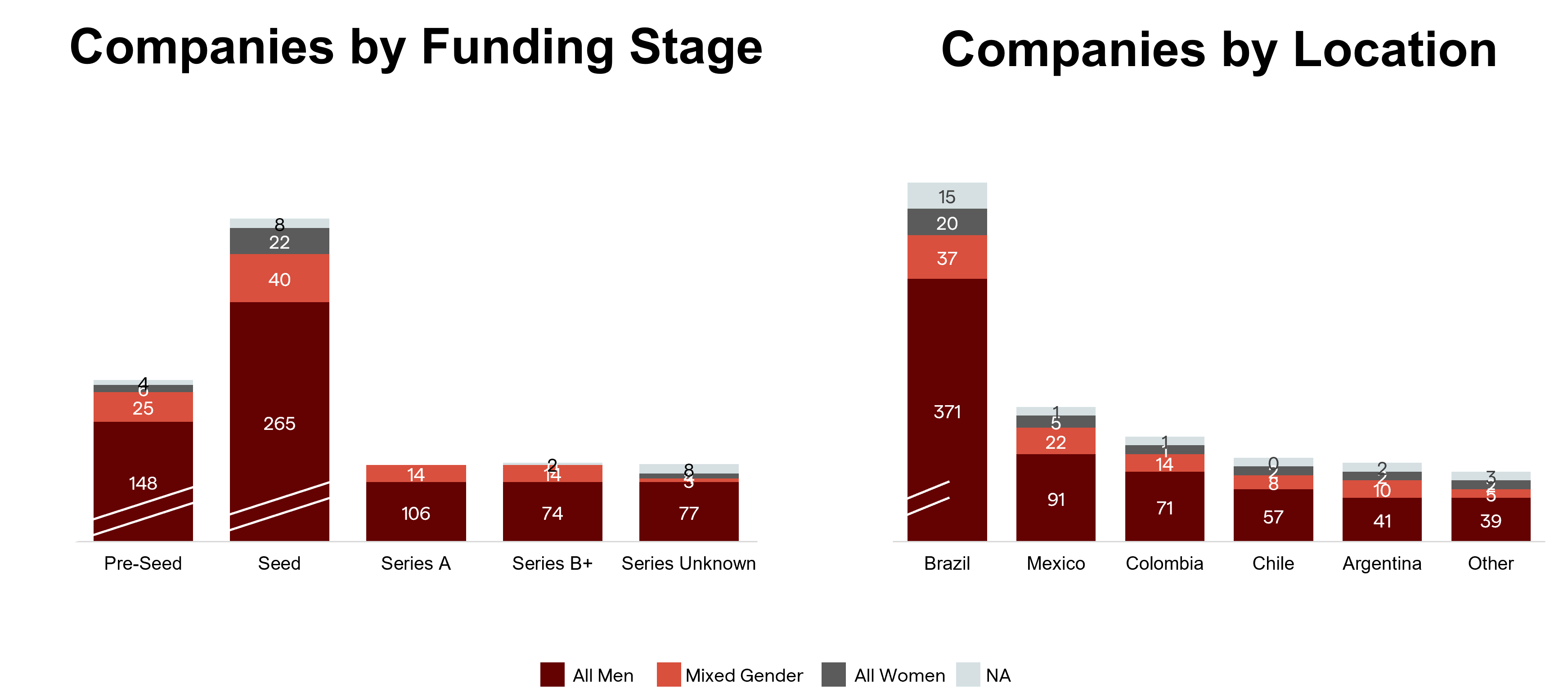 Overall, the median fundraise for mixed-gender founding teams was 12% higher than for all men teams. All women founding teams raised 67% less capital in the median fundraise than all men teams. In other words, women founders were getting funded, but mostly when they had male co-founders.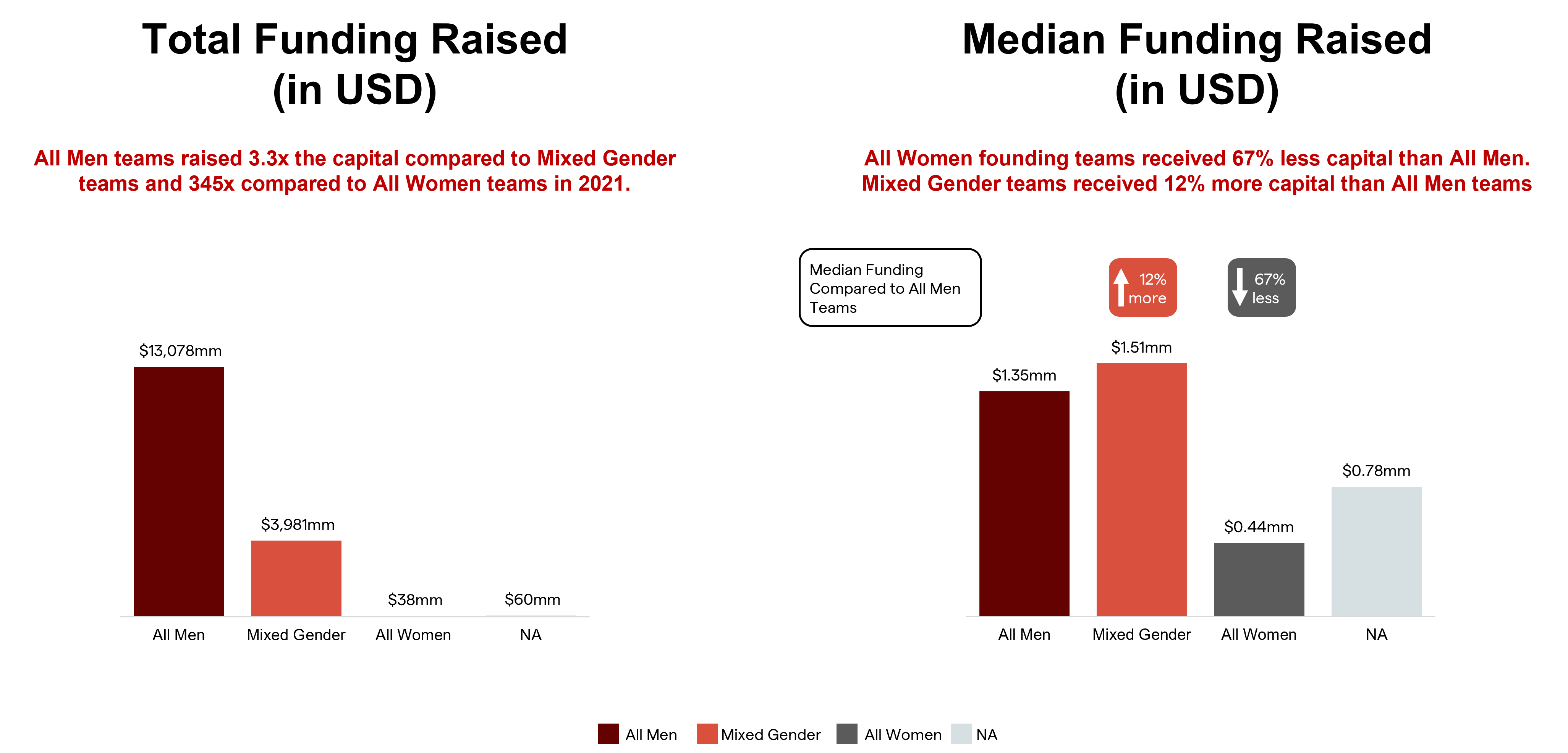 What was VC Funding at the Early Stage (Pre-Seed to Series A)?
All men founding teams raised more capital at the early stages than mixed gender and all women founding teams. There were no Series As or later stage rounds raised from All Women teams. But when looking at the median fundraise amount, mixed-gender founding teams raised more than all men and all women founding teams at all early stages.
At the Pre-Seed stage, all women founded teams raised 38% more than all men founded teams; however, they raised 47% less than all men founding teams at the Seed stage. While all women Pre-Seed teams raised more capital, there were only six raises compared to 148 Pre-Seed raises for All Men teams, reflecting the large gap in founders who successfully raised capital.
Who Are the Women Founders?
After looking at the funding data on founders overall, we wanted to dig deeper into the profile of women startup founders in LATAM. Across the 128 Women (co-)founded companies, most women founders had advanced degrees and held the CEO role at their company.

59% of the Women (co-)founded companies were in financial services, software, and agriculture and biotechnology. Companies in the financial services sector received 43% of the capital raised by women (co-)founders.
While Latin America encompasses 33 countries, the ecosystem is concentrated in a few markets. More women (co-)founded companies were based in Brazil. Women (co-)founded companies based in Brazil and Mexico received 91% of the capital raised by women (co-)founded companies.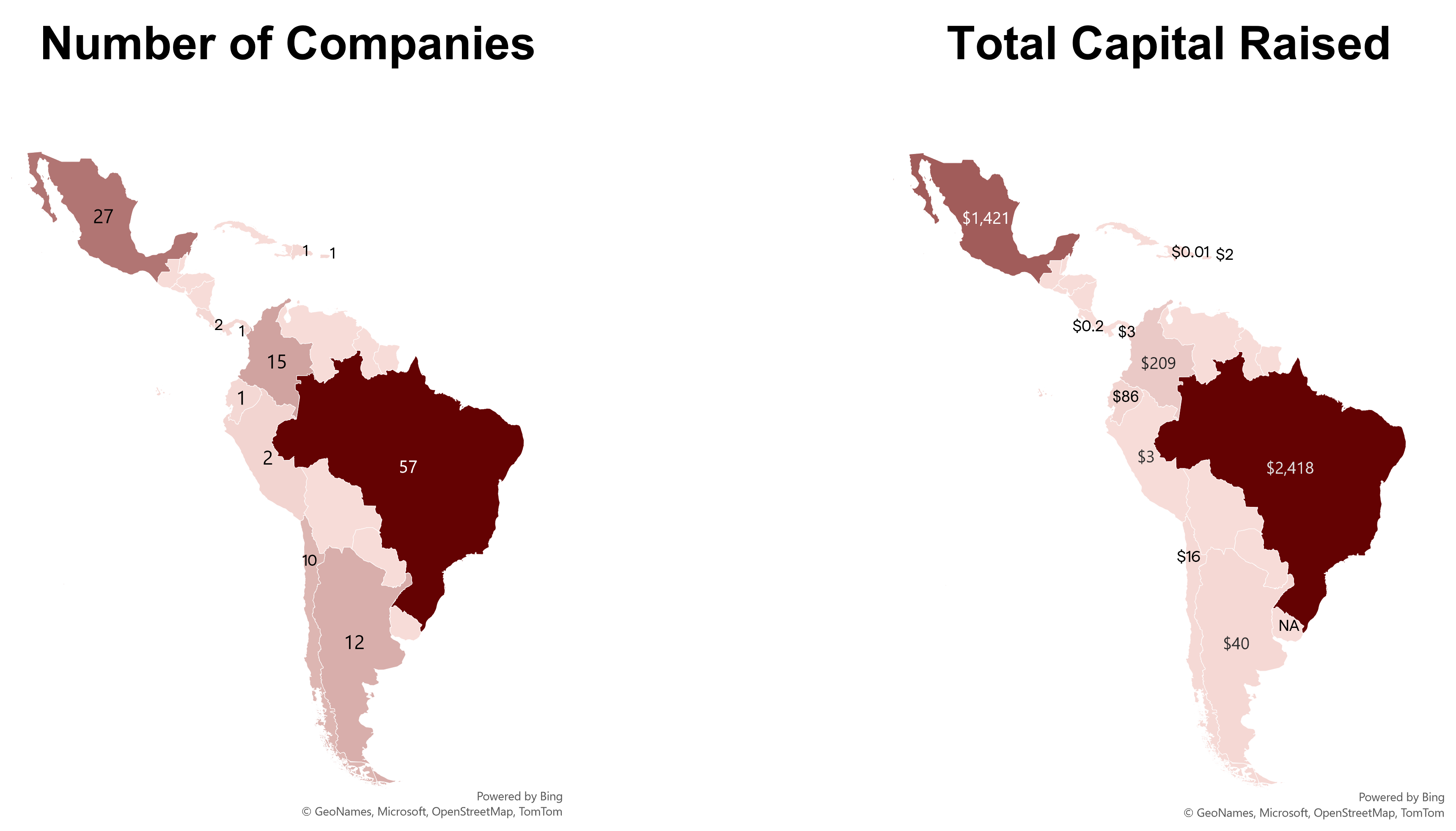 Who are their Investors?
A total of 383 investors invested across 151 funding rounds with women and mixed-gender founding teams. Leading the way are 43 investors who made three or more investments. The list includes both LATAM and US-based investors.
Stories Beyond the Data
We asked six women founders in LATAM to share how they started their companies, experiences raising capital, and perspectives on the landscape for women entrepreneurs.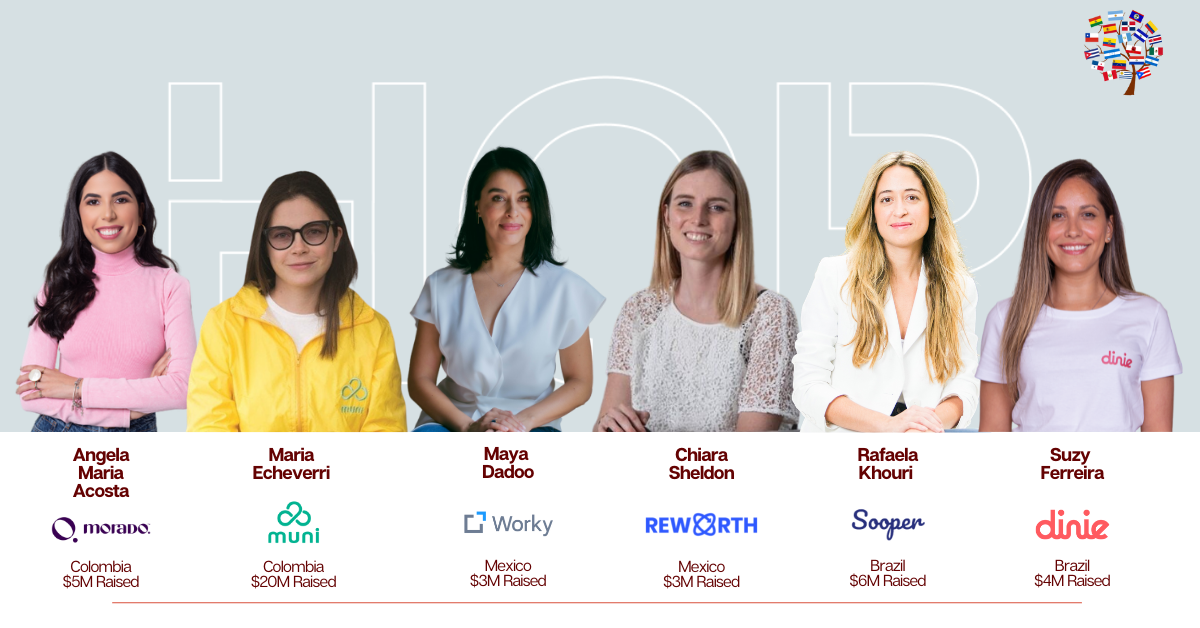 This "is the best time to be a female founder in Latin America," shared Maya Dadoo, co-founder and CEO of Worky. Many other entrepreneurs echoed her sentiment. Each founder had a unique path to launching her company. Some like Rafaela Khouri, co-founder and CEO of Sooper, always knew that she wanted to start a company but took time to decide on identifying the right problem and opportunity. Others like Angela Maria Acosta, CEO and founder of Morado, and Maria Echeverri Gomez, CEO and founder of Muni Tienda, started their companies after scaling and leading teams at Rappi, a delivery startup and Colombia's first unicorn company.
When it comes to fundraising, a few founders mentioned that raising capital was quite challenging. Chiara Sheldon, co-founder, and COO of Reworth, noted that building a strong network was key to her successful fundraising efforts. For Suzy Ferreira, co-founder and CEO of Dinie, fundraising was tough initially but got easier as the business grew and had additional traction. She shared that while fundraising is difficult for all founders, it gets more challenging when founders fall outside of the 'pattern' that investors typically look for.
Several founders noted that while they have seen an increase in the number of women entrepreneurs in their market, there's still so much room for growth.
Three recommendations emerged from our conversations that the LATAM ecosystem should adopt to better support women founders: 1) more transparency in the ecosystem, 2) better data on fundraising and valuations for women, and 3) increased diversity at VC funds.
Conclusion
We're proud to highlight the 128 Latin American women (co-)founded startups who raised $4B+ in 2021. Check out the full report and dataset.
While there have been some incredible gains for women who have founded companies alongside men, there is a huge capital gap for all women founded startups in the region. At Harlem Capital, we believe that data drives decisions and hope this report helps other investors focused on the region as they invest in women founders.
If you're a founder interested in pitching our team, please share your story with us on our pitch page. If you know of other LATAM-based Women founders who have raised capital in 2021 that we may have missed, please submit them here so we can continue to keep this list up to date.
Stay in the know on all Harlem Capital news by subscribing to our monthly newsletter.
Acknowledgments
This report was made possible by the support of founders and investors who shared their expertise, time, and networks to bring this report to life. We're grateful for your partnership and look forward to building in the ecosystem together. Onward! 🚀