Apply Today: Harlem Capital's MORE EQUITY Pitch Competition
by Harlem Capital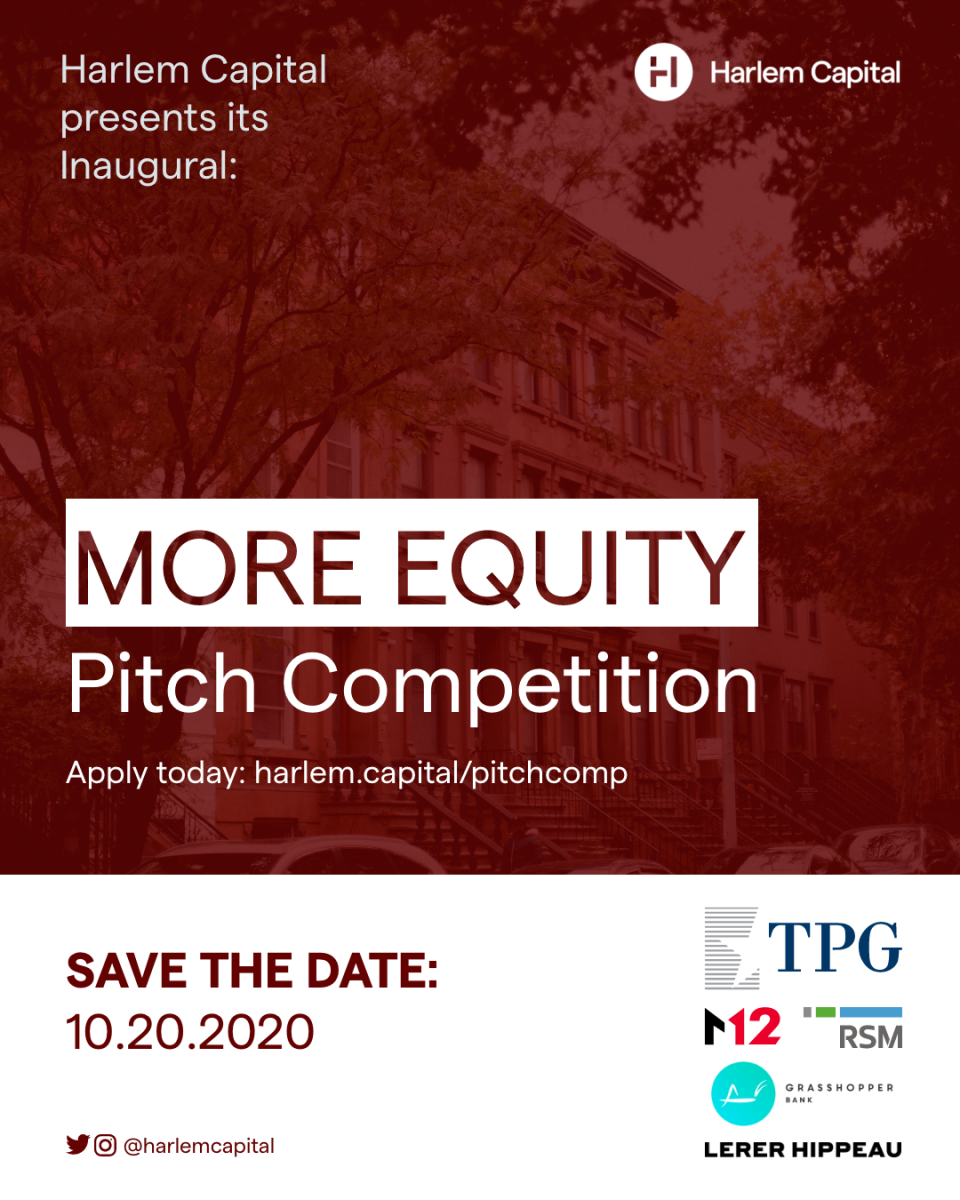 New York, NY – September 9, 2020
Harlem Capital is thrilled to announce MORE EQUITY — our inaugural virtual pitch competition focused on women and minority founders based in the U.S. Our competition will highlight some of the best women and minority founded companies as they compete to win a $40,000 cash prize for 1st place and a $10,000 cash prize for 2nd place. Finalists will be selected to pitch in front of a live audience and panel of judges on October 20, 2020.
The Process
Applicants must apply by 11:59 pm on September 22, 2020. Applicants will go through an initial semi-finalist round. Of that round, finalists will be selected to pitch on October 20, 2020. Each founder will have 3 minutes to present their company or idea, followed by Q&A from the judging panel.
Please submit a completed application, including a 5 page Pitch Deck in PDF form and 1-Minute Video Pitch. You can find our pitch deck primer here for more guidance.
Eligibility Criteria
In order to apply, your company must meet the following criteria:
At least one self-identified woman or underrepresented minority founder or co-founder
Technology or technology-enabled startup
US based company
Less than $400,000 in funding to date
Application
Applications are open until 11:59pm ET on Tuesday, September 22
Selected semi-finalists will be notified by Monday, September 28
The pitch competition will take place on Tuesday, October 20
Please apply below:
We are extremely grateful to our sponsors TPG, Grasshopper, Lerer Hippeau, M12, & RSM for making this event possible and for joining us on our mission to support women and minority founders.
About Harlem Capital
Harlem Capital (HCP) is a New York based early-stage venture capital firm on a mission to change the face of entrepreneurship by investing in 1,000 diverse founders over the next 20 years. Please reach out if you are a founder seeking capital, and subscribe to the Road to 1,000 newsletter for monthly industry news and firm updates.